Welcome to Almost Famous, a weekly segment where we ask up-and-coming queer musicians some not so hard-hitting questions about music and life and maybe even convince them to share photos of their pets. Get to know intimate details about your new favorite artist or band before they hit the Big Time and become too famous for us to interview for real.
Header by Rory Midhani

---
These Knees
Cleveland, OH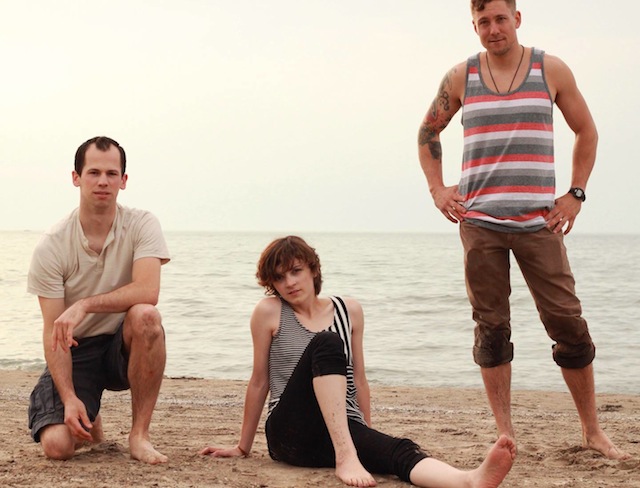 If Tegan and Sara and Paramore got together and created a musical child, you might imagine that it could grow up to sound a little something like These Knees, a Cleveland based act that specialises in hooky sun-soaked tunes. These Knees' debut full-length album, The Young and the Bright, which was released earlier this month, has been inspired by youth, nostalgia, and an unrelenting passion for great music. (According to the band, side effects include dancing, singing and sudden happiness).
Chatting to us this week is These Knees singer, composer and multi-instrumentalist, Stephanie Trivison.
Which track would you most like everyone to hear? 
"Erie (Promise Me)"
[soundcloud url="http://api.soundcloud.com/tracks/105734534″ params="" width=" 100%" height="166″ iframe="true" /]
What was the first and last record you bought?
The first records I bought (actually on cassette tape!) were Boyz II Men's II, and Alanis Morissette's Jagged Little Pill. The most recent was Paramore's latest release. Which is amazing.
What inspires you to write?
Getting outside, spending quality time in a park or on the beach usually sparks some thoughts. I think what I find most inspiring is a really good song. I'll often hear a song or melody and think "I want to write a song like that!wp_postsThe result typically ends up sounding nothing like what inspired it, but that's beauty of being inspired.
What was the last piece you wrote about?
The last song I wrote for The Young and the Bright was "Erie (Promise Me)wp_postswhich turned out to be our first single. I thought about what I would say if I could write a letter to my younger self. I was very interested in being older than I was when I was 7-8, and I had some struggles as a teenager. Looking back now, I just want to tell myself that everything will be fine and to always just do what makes you happy.
What's your 'guilty pleasure' music?
I think having 'guilty pleasures' is silly. You like what you like! I listen to some things that others might think is 'not cool.' I think some of the kids on Glee are super talented. I'll occasionally throw a country radio station on during a nice summer drive. Soundtracks like That Thing You Do and Josie and the Pussycats. The Cleveland Orchestra. And I LOVE 90's music. Third Eye Blind, Spin Doctors, The Cranberries, Gin Blossoms, Sixpence None the Richer, etc.
Do you have any pre-show rituals?
Before the show starts, I like to visualize the band playing a great show and feeling really good about it once we get off stage. Visualization is something I like to do in life in general, but I think it helps to ease any pre-show anxiety and kind of sets the tone for a controlled, confident performance.
What was the last book you read?
Paulo Coehlo's The Pilgrimage. I read his book The Alchemist and found it to be incredible inspiring, so I picked up several others. He often tells stories of self-discovery, adventure, and finding your truth, or as he calls it, your Personal Legend. I think anyone who dreams of any accomplishment, big or small, should definitely read his books!
What is your favorite thing about living in Cleveland?
Cleveland has great character that I think has really evolved from the days of 'the mistake by the lake' to the underdog everyone is rooting for. There is a lot of pride here and an unbelievable amount of talent. Great musicians and artists, great food, and in the summer you're never far from a beach. Lots to love in CLE!
Do you have any pets?
I am an avid animal lover with many shared pets. None of them solely belong to me, but my household includes 4 cats, a dog, and even some chickens!
For everything else on These Knees, check out these places:
theseknees.com
facebook.com/theseknees
twitter.com/theseknees / @theseknees
Instagram.com/thesekneesdontrun / @thesekneesdontrun
theseknees.bandcamp.com
The Young and The Bright on iTunes!
---
If you are, or know of, a queer artist or band that should be featured in Almost Famous, drop the details to stef [at] autostraddle [dot] com. Please write 'Almost Famous' in the subject line!