Welcome to Almost Famous, a weekly segment where we ask up-and-coming queer musicians some not so hard-hitting questions about music and life and maybe even convince them to share photos of their pets. Get to know intimate details about your new favorite artist or band before they hit the Big Time and become too famous for us to interview for real.
Header by Rory Midhani

---
 Steph Bosch
Toronto, Canada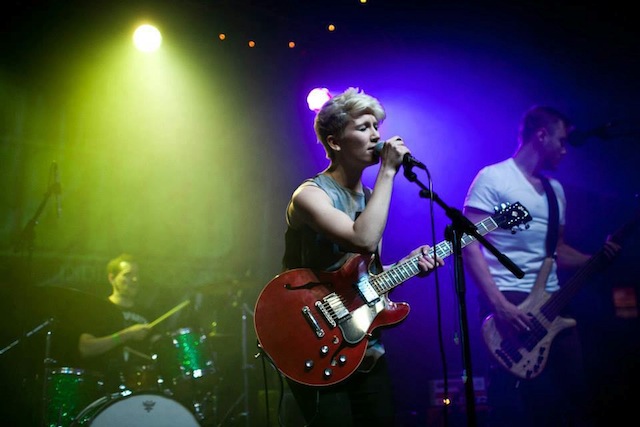 Steph Bosch is the powerful front-woman for the indie-pop outfit The C'mons. She hails from Edmonton, AB, where she developed a natural talent for songwriting, spawning an extensive repertoire of solo material. She's since relocated to Toronto, and is making quite a stir with The C'mons.
In the past year they've played a slew of notable festivals, including both Toronto and London Ontario Prides. The band's first professional EP is about to drop this fall, and will surely help catapult them to the next level of indie fame.
How would you describe your music?
I'm always trying to think of a new way to describe what The C'mons sound like. What seems to make the most sense is saying we have the same style as No Doubt's Tragic Kingdom … replacing the ska with rock violin. It's a bit of a math equation, but it paints a good picture.
Which track would you most like everyone to hear?
We do have three tracks downloadable on SoundCloud from last summer, but I'd rather hold off and wait to show everyone our upcoming EP, which is being recorded as we speak. The release will be this fall 2013.
Until then, check out this cool cover we did of "Semi Charmed Life" by Third Eye Blind.
What can listeners expect from your upcoming release?
Five tracks of powerful angsty-rock that ranges from slow to upbeat. As a solo artist I've released four albums on my own, and I have to say I'm the most excited I've ever been about this release. I hope that everyone reading this likes violin.
What do you do when you're not making music?
Right now I'm in school full-time studying Audio Production at the Harris Institute for the Arts in Toronto, ON. Other fun things I do include mascotting kids' birthday parties to make extra cash, staying sane by going for runs, and lots of making out with my girlfriend. That about sums it up.
What was the last record you bought?
I have Synapses by River Tiber on repeat right now. He's a local Toronto boy who put out a killer record this year that I highly recommend checking out. Most notably the track "What Are You Afraid Of." It has a Radiohead feel with a bit of a twist.
What inspires you to write?
I've been fortunate enough to be involved in some organized co-writes here in Toronto and in my hometown Edmonton, AB. In these cowriting sessions I came to realize I'm able to just throw something together quickly.
However, it's not how I prefer to work. Personally, I can't go searching for inspiration. It kind of comes out of nowhere. Lately, I've noticed that the creative juices start flowing after I've been alone with my thoughts for a while. I'm a bit of a hermit when I need a recharge, so most of my writing comes when everything goes quiet. If that makes sense?
What's your 'guilty pleasure' music?
Femme Fatale by Britney Spears. I don't know why… well, I do know why… but I love that album. The production is crazy and I'll sing along to it on any road trip, even if it's to the grocery store.
Do you have any pre-show rituals?
I never wanted to be that person, but unfortunately I'm pretty sensitive before performing. I do require certain things. I don't let on, but I spend most of my time being overly anxious about everything. Throw a live show in there, and I need some quiet time. Mostly, I just need to calm myself down because I get way too excited.
It's kind of like having a long week at work, and it's Friday, 4pm, and in three hours you're off to Disneyland. So ritual wise, I tend to disappear into a bathroom stall or out in a back alley where I can warm up my voice and do what I need to calm down. It's actually quite peaceful.
Describe the environment that you write your songs in.
In my underwear, long into the night. Usually until I start slurring from over-exhaustion.
What was the last book you read?
Well, on my latest trip to Montreal I happened to take the plunge and try the audiobook for The Celestine Prophecy. I was driving, so I figured it wasn't really cheating. At the moment I'm in the middle of This is Your Brain on Music by Daniel Levitin. Next, I want to check out the book Brain on Fire by Susannah Cahalan based on her real life mental breakdown.
Do you have any pets?
Heck yes I do. What kind of lesbian would I be without a cat… or cats in my case. I have two: Cali and Isha. They love to snooze on my keyboard and occasionally eat salami. They're also pro cuddlers.
For more of The C'mons, check out the band's website, Facebook, YouTube, and Soundcloud.
---
If you are, or know of, a queer artist or band that should be featured in Almost Famous, drop the details to stef [at] autostraddle [dot] com. Please write 'Almost Famous' in the subject line!