Welcome to Almost Famous, a weekly segment where we ask up-and-coming queer musicians some not so hard-hitting questions about music and life and maybe even convince them to share photos of their pets. Get to know intimate details about your new favorite artist or band before they hit the Big Time and become too famous for us to interview for real.
Header by Rory Midhani

---
Eb Tonkin from Jack Counteract
Adelaide, South Australia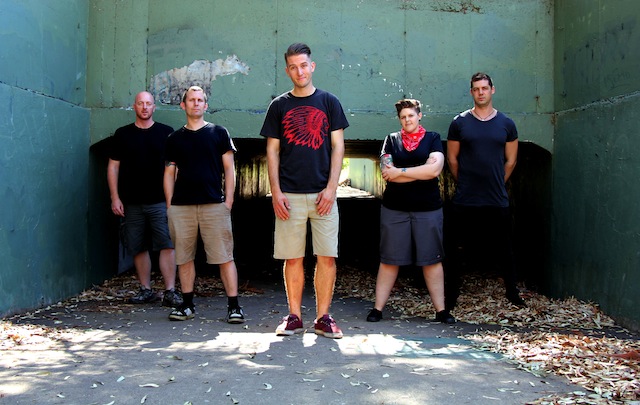 Eb Tonkin is the bass player for Jack Counteract, a punk band from (r)Adelaide, South Australia, who are influenced by old school/SoCal punk bands and 80s hardcore and thrash. The dudes rounding out the rest of the band are Dragan Lulic (guitar/vox), Joel Collins (drums), Peter Zemetis (vocals) and Brad Barry (guitar/vox). Forming two years ago, Jack Counteract recently released a six-track EP titled Time to React, as well as the single "Golden North".
How would you describe your sound?
Imagine a band that sounded like a mix of Pennywise, H2o and Rise Against but with a singer who is an Aussie plumber… that would be roughly what we sound like.
Which track would you like Autostraddle readers to hear?
"Stolen". It's the first song that we all played together and it has progressively gotten faster and faster over the last two years. It's also the first song we've made a video for. It was about 42 degrees Celsius that day and we all nearly died of heat stroke and sunburn.
What do you do when you're not making music?
Mostly work. Haha, yeah, still a while off from quitting my day job. Other than that, I like to ride my motorbike, hang out with the dogs, go to gigs, try to skate and sometimes cook things.
What inspires you to write?
Mostly going to see other bands play. I see people that I really admire up on stage, doing their thing and kicking ass. It just makes me want to go home and play some music. When I was younger, I would go home and learn their songs, but now I want to go home and write my own songs. Then one day, hopefully, it can be us up there, inspiring some young punk to write a song.
What's the first and last record that you bought?
The first CD I bought was the Second Solution EP by The Living End. I still play it a lot and I'm surprised that I had such good taste as an 11 year old. It all went down hill from there of course, to Spice Girls and the like. Last album I bought was Singularity by Northlane, which is a rad album if you like Aussie hardcore.
What's your 'guilty pleasure' music?
I have a couple. I love Abbe May's Karmageddon album that came out earlier this year. I think she describes it as doom pop, which is something that I think I would normally avoid, but it's just sooo good. She also does an awesome cover of "Pony" by Ginuwine, which you have to check out! Second is anything by Johnny Cash. I've loved his music since I was about six and he's one of the few artists where I actually listen to the words of the songs and the stories that they're telling rather than hearing the words as just another layer of music.
Describe the environment that you write your songs in…
It's either in my lounge room, when no one else is home, with my acoustic guitar, singing quietly so that our neighbours can't hear, or at band rehearsal. Usually the guys will ask me if I've written anything lately, I will say yes, even though I haven't, then make something up on the spot and then work on it with the band from there. Hence, a lot of the songs that I "write" only go for about a minute.
What is the best piece of advice you've received?
The best piece of musical advice I ever got was from a family friend, when I was struggling to read music. He told me "It doesn't matter if you can't read sheet music. It's just fly shit on a bit of paper. It's not essential to being a good musician." He was right.
If you could share a line up with any 2 other artists?
The Gaslight Anthem and Alexisonfire. I would lose my mind. I have man crushes on all of those dudes and wouldn't know which one to make unwanted advances on first. Being a musician even makes dudes sexy… I'm also a massive fan of the music that they make.
Do you have any pets?
Yeah, I have two Italian greyhounds. The grey boy is Moss and the black and white girl is Polly Jean. Named after the guy from The I.T. Crowd and PJ Harvey. They're nuts but I love them.
For more on Jack Counteract, check out the band's Facebook page, Bandcamp page and Triple J Unearthed profile.
---
If you are, or know of, a queer artist or band that should be featured in Almost Famous, drop the details to stef [at] autostraddle [dot] com. Please write 'Almost Famous' in the subject line!