A Boston-area high school student was told by a vice-principal to cover up her t-shirt and never wear it again "because it's political and offensive to some people." The t-shirt read, "all the cool girls are lesbians." According to ACLU lawyer Sarah Wunsch, the school is in violation of the stringent Massachusetts law that covers free speech in schools. The high school's own rules prohibit clothing that depicts weapons, drugs or alcohol, or anything considered disruptive. The unidentified student has her little gay ducks in a row because she refused to stand for the discrimination.
In a letter to Judith Flanagan Kennedy, mayor and chairwoman of the Lynn School Committee, the student expressed her disappointment with how the situation was handled. She wrote, "Well, frankly I'm the one who feels offended," and went on to say, "The word lesbian is not inappropriate. Saying it is, is calling homosexuality inappropriate."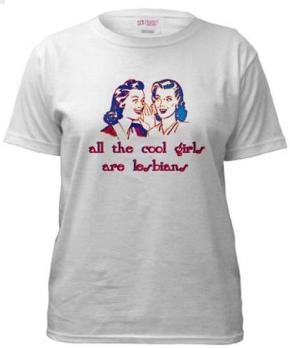 The principal of the school, Thomas Strangie, stood behind his vice-principal's decision believing the clothing could have been disruptive. It's always nice when rules are so vulnerable to personal bias that almost anything can be subject to censorship. You can make the 'political and offensive to some people' argument about almost anything: an Obama sweatshirt, an anti-choice button, an Ed Hardy tee. Where do we draw the line?
Female students being allowed to wear "I love boys" t-shirts and this unidentified student's belief that a "Straight don't hate" shirt would elicit no punishment belies the underpinnings of the school's actions. Parents have relied on the argument that the shirt raises one group above another in their support of the shirt's ban. I suppose that's a valid argument but it's not one I would stand behind.
The shirt is clearly a joke. We all know humor allows you to explore, and at times flesh out, tensions and prejudices. It's pretty much my favorite thing to talk about, so when people take jokes that nudge at any group's superiority (especially in such an esteemed measure such as "coolness") at face value, it bothers me. Girls wanting lesbian friends to seem hip and unbigoted isn't a new phenomenon but being less and less afraid to be called a lesbian themselves is. The times are changing and the more people that are in on the joke — who know that any group being called anything in a blanket, catch-all statement is ridiculous — the more people are on our side.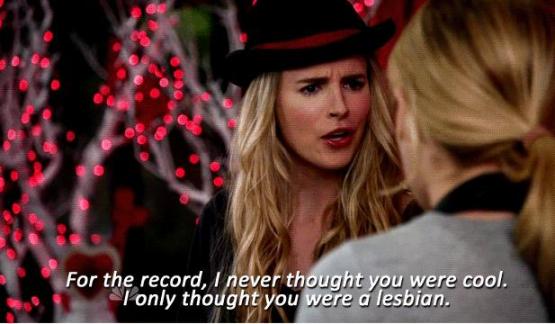 This shirt can't be treated as a single entity in some vacuum. With every hypothetical change of the last word on the shirt, a new set of baggage is attached. To pretend that who was wearing the shirt had nothing to do with the decision would be naive as well. The student's letter also stated, "It makes me a little uneasy that by being myself and being proud of that I was scrutinized and disciplined like a girl who was wearing a shirt too low" leads me to believe she's an out lesbian. Would the shirt still have been a problem if the wearer was the head cheerleader and dating a star quarterback? Would the girl herself be upset if a male student wore that same shirt?
Maybe the school thought she was using the shirt as a recruitment tool and suddenly, believing that they had to become lesbians to remain cool, all female students would hop aboard the Lesbian Express. No matter the reason used to justify banning the shirt, the message is clear: simply having the word lesbian on a shirt is a hot button topic and allows, once again, for discussion of how appropriate our identities are in the eyes of everyone else.