Today is National Coming Out Day. Thirty years ago, Robert Eichberg and Jean O'Leary created NCOD, partly as a celebration of LGBT people, but mostly, as an affirmation of the belief that if they — our families, our friends, our colleagues, our neighbors — knew who we were, it would change their perceptions of LGBT people. Or, as Eichberg would say in 1993, "Most people think they don't know anyone gay or lesbian, and in fact everybody does. It is imperative that we come out and let people know who we are and disabuse them of their fears and stereotypes."
In the years since the first National Coming Out Day, a lot has changed, including the way we think about coming out, but pop culture has been slow to change the way it tells our coming out stories. As is their wont, Hollywood often grasps for the simpler stories, erasing all the complexities and nuance that lie between us knowing ourselves and everyone else also knowing. Enter Tamia "Coop" Cooper (Bre-Z), the tough, funny and unflinchingly loyal best friend, on the CW's newest teen drama, All American, to shift the conversation — ever so slightly — on coming out.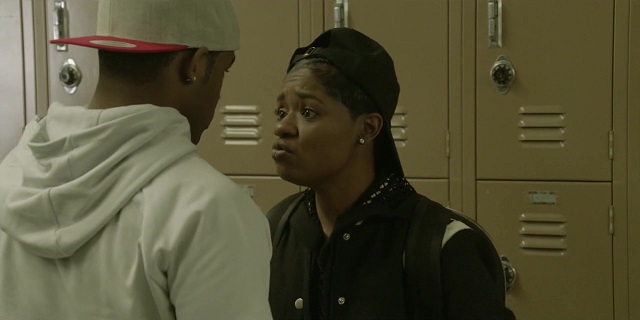 When we first meet Coop, she's walking down the halls of South Crenshaw High School with her best friend, Spencer James (Daniel Ezra), dressed in almost all black: black jeans, a black hoodie, a black varsity jacket with white piping, a black Eazy E-style Compton snapback and a pair of wheat-colored Timberlands. Her hair's laid perfectly, the top pulled into a braid with her baby hair framing her face. She walks with an unmistakable swagger and an easy smile. Bre-Z imbues Coop with the same confidence we saw when she played Freda Gatz on Empire but there's a softness to Coop that lingers beneath the swagger. But just in case the uniform didn't make it clear enough, when she spots a girl leaning up against the lockers, in a tight pair of jeans, she catcalls, "Damn… that booty looking juicy."
Coop is gay — unmistakably so, unapologetically so — until she gets home. Then she's Tamia, the daughter of the church choir director, who dims her light just enough to keep the peace. While that story feels familiar, what makes Coop unique, at least insofar as TV portrayals go, is that in the world in which she's out and the world and which she's closeted, she's very much the same person. She's not Alike from Pariah, who strips off the signs of her gayness on the bus ride home; Tamia is still Coop. Same hoodie, same jacket, same cap, same Timbs. Whether she says she's gay or not, all the signs are there, Coop's not hiding from anyone. If her mother doesn't know, it's because she doesn't want to know… and for now, Coop's okay with keeping that delusion afloat.
While All American's pilot touches on Coop's personal story, the bulk of the episode is spent with her being a loyal confidante to her best friend, Spencer. He's the star wide receiver at South Crenshaw who catches the eye of Billy Baker (Taye Diggs), the football coach at Beverly Hills, who recruits Spencer to come play for him. Spencer's reluctant but his mother and Coop push him to accept this opportunity which could not only put him on a path towards the NFL, but being to prepare him for life after football. Spence shows up at Beverly, having taken multiple buses to get there, feeling like a fish out of water. The story is loosely based on the real life experiences of former NFL player Spencer Paysinger.
It only takes one day for Spencer to begin rethinking his decision. He strikes an easy rapport with the coach's daughter, Olivia (Samantha Logan), but when he tries to connect with his teammates, tension starts to build. Threatened by Spencer's presence and his girlfriend's interest in him, Asher (Cody Christian) — a name which, between this show and How to Get Away With Murder, is quickly becoming a shortcut to introduce your offensive, self-absorbed, clueless white guy — asks Spencer if he's a Crip or a Blood because he's "dying to check out a Crip walk for real." Spencer walks away before his anger gets the best of him but the tension lingers later at practice, as Spencer showboats at wide receiver. Then, when Coach Baker slots him in as part of the Beverly defense, Spencer is convinced he made a mistake.
"You just gotta do you. You've the goods, on and off the field, I knew it from the moment I met you," Coop tells Spencer when he returns to Crenshaw later that day. "You decide who you want to be."
At every opportunity, Coop convinces Spencer that he's made the right decision for him and his family, in going to Beverly Hills High and, eventually, in moving to Beverly Hills during the week. It goes unspoken but Coop understands what it means to straddle two worlds at once and advises Spencer to take the best of of both worlds, Crenshaw and Beverly Hills. She points to the neighborhood ballers — once great players who are stuck playing ball in Crenshaw because they threw away their shot at greatness — and urges Spencer to focus on building a better future from himself and his family. But with Spencer gone, so is Coop's protection; having the school's football star as her best friend ensured her a layer of protection, from the men looking for revenge for Coop's advances on their women and from the gangs in the neighborhood who want Coop as part of their crew. She assures Spencer that she's got everything handled but by the end of the episode, she's climbing into the car of the "weak-ass, wanna-be gangbanger" that threatened her at school.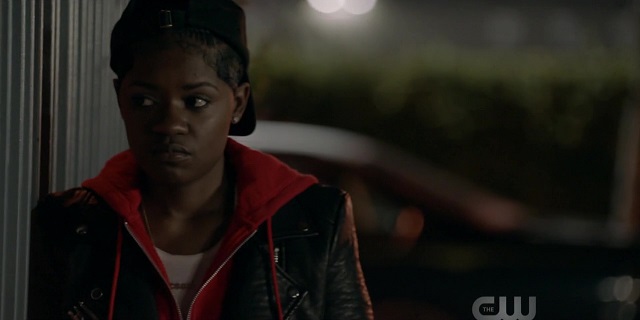 All American's been described by other critics as "The OC meets Friday Night Lights" and while there are certainly are some parallels, it does a disservice to brush All American off as something you've already seen before. Yes, like The OC, All American is the story of a kid from "the wrong side of the tracks" who goes to live with a wealthy family, but Spencer doesn't get adopted by the Bakers, nor does he leave Crenshaw behind in the way that Ryan Atwood left Chino. Spencer's a good kid — a star athlete who also excels in the classroom — who thrives despite his circumstances, whereas Ryan is rescued after becoming a victim of his circumstances. Spencer's life in Crenshaw, including his mother, his younger brother, Coop and his old team, are crucial parts of All American and they are the heart of the show.
And, yes, like Friday Night Lights, All American is a show about football that's not really about football, but let's be clear about something: Billy Baker is no Eric Taylor and his wife, Laura (Monet Mazur), barely registers in the pilot and could never be mistaken for Tami Taylor. Coach Baker is, perhaps, 30 percent, Coach Taylor — with most of his inspirational pep talks reserved just for Spencer, much to his son's chagrin — and 70 percent, Buddy Garrity — committed to winning even if he has to skirt the rules to do it. All American focuses more on the kids than Friday Night Lights did. You won't quickly fall in love with Spencer's teammates, the way you did with Matt Saracen, Tim Riggins or Brian "Smash" Williams, at least not yet… because you're meant to feel all of Spencer's discomfort at being the new kid.
Where All American truly breaks new ground, at least in this genre of television, is in grappling with race and class. Through Spencer and Coop (albeit to a lesser extent), the show seeks to reconcile what W.E.B. DuBois called the double consciousness: how do we merge these "two souls, two thoughts, two unreconciled strivings; two warring ideals" into one whole person? But All American isn't just about Spencer straddling these two worlds, or about the rich kids of Beverly High being forced to recognize their privilege, it's also about Crenshaw and how the kids left behind internalize the message that the path to success is to get out.
In a disappointing TV season, All American stands out as one of the fall's few bright spots, thanks in large part to the bond forged between Coop and Spencer. It's clunky at points — which is to be expected, I suppose, from a pilot — but it's enough to lay the groundwork for some compelling storytelling.