It's getting hot out here, queermos, and you know what that means. It means soon we'll all be basking in the sun at parades and sharing drinks on rooftop bars with other qt folks of varying genders and feelin' ourselves all over town because IT'S PRIDE MONTH AND THIS IS HOW WE DO. So why not do it together?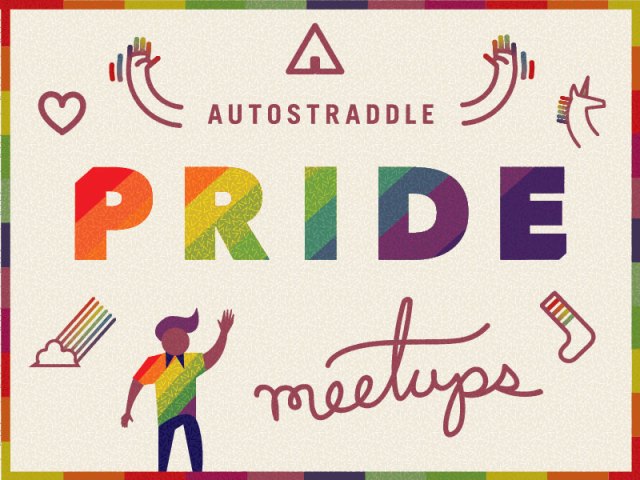 All month, we're inviting you — yes, you there in the cute crop top and biker shorts! — to host Autostraddle meet-ups and celebrate pride with some of the shiniest faces of wonder on the Internet. You in? Okay, good. Let's make it happen!
To host a meet-up, all you have to do is make a series of complex emotional decisions that will shape the rest of your life. JK! You just have to make some choices in life, which we do every day, and then commit to them. You'll need to decide when the meet-up is, where it's happening, and what people are doing once they get there. (Drinking? Dancing? Painting themselves the colors of the rainbow before the Pride Festival starts? Frantically prepping slam poetry for Pride Night at the cafe? SOUNDS GREAT! ALL OF IT! I'D GO! DO IT!) It also helps to know how you want people to RSVP, whether it's wearing a scissoring tee-shirt or joining your event on Facebook.
Then, you put all of it in your brain and mosey on overto our brand-spankin'-new events form and tell us about it. Once your event is approved, it'll be on this very website, and we'll round up all the events super soon into a post for you, so do not hesitate one second! 
I was hoping to give y'all time in May to really process and think this out, but A-Camp happened and in the end we all have dreams which are futile and will just haunt us 'til we die. It's the thought that counts, though!
Also, I'm making up for it by giving you these beautiful images for your Facebook events, Twitter feeds, and Instagram feeds because hosting a meet-up is damn hard work and YOU DESERVE IT. Also because branding, but whatever. Don't forget to use the hashtag #AutoPride all over the Internet and maybe tattoo it on your face this month, too! I wanna see everything and know all and I just can't do that unless you post about it publicly on social media, so like.
If you've ever been to an Autostraddle meet-up, you know that the undeniable truth about everyone who reads this website is that the people who read this website are top-notch, totally adorable, empathetic, amazing human beings. I mean, I would know, because I just spent a week on a mountain with 300 of y'all and it was a fucking delight. Over the years, we've A-Camp'ed, brunched, and otherwise partied together and it's been a rick-rollickin' good time. Let's keep the dream alive and make our pride celebrations bigger, better, and perhaps even wetter together.
See you soon, pride scouts. (Would it have been cooler for me to say "on the flip side?" Whatever.)
Oh, and if you have questions or concerns or, as always, pictures of dogs, feel free to post them in the comments or email me at carmen [at] autostraddle [dot] com. Love you, muffins!