Hats are a wondrous double hitter in winter. Wanna look great and stay warm? Thanks hats! But there are so many chapeaus to have; how will you decide which ones are for you? Regardless of your personal style and/or gender presentation, there are certainly several hats for you. There are levels to daring headwear, and you're about to get in the game!
---
Beginner
Warm, small and very portable, knits caps or beanies (toques for us up North) are a popular and accessible choice of headwear. Whether it's a little topper from a high street store like H&M or Forever21, a homemade gem or from an Etsy shop, this is the easiest winter hat to wear. Everyone, yes everyone looks great in a beanie. Like all hats, it's about finding the shape that suits your head/style. Some like a slouched fit, whereas others (myself included) love a little perched hat. Some prefer a tight knit, while others spring for thick, chunky yarns. You just have to find the right one! My indispensable winter toque was a lucky find at a local vintage shop, coming in at a smooth $5. Readily available and affordable, a beanie will look cute with every damn outfit! Whether it's something super casual (like jeans and a lil' sweater) or a full skirt with a jacket, I love the versatility of a simple and cute knit hat.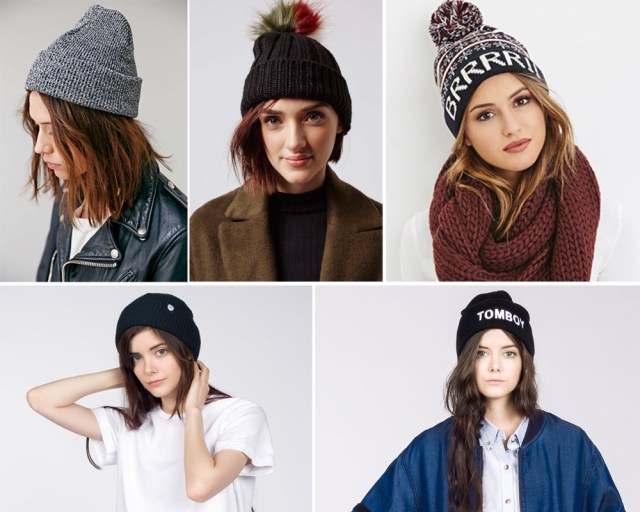 (clockwise from left) BDG Cuffed Rib-Knit Beanie // Multi-colored Pom Beanie Hat // Brrr Graphic Beanie // Wildfang Portland Beanie // Tomboy Beanie
---
Intermediate
So you've mastered a lil' knit hat or two, and you are looking to advance your hat wearing with finesse. In comes fedoras, poor boys, berets, woolen caps and other short brimmed felt and knit hats. Hats like these were once commonplace, assumed to be a part of your daily uniform in the early 20th century. In modern times, they are often viewed as a more formal choice, but it's not always true. As exemplified by Alex, you can throw on a short brimmed hat with a bright coat, dark jeans and oxfords, looking both relaxed and put together. Although hats never really go out of style, they've fallen back in favour for several winters now.
Many of the hats of the market are made of wool, which is excellent for keeping your head warm. If wool makes you itchy, there are plenty of synthetic/non-wool hats to be had. Be sure to check the fiber content if you know that you have sensitivities to certain textiles. Whether you like your hats sweetly femme or delectably handsome, there are plenty of short-brims for the taking.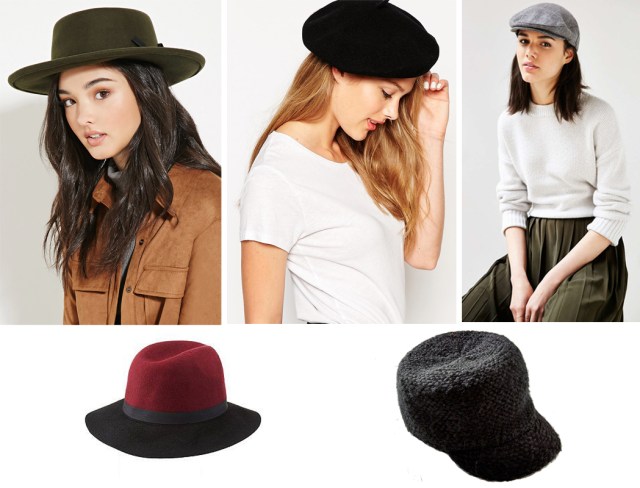 (clockwise from the left) Wool Boater Hat // Pieces Wool Beret // Brixton Hooligan Cap // Colour Block Fedora // Fuzzy Band Cap
---
Expert
Once you've elevated your hat game, time to widen your horizons. An expert hat wearer is unafraid of big brims and tall peaks. Boldly stylish and a theatrical choice, a larger hat looks perfect with an equally dramatic outfit for extra oomph. A cape or statement coat look stunning with an over-the-top topper. If that's not your style, I love the look of large brimmed hats with a something simpler. A sweater, jeans with tall boots and a cozy scarf are a great match for a richly hued bold hat! Regardless of if you dress it up or down, you're sure to get compliments aplenty for bravely wearing a standout hat.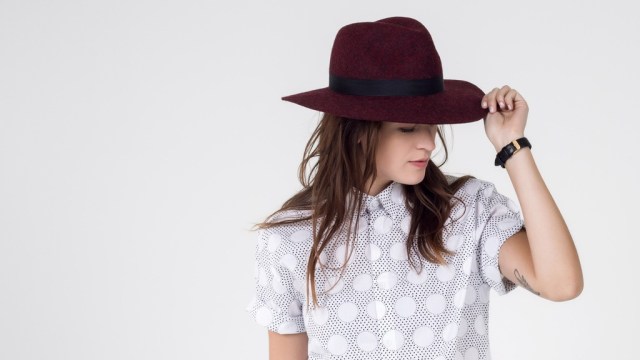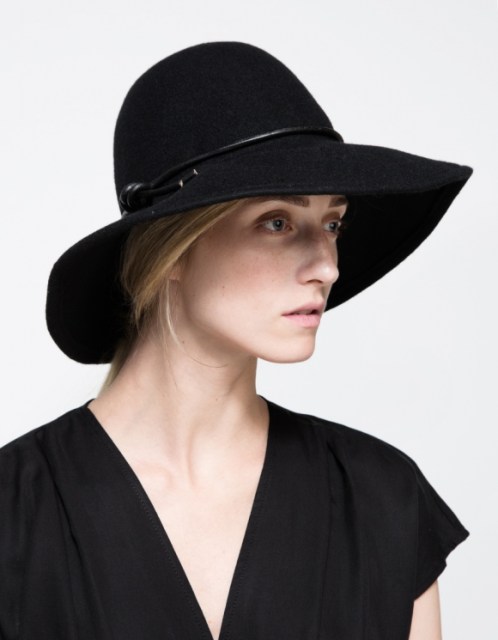 (from top to bottom) Westward Hat // Fire Walker Fedora // Pippin Hat
---
Which hat style is your favourite? What styles have you been peeping this winter?