ADAM LAMBERT:
The Trespassing album cover has been revealed along with Adam's announcement that "in addition to serving as Executive Producer of Trespassing, I'm also Creative Director."

He describes the evolution from For Your Entertainment to Trespassing:
"The last album — I'm very proud of it. It was a very theatrical album. It was really over the top and it was kind of a spectacle — like an audio spectacle. And it was very stylized and kind of campy. It was kind of a caricature of this rock star that I always wanted to be. You know, lots of glitter and feathers and makeup and I had a great time with that. And I think I kind of got a lot of that out of my system in a way and now I'm able to make music that is for my fans that I've gotten to know over the last year. I know who I am now more, so I think, as an artist, I've evolved and as a person I've evolved and I think the music will open that door wide open for people.
[The new album] is kind of like a pass for a listener to trespass in my life, into my reality. I wrote songs on the album that are really fun and crazy and party songs, and then I wrote songs on the album that are dark and deal with anxiety and stress and low self-esteem and acceptance. There's two halves of the album and hopefully the listener will get a better idea of who I am — who I really, really am."
He also spoke to Ellen about his drunken brawl with his boyfriend in Finland:
GLEE / A NORMAL HEART: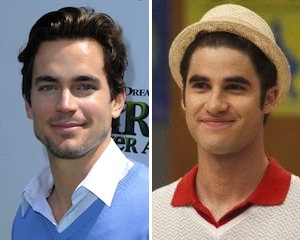 Well isn't this exciting! Matt Bomer (White Collar) has been cast as Blaine's brother on Glee! Matt is pretty much totally out (he is married and has three children with his partner Simon Halls) and will sing and dance as Blaine's hot older brother. The question really is whether Matt will wear a bow tie in every scene as well.

Ryan Murphy appears to be a fan of Mr. Bomer as he has just cast him in his film adaptation of the Broadway play A Normal Heart, about the rise of HIV/AIDS in New York's gay community in the 1980s. The cast includes Matt as Mark Ruffalo's fashion stylist boyfriend, Julia Roberts as wheel chair bound doctor Emma Brookner, Alec Baldwin as a lawyer who struggling to accept his sexuality, and Jim Parsons as a Southern gay activist.

INGRID MICHAELSON:
Her fourth album, Human Again, was released this week and she's currently touring the US in support. She talks to Billboard about striving for a more mature take on her sound rather than commercial ready pop songs (like her Old Navy commercial):

"I feel like I had a big splash when I first started. My only real regret is, that splash was more about that it was an independent and new way of doing business. I never had that artistic splash."
.


CYNTHIA NIXON / THE TALK:

Cynthia Nixon's words continue to haunt her with celesbians Sara Gilbert and Cat Cora chiming in on the whole "for me being gay is a choice" thing. PS: she actually did attempt to clarify her words in an interview with The Daily Beast:

"I think for gay people who feel 100 percent gay, it doesn't make any sense. And for straight people who feel 100 percent straight, it doesn't make any sense. I don't pull out the "bisexual" word because nobody likes the bisexuals. Everybody likes to dump on the bisexuals."

Sara and Cat react to her statement on The Talk:
NEW GAY DRAMA SERIES FROM L WORD PRODUCER:
A new drama series titled Downtown Los Angeles (DTLA) will begin airing on Canada's OUTtv beginning late Spring and follows a group of friends in Downtown Los Angeles as they deal with the breakup of boyfriends Lenny (Darryl Stephens) and Bryan (Matthew Stephen Herrick). The show promises Showtime-esque sex and nudity co-stars our very own Erin Daniels, Danny Roberts (The Real World: New Orleans), Leslie Jordan (Will & Grace) and a guest appearance by freakin' Julie Goldman. Interestingly, the show is mostly improvised, based on stories from the creators' (L Word executive producer Larry Kennar) lives.