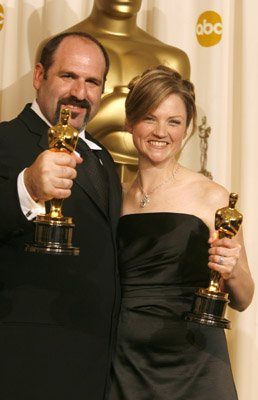 As you're huddled up Sunday night with your crew, descending upon the 3 hour plus quasi-borefest known as the Oscars, there is one sweet lady to keep in mind that evening: Tami Lane, nominated for Best Makeup for The Hobbit. Tami is best known in Hollywood for her work on The Lord of the Rings Trilogy for which she earned her first Academy Award nomination, and The Chronicles of Narnia: The Lion, the Witch, and the Wardrobe, for which she WON her first Academy Award for Best Makeup. She is nominated once again this year, and let's hope she takes it home for the team.
I had a chance to chat with Tami about her experiences in the world of Hollywood makeupland, her humble Midwestern beginnings and how it feels to be nominated against her best friend and mentor, Howard Berger (nominated for Hitchcock).
How did you fall in love with the art of makeup?
When I was in high school I wanted something other than a school activity to keep me busy.  I was involved in sports, music, a variety of clubs, but I wanted something else. My high school band teacher was the music supervisor of a show at the community theater in my home town called Sweet Charity.  I grew up with my mom taking me to musicals since I was little and I was fascinated with the workings of live theatre. I asked my music teacher if she could get me on the stage crew at the theatre and I was welcomed into the crew. I became very good friends with the man who was head of construction and also dabbled in makeup. His name was Harold Breitenbach and he took me under his wing and started showing me makeup effect tricks. He would take me to all the local haunted houses and put me to work. I also had an early interest in sci-fi and monsters when I was a kid. Thank you Star Wars, Superman, the Hulk and the Muppets to name a few. So makeup became a hobby all through high school and college. I never had intended it to be my career.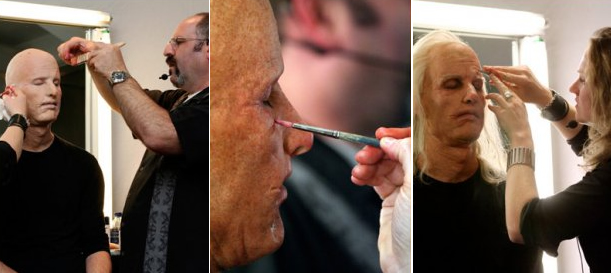 How did you make it out to Hollywood?
I went on to study art in college with an emphasis in graphic design. I learned that I hate computers and when I was a senior I started to panic about what I was going to do after graduation. A friend told me about a two-week class that went out to LA to learn about the entertainment industry. One of the stops on the trip was going to be a tour of a makeup effects studio called KNB EFX Group. I was excited by both the thought of visiting this makeup studio and also seeing the ocean. So I applied for the class and was lucky enough to get in. This led to my first exposure of Hollywood. On that trip I met Ray Bradbury, Sal Bass, Henry Winkler, countless other legends and Howard Berger– the B of KNB EFX Group Inc. When I took that tour of KNB, I fell in love with monsters, puppets and prosthetic makeup. I had showed an interest in the studio to Howard, so Howard told me to go back to school, graduate, come back to LA and give him a call. So two weeks after I graduated I moved out to LA and I called Howard. Eventually with some persistence I got a job at the studio and haven't looked back since.
Can you describe an average day or week working on The Hobbit?
Let me say that there was nothing average about working on The Hobbit. It is by far the toughest job I have ever done and am so proud of the work the my team and I accomplished. We shot for 18 months. An average day was getting to work by 4am and not getting home till sometimes 10pm. We would come in and do our stunt makeup and then the hero makeup for the dwarfs. My characters were Thorin and Dwalin. Half the team would go to set with the actors to maintain the makeup and the other half would stay back and do their prep work for the next day. On 11 of the 13 Dwarf makeups, their eyebrows had to be hand punched one hair at a time with a needle to create a realistic eyebrow on the prosthetic. These prosthetics were not reusable, so a new set had to be done for all 266 shoot days. This process would take about 2 hours. Once the artist was prepped for the next day, they would go to set and switch out with another artist that needed to do the same. We were in a constant state of prep the entire shoot. So my job was to do my makeups, prep, make sure everybody else got their prep time, go to set and keep an eye on the makeups as there was constant tweeking to be done due to lighting changes and shooting at 48 frames on a high-def 3D Red Epic camera that left almost no forgiveness. We were not allowed to have a bad day. Every day had to be perfect. I also had to be one step ahead of the director trying to plan for the big days when we would have countless orcs, dwarfs, elves and hobbits. Every day was different but always colossal. We would average 16-18 hour days, 86 hour weeks. My biggest week was 109 hours and at one point I worked 17 days in a row.
What are some of the bigger challenges you face in a male dominated field like special effects makeup?
The biggest challenge is gaining respect. I ignore that the men are men and I ignore that I am a woman. I approach my job and the people around me as people. It also helps to know a few clever crude jokes.
How did winning the Academy Award for Narnia most prominently impact your life?
Winning that award with my best friend, Howard Berger, gave me the confidence to continue doing great work. After you get that sort of acknowledgment and accolades from your peers, you just want to keep going and work with as many talented people as you can. You just want to continue learning and improving. I feel so lucky to have had that experience so early in my life.
What's the most fun part of the Academy Award experience?
The most fun part is the Nominee Luncheon. It's the first event of many and you are in the room with so many talented people and you have the right to go up to any of them and talk to them without sounding like a crazy fan. I just met Sally Field this year. I love her. Nothing tops the actual night of the awards. It is so nerve wracking, your stomach is in a knot, your feet are already killing you and you're hoping that the bar doesn't run out of tequila. I don't care who you are, that night is amazing but it flies by so fast.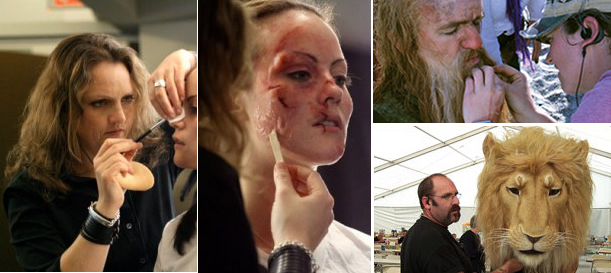 How does it feel to be nominated this year against your best friend and mentor, Howard Berger?
I love Howard. I went through this with him the first time and now again the second time, just with a twist. I don't care about the fact that we are on opposing movies. If he wins I will be so happy for him and will be in his limo going to the Vanity Fair party. If I win I know he will be just as thrilled for me. It is quite a story. Howard is my mentor and best friend. What's a little friendly competition?
On a scale of 1-10, how pissed were you that he took up all 30 seconds of acceptance speech time in 2006?
One. I was not upset at all. I was in a state of shock and I don't even think I could of gotten a sentence out because the lump in my throat was so big. Besides, his speech was so well done. He had been rehearsing it since he was 5. So many folks thought he was a jerk but I did not at all. I was busy looking out into the audience and taking in the view.
http://youtu.be/6DOenEvAT48
What advice do you have for of our readers pursuing a career in makeup in Hollywood or New York?
My advice is educate yourself, not only in product and technique but also with movies and legends of the makeup world. It's so competitive out there because there are so many makeup schools pumping out people with certificates, and not necessarily talent. If you want to do makeup in the movies, you have to move to LA or NY. You have to put yourself in front of opportunity. If you stay at home and wait, opportunity will never come.
What are some of your favorite movies, TV shows, musicians, books..?
Favorite movies: Star Wars, Superman, Indiana Jones, Goodfellas, Meatballs
TV shows: when I was a kid: The Incredible Hulk, Spiderman.  As an adult: The Big Bang Theory, Family Guy
Musicians: Stevie Ray Vaghn, BB King, Fleetwood Mac, Eddie Veder
Books: Biographies of Keith Richards, Richard Pryor, Sting, BB King, Katherine Hepburn
Good luck Sunday night, we'll all be rooting for you!