Autostraddle's resident prairie homo is in New York for the summer! Welcome to A Prairie Homo Does New York, a new weekly column detailing her (hopefully) exciting adventures.
"Good evening ladies and gentlemen! My name is Damien and I'll be your candy man tonight!" It's Thursday evening and I'm on the 2 train in the Bronx. It's surprisingly crowded for 8 p.m., but nothing compared the subway in Manhattan at 5. If I wanted to, I could probably manage a (small) jumping jack without slapping any commuters in the face, but I don't want to put on a show. That's Damien's job.
"Candy!" he announces in a voice that could carry across a packed stadium, a voice that commands attention, but he's hardly even given a glance. "I got chocolate bars! Snickers! M&Ms! You want Kit-Kat? Gummy bears!" he lists off the candy like an auction announcer. I don't know how anyone can talk that quickly while also walking down the aisle of a semi-crowded train rattling a brown cardboard box of candy. "Chocolate bars! Snickers! M&Ms! Kit-Kats! Gummy bears!"
People check their phones, stare out the window at the darkening skyline, and hush their children, but they don't buy any candy. Undeterred when we reach the next stop, Damien adjusts his baseball cap and hops off the train and onto the one behind us.
Before I came here, hearing the words New York pushed the "on" button on a kind of slide projector in my brain and all of these images, mostly accumulated from nearly a quarter century of TV, would speed through me one after the next like cars of an express train: Oscar the Grouch in a garbage can would be in car one; then there'd be the gang from Friends at Central Perk; Big Bird; people sitting on the steps of their brownstones having conversations with each other and maybe with Big Bird; Carrie from Sex and the City running through the rain hailing a taxi in heels and some extravagant outfit I'll never be able to afford and wouldn't want to wear anyway; some diner scene from Seinfeld; the girls from Girls being girls in hipster-chique fancy clothes. Minus Oscar the Grouch whose ethnicity is unknown, and Big Bird whose ethnicity is bird, most of the characters in my New York slideshow were white.
Of course, I knew New York was a multicultural city, but the slideshow in my head was projected from the television set, and according to the TV, the main course in New York is white, to be served with the occasional exotic side dish (yummy!) of person of colour as temporary love-interest or person of colour as wise-cracking janitor! And so, when I arrived in New York, the slide show in my brain didn't match up with reality. At all.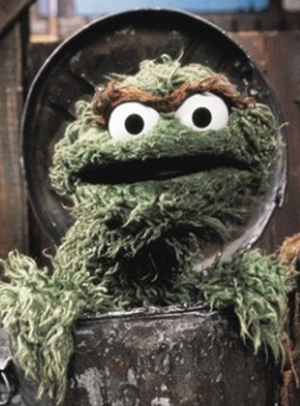 My first morning in New York, I get on the Bronx 2 train headed to Manhattan. Everyone on the train is black. And looking around I realize I've never before been on a train or in any environment, besides a country dance club I went to for a friend's birthday when I was 19 (everyone was white) in which everyone was all black or all white. In Edmonton, wherever I go, there's a mixture of ethnicities; whereas New York has histories and politics etched deep into the subway lines it could take me a lifetime to study; so I start by studying the woman seated across from me. She's wearing a crucifix and holds a prayer book in one hand, her phone in the other:
"Now girl, what you eating? You always eating. You love your belly!" And later: "Everyone's telling me to be thankful, but I'm not thankful, I'm grateful. This new job…I still got no coverage, so I'm grateful, but not thankful. There's a difference."
The Bronx is so beautiful. That's what struck me most when I arrived, tired and overwhelmed, my hair blown-up by the humidity like a poodle ready for a snooty dog show: green! trees! There are blocks that look like they come straight out of the Sesame Street Mega Blocks set I had as a kid: colourful, painted brownstones side by side. You pass the most majestic-looking buildings full of sweeping vaults and intricate designs carved into cement, buildings that make you think of European opera houses. And next to them, tall grey or brown apartments, then brownstones, storefronts that could be out of the Wild West, a tunnel, train tracks, graffiti. Recently, a friend who's traveling wrote me and explained that when she's in a new place, sometimes the buildings don't look real. When you find yourself dropped in unfamiliar surroundings, it's hard enough to believe that you're actually here, wherever here may be, let alone that other people are here and have been their whole lives. But seeing graffiti can help bring the sleepy-eyed, jet-lagged traveler back to reality. Walls always seem more real when covered with imperfect but beautiful and colourful messages. Graffiti says, "Real people were here. Real people wrote this."
As the we get closer to Manhattan, the woman with the crucifix necklace, the prayer book, and no health coverage leaves the train, and more and more white people board. Soon the train will reach Wall Street station and there'll be white men in suits holding briefcases. They'll stare at their iPhones in a way that makes you think they are doing Very Important Business even if they're just updating their statuses to "Train's crowded and I think I wrinkled my suit," and they probably don't have to worry about things like health coverage.
I get off at 34th Street Station, go up some stairs, (or was it down some stairs?), push my way through crowds of people trying to find my exit and instead end up in some sort of underground cafeteria. It smells like junk food but also like mould and sweaty bodies. In the glow of the fluorescent McDonald's M, an old grey-coloured man in an Oliver Twist cap sings Whitney Houston's I Will Always Love You into a microphone shaped like an ice cream cone. It's just so strange I don't even know what to do. "Holy shit! New York! Shit, New York's weird," I tell myself as I look around for the 34th Street exit to the beat of "And aaayyyyyyeeayyyyy will aaalllways love youououuuuuuuu!" mixed with the rattle of trains, which, I've noticed, have an uncomfortable way of always sounding like they're two seconds away from breaking or exploding.
It's not just the train. The whole world is also a potential disaster waiting to happen, I'm later informed by an an old man with skin like a crinkly paper bag, a Santa Claus beard, a red baseball cap, and a booming voice he's decided to use to preach to the Bronx-bound commuters.
"It's not the government. It's the Illuminati." He stands in the middle of the train and takes the time to try to make eye contact with every single passenger. "Put down your iphones, put down your ipods." Some people giggle. One or two even nod thoughtfully, and there are those who don't even seem to be aware he exists. "The government's not gonna protect you. It's about community. We gotta be here for each other." I'm unable to keep my eyes off him as he sways back and forth to the rhythm of both the train and his words. You could clap in time to the cadence of his speech, but instead I hold my bag against my knees, turn off my iPhone, listen and watch New York.