I get it — Valentine's Day isn't for everyone. From the commercialism to the hyper-focus on straight, monogamous relationships, there are plenty of reasons why this holiday rubs some of us the wrong way. But like I said last year, I believe in seizing every opportunity to enjoy life a little more — especially in February — and so, by the power vested in me as Autostraddle's Sex & Dating Editor, I hereby grant you permission to get yourself a little V-Day treat, whether you're "officially" celebrating this day or not.
Here are nine, sensual gifts you can get for your own damn self this year. While these gifts suit a variety of budgets, they all feel at least a little fancy.
---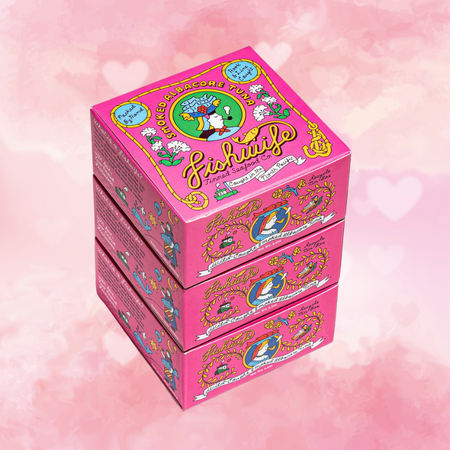 Last year Kayla delivered a critical message: It's time to get into tinned fish. And you don't have to save your fancy tinned fish for a date night! You deserve an elaborate spread while you watch Homeward Bound by yourself in your sweat pants. If you're an A+ Member, you get access to Autostraddle's A+ Marketplace, which gets you 15% off your Fishwife order.
---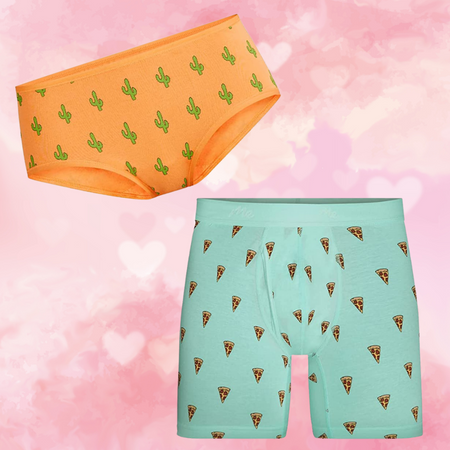 Underwear (prices vary)
Give your ass something nice to sit on. Personally, I'm a fan of MeUndies — they make ridiculously soft underwear in a variety of styles and prints (check out this Black Panther print, this pie print, or this inspiring "FUCK IT" print — sizes range from XS to 4XL). Are you more of a lingerie person? Check out Dani's shopping guide for plus size lingerie. At the very least, replace your hole-iest pair of undies with a new pair from whatever brand suits your budget and your booty's needs.
---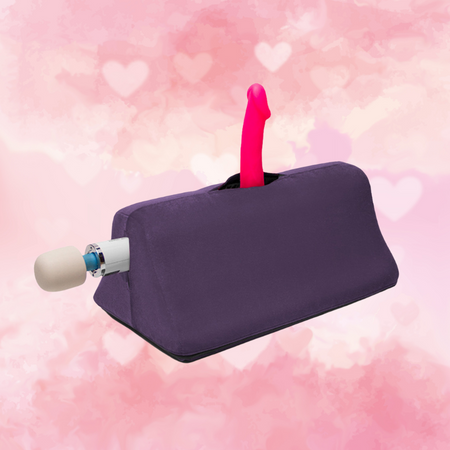 Single folks deserve to ride and grind hands-free, too! Each pocket on the Tula toy mount can hold a dildo or vibrator. You can also use the mount on its own as a positioning pillow during sex or solo play. Oh, and in case you get really, um, "jazzed" about your hands-free humping, don't worry — the zip-off cover is moisture resistant and machine washable. If your budget won't allow you to drop $100 on a toy mount, gift yourself a suction cup dildo (like this $27 option) instead.
---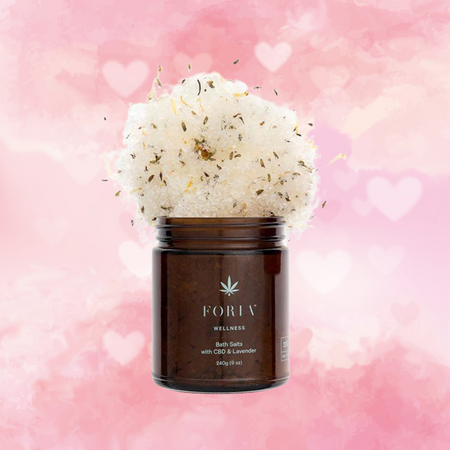 This Valentine's Day, take some time to unwind. Upgrade your bath routine and try out Foria's bath salts, which are infused with organically-grown kava, lavender, calendula, ginger, and 200mg of broad-spectrum CBD. For a budget-friendly option, snag some Dr. Teal's Epsom Salt for $5.
---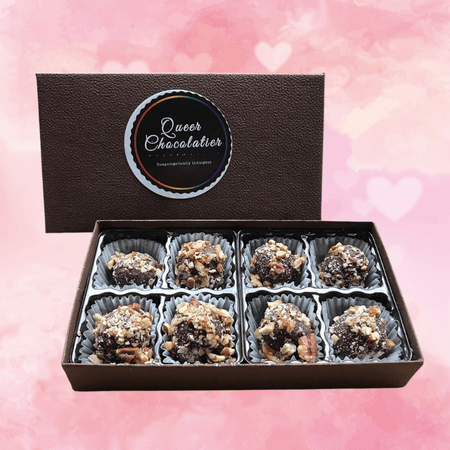 If you don't have a partner who's going to buy you chocolate (or if you do have a partner and they're not buying you enough chocolate), get yourself some truffles from the Queer Chocolatier — that way, you can fulfill your craving while supporting a queer-owned business. The company's brick-and-mortar store is located in Muncie, Indiana, but they can also ship their truffles, drinking chocolate, and chocolate bars anywhere in the US.
---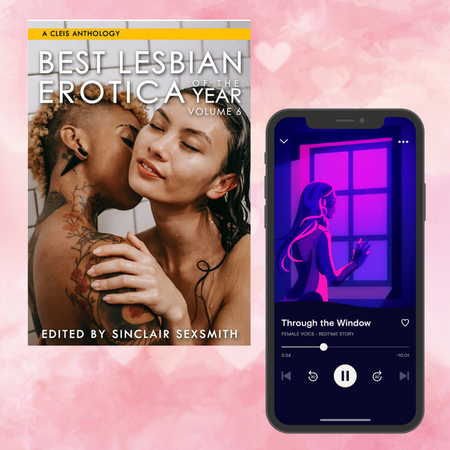 Erotica (prices vary)
Warm up this winter with some erotic fiction, like Best Lesbian Erotica of the Year, Volume 6 ($18.95). If you're more of an audio erotica person, subscribe to Dipsea for $12.99/month and hear sexy stories read aloud by queer babes like E.R. Fightmaster. And for as little as $4/month, you can subscribe to A+ and get access to Autostraddle's S L I C K erotica series, along with other perks.
---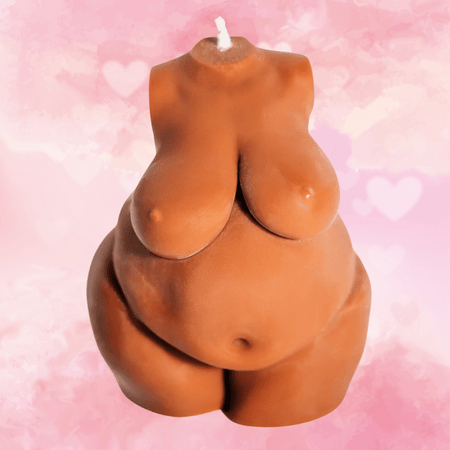 I included CTOAN's booty candle in a holiday shopping guide last year. This time, I'm highlighting the queer-owned, Black-owned company's oh-so-sexy "Angel" candle, which comes in four different colors and four different scents (there's also a fragrance-free option). Light it, watch it melt, and drool.
---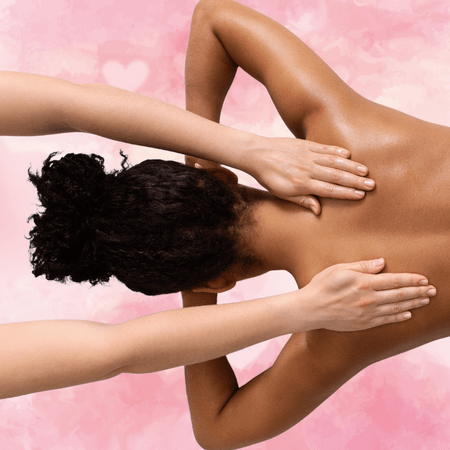 A Massage (prices vary)
Wouldn't it be nice your shoulders didn't feel like lumpy cement? Even if you have a partner who's willing to rub your back, you deserve a massage from a professional (unless, of course, you happen to date a massage therapist, in which case — congrats! You've won). If a professional massage is out of your price range, trade neck rubs with a friend.
---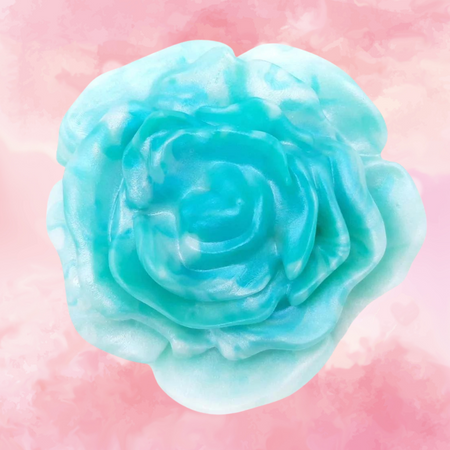 Buy yourself a different kind of rose this Valentine's Day. This silicone toy offers a unique texture for solo grinding, and you can also pass it off as a "decoration" on your bedside table. If you prefer butt stuff or if you're on a tighter budget, try this Booty Blossom Butt Plug ($28) instead.
---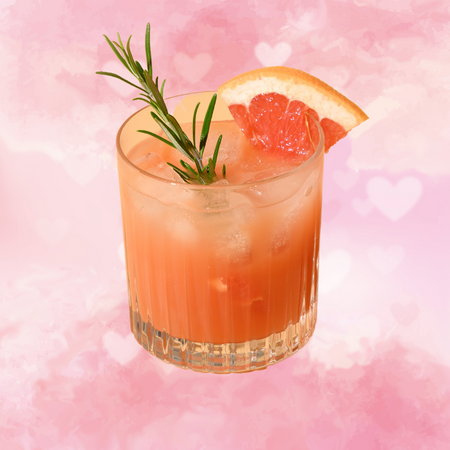 A Fancy Beverage (prices vary)
I don't know which flavors you prefer, so rather than recommend a specific product, I'm just going to suggest that you get yourself a bottled or canned beverage that feels "fancy" to you (like your favorite kombucha or a CBD soda or maybe just a La Croix) or pick up some ingredients for a perfect hot chocolate, latte, mocktail, or cocktail. At the very least, sprinkle a little cinnamon in your morning coffee. You deserve some extra flavor in your day.
---
Are you planning to be your own valentine this year? How are you going to show yourself some love? Tell us about it in the comments!