There's never been a better time to embrace all the nerdery that lives in your heart, especially if you're a sapphic nerd! Our time has truly come! Unfortunately, lots of geeky activities can feel overwhelming or inaccessible if you're just starting out. I know because I've felt it, and because it's the number one thing people ask me: "How do I get into comics/D&D/video games? I don't know where to start!" So I thought, here near the beginning of the year, what about a primer for some of the most popular queer nerd hobbies? The beauty of most gay geeks — unlike most cis straight boy geeks — is that we WANT everyone to love what we love, and are more than happy to hold your hand and wax poetic about it, while guiding you into the depths of obsession! In fact, I bet if you have any questions about any nerds hobbies, and you ask them in these very comments, someone will swoop in and be thrilled to answer you! Here are eight queer nerd hobbies, and how to get into them!
---
1. Sci-Fi Series With a Billion Episodes
The most important thing you need to know about ALL nerdy stories — fantasy TV, sci-fi movies, comic books, video games, graphic novels — is that every single timeline is wibbly wobbly. Fantasy's cousin is soap operas. (Star Wars is literally called a space opera.) It's just that all the shenanigans and tomfoolery are explained by magic or cool tech! And the hijinks, they are endless! So endless, in fact, that there's no solid continuity in any of these stories, no matter how much hand-waving super-fans do.
That means you absolutely do not have to start in the 1960s if you want to watch Jodie Whittaker's Doctor Who, or watch all 178 episodes of Star Trek: The Next Generation if you think Star Trek: Picard looks cool and gay, or sit through a single second of Jar Jar Binks if you want to check the hype on Baby Yoda in The Mandalorian. And anyone who tells otherwise is wrong! If you like Willow the TV show, and you want to go back and watch Willow the 80s movie, awesome! Enjoy the special effects! Will it give you a deeper understanding of the series? Sure, and some inside jokes too. But the show is still imminently enjoyable — and understandable! — without all that background. That's true of every fantasy series I can think of. Plus, if you have a question about the older stuff, I guarantee you can find it on a fan wiki.
---
2. Cartoons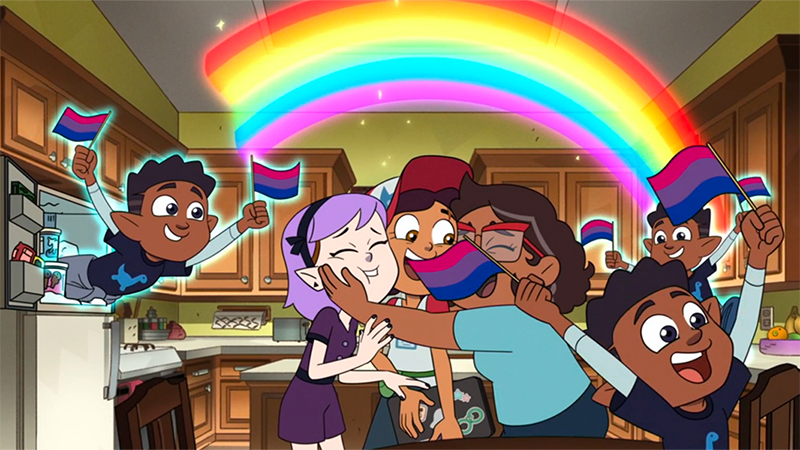 The tricky thing about getting into cartoons is really just the online dialogue. If you've been into cartoons for a while, and I say "The Owl House" to you, you'll be able to draw a line to She-Ra then Steven Universe then Adventure Time then The Legend of Korra. But you don't NEED to be able to do that. You can just enjoy animated TV. I personally think those series I just named have done queer rep as good as any live-action show for "grown-ups" in the last decade. And the great news is that ALL the best cartoons are streaming (for now). It can seem overwhelming, I know. There's a billion episodes of Adventure Time, for example. And the old ones are on Cartoon Network while the new ones are on HBO Max. But just click on a pilot, give it a few episodes, and take it from there. If you want more adult cartoons (by which I mean both sexier and adult characters), try Harley Quinn or Star Trek: Lower Decks. You don't need to know a dang thing about Batman or Star Trek to enjoy them.
---
3. Watching D&D
There are so many cool D&D campaigns you can watch and stream these days! Which might not sound like fun to you, but probably because you haven't tried it. I thought my friends were having some kind of collective hallucination of joy when they all started watching Critical Role five hours a week, several years ago, and then I started, and now I'm as hooked as they are. (You should read Valerie Anne's essay on how queer D&D changed her life, if you haven't already.)
Critical Role is the most famous D&D game in the world, and there's plenty of queer characters to root for. High Rollers is a UK-based campaign. Dimension 20 has gotten more and more popular over the last few years. The Black Dice Society is super beloved. Rivals of Winterdeep is a hidden gem. You can also, of course, watch the Critical Role animated series, The Legend of Vox Machina. I'd recommend starting with a one-shot or mini-series, to get a feel for the players and their style, and if you like that, there's a whole world of imagination waiting for you!
---
4. Playing D&D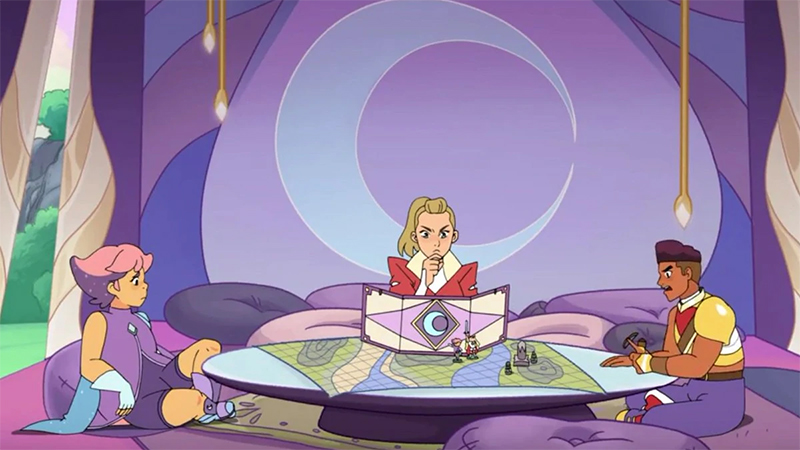 I didn't start playing D&D until I was 40! I literally had no idea to play when A.E. Osworth invited me over to do a one-shot with some queer friends a few years ago. I was nervous! I didn't even own any dice; I had to run out and buy some the day of the game! But that game was one of the best nights of my life, and it lead to a campaign with dear friends. We had to halt it when the pandemic started, and it's, by far, the thing I've had the hardest time letting go of because of Covid. I'm not good at D&D, really, but it is so much fun!
Like most things, you can go as deep as you want with D&D, reading all the guidebooks and learning all the magic systems and spells and lore — or! You can get your friends to help you build a character and learn as you go, just enjoying making up stories with people you love, and sometimes landing the fatal blow on a demilich. The best way I can think of to get involved with a D&D group is to hang out in queer spaces where people play D&D — like Autostraddle! — and make friends. Every time we do an A+ Discord event, new tabletop game groups pop up! People are always looking for groups in our comments! Luckily, there's loads of ways to play online these days, so you can build a group from all over the world.
---
5. Comic Books
I think the reason comic books are so intimidating is because the characters are constantly changing. Not just the costumes, but the person inside them, and even if their name stays the same, they could be a whole different character. Most major superheroes — even Batman — have been through a zillion changes over the years. It's not always Bruce Wayne inside there! And then there's the added complication of what's on TV, or what's in a movie, those might not be the same as what's in the comic book. And then, at any given time, there might be seven comic book titles about one character all taking place in different worlds on different timelines. Again, the key to your happiness is knowing you don't have to start at "the beginning" and you don't have to be a completionist.
My advice is to pick a character you love and then read a current series about that character. Almost all major comic books are collected into trade paperbacks. That means you can buy like ten comic books all bundled together in one book, so you're not chasing individual issues around. Also, Comixology makes it super easy to get your hands on any single issue you're looking for, if you don't mind reading digitally. Once you decide if you like a certain book — the character, the writing, the art — then you can figure out if you want to read more books about that hero. Or more books by that artist, or writer. You can dig down as far as you want to go, and it will get easier and easier as you go along. Also don't forget to explore indie titles like Carly Usdin's beloved series, The Avant-Guards or Heavy Vinyl, or the all-time queer fave Lumberjanes.
---
6. The Sprawling Marvel Cinematic Universe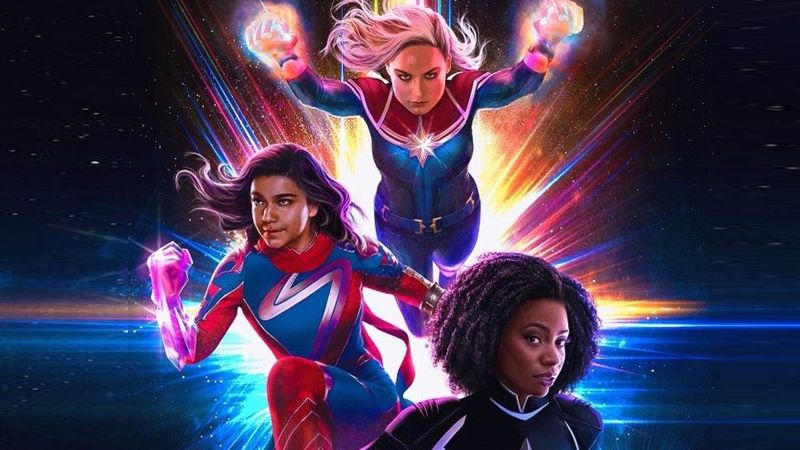 Autostraddle EIC Carmen Phillips is going to fall over when she reads this, but: You do not have to watch all the Marvel movies and all the Marvel TV shows to enjoy Marvel characters! The tricky thing about Marvel movies is the order they were made in is not the order of the MCU's timeline. The first MCU movie was Iron Man, released in 2008, but the first MCU movie in terms of the Marvel timeline is Captain America: The First Avenger, which takes place in 1941 and was made in 2011. The next spot on the timeline is Captain Marvel, which takes place in the 1990s, but was made in 2019, and is the 22nd Marvel movie. So! I understand your confusion!
You can simply choose a character you like and watch through their movies, and that's just fine! Captain Marvel is a great choice. Black Panther is another great choice. I have a soft spot for Thor, himbo long-haired soft butch that he is. Plus you're getting Tessa Thompson as Valkyrie in those movies.
If you want to watch Marvel movies in the order they were made, or the order of the timeline, Rotten Tomatoes has you covered. I will say that I watched all the Marvel movies as they came out, because I have always loved superheroes, but a few years ago, my wife and I rewatched them all in timeline order. Both were very fun. It's a good way to spend TV time with someone you love, without any of the labor of trying to figure out what's next.
Note: The Spider-Man movies fit into the MCU in a very weird way that I will explain in the comments if you want. The main thing to know is that the Tom Holland/Zendaya Spider-Mans are the ones that are important in this world. He's the Spider-Man of our known Avengers..
---
7. Fantasy Books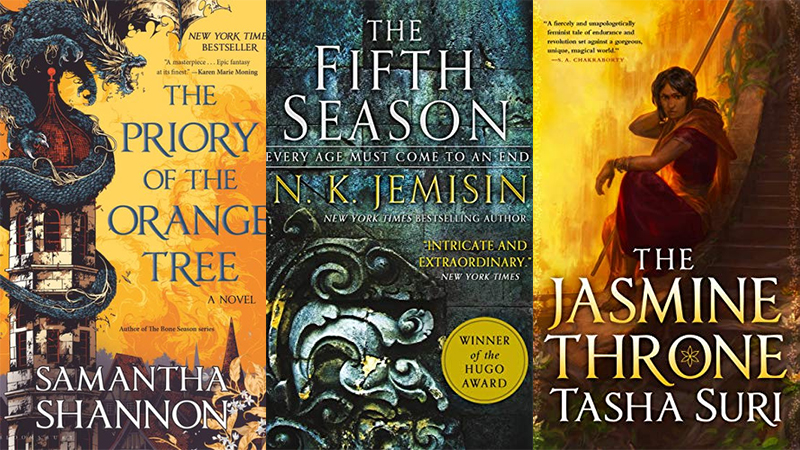 I think fantasy books can seem intimidating because so many of them are trilogies and so many of them are thousands of pages long. I think they can also seem dull if the only fantasy books you know about are Harry Potter and Lord of the Rings. But oh, there are SO many LGBTQ fantasy books these days, and they are absolutely not all taking place in Middle Earth.
N.K. Jemisin, the most celebrated modern fantasy author, is a Black woman who refuses to write in this white supremacist middle-ages fantasy land we've been inundated with our whole lives. All of her books are a revelation, and unlike anything you've ever read. The Broken Earth trilogy won THREE Hugo Awards. Tasha Suri's The Jasmine Throne is queer and inspired by Hindu epics. Last year's widely beloved The Daughter of the Moon Goddess, by Sue Lynn Tan, is inspired by Chinese legend. Sangu Mandanna's The Very Secret Society of Irregular Witches, another breakout hit from last year, is modern fantasy with four witches of color as protagonists; the main character is an Indian witch living in Britain. Travis Baldree's Legends and Lattes is a lesbian rom-com set in the world of Dungeons & Dragons. Samatha Shannon's The Prioriy of the Orange Tree, my favorite book, has an epic lesbian romance and a prequel is coming out at the end of the month. The Final Strife by Saara El-Arifi is gay as heck and has its toots in Ghanian and Arabian mythology. And before Malinda Lo was winning National Book Awards, she was kicking off the queer YA revolution with books like Ash, Huntress, and Adaptation (fantasy, fantasy, sci-fi).
There has never been a better time to be a queer woman who loves stories about women who wield magic and swords.
---
8. Video Games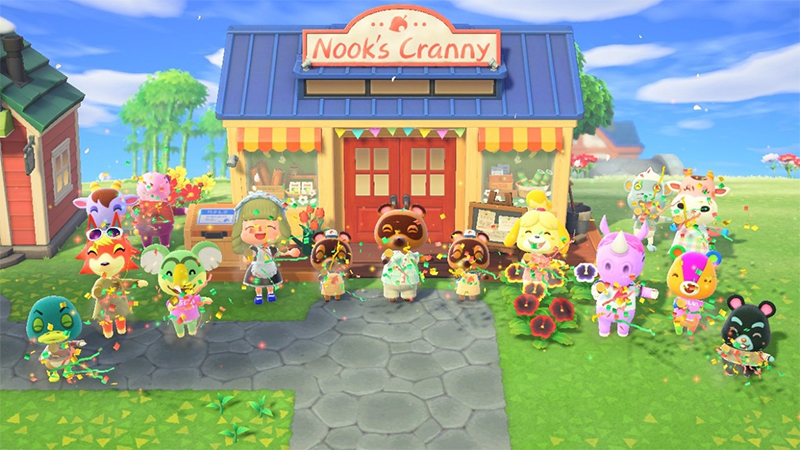 Video games are more popular than ever, with endless platforms to play on, including your very own phone! The tricky thing about getting into gaming is that the upfront cost can be pretty steep. Even the cheapest Nintendo Switch + a game will run you $250. But! Gaming consoles and games are an investment in fun that always pay dividends. You will be shocked by how much time you'll spend losing yourself in cozy worlds like Animal Crossing and Stardew Valley, or sneaky heartbreaking queer worlds like The Last of Us or Life Is Strange, or heroic open-world games like Horizon Zero Dawn or Assassin's Creed. You'll also be surprised, I bet, by how much self-discovery you do while roaming around these virtual lands.
The first step is to decide what kind of games you want to play. Brighter, cozier, cute critter games? Probably a Nintendo is best for you. Want to dive into major studio action-adventure and role-playing games? You can pick up a used PS4 or even PS3 to test out the mechanics and see if you want to spring for a newer XBox or Playstation. There are also LOADS of playthroughs on YouTube, so you can get a feel for the games before you buy them. ALB in Whisperland is a queer creator and one of my favorite cozy game players. The ASMR Nerd is a very cool guy from Canada who plays a lot of RPGs (on a PC, but the vibe is the same). I like ASMR gamers because they don't yell and aren't jerks.
Update: I've heard from a reader who's a librarian who tells me you can now borrow games and even some consoles from libraries! So definitely check your local library and see what options they have!
---
If you have any tips or questions about nerding out, I'd love to hear them in the comments!