Last night, nine candidates for the Democratic nomination for president participated in a "Power of Our Pride," a town hall event hosted by the Human Rights Campaign Foundation and CNN. It's not the first time the HRC has hosted a town hall of this sort; they sponsored similar town halls in 2004 and 2008. Nor is it the first time candidates were quizzed on LGBT issues during this campaign: a majority of the candidates from last night also participated in the GLAAD LGBTQ forum last month. But thanks to CNN's role as a broadcast partner, last night's town hall was probably provided the largest audience ever for a protracted discussion of LGBTQ issues in history.
The Participants:
+ Cory Booker – Senator from New Jersey [ LGBT agenda ][ Pride Gear ]
+ Joe Biden – Former Vice President
+ Pete Buttigieg – Mayor of South Bend, Indiana [ LGBT agenda ][ Pride Gear ]
+ Elizabeth Warren – Senator from Massachussetts [ LGBT agenda ][ Pride Gear ]
+ Kamala Harris – Senator from California [ LGBT agenda ][ Pride Gear ]
+ Beto O'Rourke – Former Congressman from Texas' 16th district [ LGBT agenda ][ Pride Gear ]
+ Amy Klobuchar – Senator from Minnesota [ Pride Gear ]
+ Julián Castro – Former Secretary of Housing and Urban Development [ LGBT agenda ][ Pride Gear ]
+ Tom Steyer – Businessman
Two candidates who were eligible to participate, under the DNC's qualifying rules, but did not, were: Sen. Bernie Sanders and Former Tech Executive Andrew Yang. Sanders had originally committed to the event but, after suffering a heart attack and the tragic death of his daughter-in-law, he withdrew.
---
Because of the DNC rules, constituent groups like HRC, GLAAD, March for our Lives, et. al. are prohibited from hosting debates between the candidates, so last night, each candidate was offered 30 minutes to entertain questions from CNN anchors and a studio audience. Here were my six takeways from last night's town hall forum:
1. Let Black Trans Women Speak for Themselves
Back in 2014, then-HRC president Chad Griffin gave the keynote speech at the Southern Comfort Conference — one of the largest gatherings of transgender people in the world — and offered an apology. He said, "HRC has done wrong by the transgender community in the past, and I am here to formally apologize. I am sorry for the times when we stood apart when we should have been standing together." And while it's hard to know with whom to affix blame — CNN or HRC — the exclusion of black trans women from last night's forum felt a lot like not much had changed with respect to integrating the voices of the trans community into our dialogue on trans issues.
Let's be clear about something: trans issues came up frequently last night. Stats about the tragic deaths of black trans women came up so often in fact, that when a candidate misspoke about the number, the audience was able to correct them in a singsong manner. There were trans people who asked questions, including Gavin Grimm and young trans kids with their parents. But even as candidate after candidate brought up the epidemic of violence against black transwomen, the town hall went hours without recognizing a black trans woman to speak.
Trans activist and commentator Ashlee Marie Preston was, initially, slated to ask a question but had that opportunity withdrawn prior to the town hall. Multiple times during the town hall — but most notably during Buttigieg and O'Rourke's segments — black and brown trans activists erupted in protest.
"Black trans women are being killed in this country. Black trans women are dying and our lives matter. Not one black trans woman or man has been given the mic tonight," trans activist and actress Blossom C. Brown shouted.
And while Shea Diamond would eventually get to ask a question, it was hard to watch last night's town hall and feel like we're still a community talking at trans women of color and not to them. We cannot continue to have conversations about the violence impacting trans women without listening directly to trans women.
2. The Warren Charm Offensive
Soon after she announced her candidacy for president, Elizabeth Warren was beset with questions that dogged Hillary Clinton's campaigns for years… that is, "is she likeable enough?" POLITICO put it more directly, asking, "How does Warren avoid a Clinton redux — written off as too unlikable before her campaign gets off the ground?" Those critiques are, of course, rooted in sexism and have often been disproven by polling. But in case the polling or the 20k+ crowds or the three hour long self lines weren't enough to convince you, Elizabeth Warren stepped out on the stage last night, with the swagger of a frontrunner, and teemed with likeability.
This Elizabeth Warren answer was quite a moment at CNN #EqualityTownHall pic.twitter.com/ThpI7YSO8M

— MJ Lee (@mj_lee) October 11, 2019
She cracked jokes, she sang a song, she was completely at ease in the moment. When the questions warranted a deeper policy discussion, like one from June Crenshaw about an increased focused on the issues impacting black and brown LGBT youth like homelessness and hate crimes, Warren tackled them with the depth we've come to expect from her campaign. Asked about aid to anti-LGBT countries, she giddily pivoted away from the discussion of foreign policy to something more in her wheelhouse: US trade policy. It was the best performance I've seen from Warren in a forum during this campaign and if it's an indication of what we might see during Tuesday's debate, watch out.
3. Biden: Still Terrible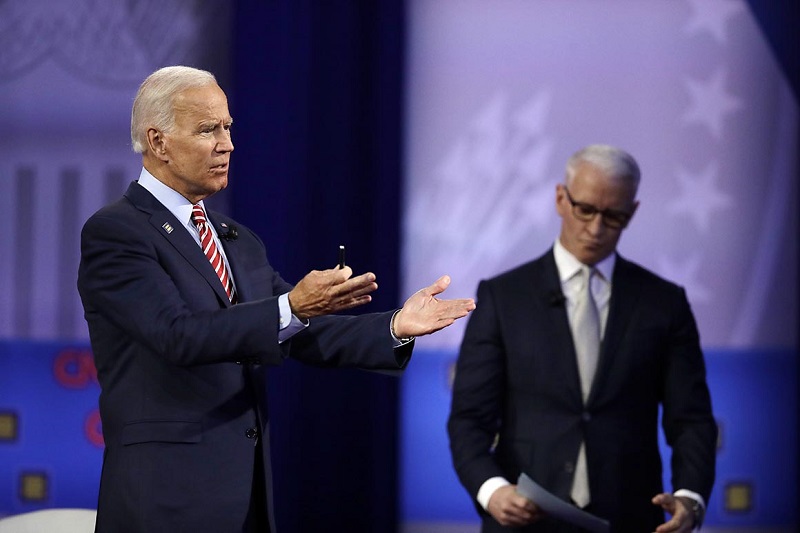 This is the third time that Joe Biden has run for president (first in 1988, then in 2008). Twice before, Democratic voters have had the opportunity to select him as the standard bearer for their party and twice they have chosen someone else. Watching his performance in this forum, you get a strong sense about why that is.
Biden didn't do any worse last night than he did at the Iowa LGBTQ presidential forum but it wasn't for lack of trying. Without a structure of a debate and time restrictions imposed by a moderator, forums like these allow Biden to ramble and, seemingly, when it comes to LGBT issues, Biden always seems to stumble into problematic territory. Last night, after taking a question about health care disparities among black LGBTQ people, Biden started out by promising to end the ability of health care providers to discriminate. He went on to discuss the importance of HIV/AIDS education and then things started to get weird.
He repeated the much-maligned anecdote about the gay waiter before telling telling CNN's Anderson Cooper, "Remember, Anderson? Back 15, 20 years ago, when we talked about this in San Francisco, it was all about, well, gay bathhouses. It was all about round-the-clock sex. Come on, man. Gay couples are more likely to stay together longer than heterosexual couples."
Good Lord, Joe Biden, get yourself together.
4. She Got The Receipts.
Much of the discussion about Kamala Harris' portion of the "Power of Our Pride" town hall has been about the introduction. Harris took the stage and, impressively, introduced herself and shared her pronouns. CNN's anchor Chris Cuomo then responded with a joke, saying, "me too." Cuomo would later apologize for the careless joke but the controversy over it eclipsed a broader discussion of the forum and Harris' segment in particular. It's an unfortunate turn for Harris who really captured her history of standing up for LGBT people well (though, at points, I thought she went on for too long).
Kamala Harris on Valentine's weekend at San Francisco city hall in 2004: "It was a day where people who love each other had the ability for their love to be recognized by law" #EqualityTownHall https://t.co/vECaLko8m8 pic.twitter.com/v8WkCp3edj

— CNN Politics (@CNNPolitics) October 11, 2019
While Harris' record isn't without its shortcomings — she wasn't asked about her comments about trans health care in prison, for example — she may have the most demonstrative record of working on behalf of the community of any Democrat in the field. She talked about her work on bringing same-sex marriage to California, her creation of a division of her office, while District Attorney, to support the LGBT community, and the dismantling of the trans panic defense. Much of the success she pointed to on LGBT issues came long before they were embraced by mainstream Democratic politicians.
"What we have to understand about that is that literally we have whole populations of people who often from the day they were born know that their body is capable of being harmed physically," Harris explained, in one of the more thoughtful moments of the town hall. "There's not a woman who in her 20s is not afraid of being raped. Let's speak real here. In terms of hopefully helping people see the commonality between these issues, which is that no one should be made to feel vulnerable in that way to harm and that their physical safety is at jeopardy."
5. Marriage Still Looms Large
Gay marriage was talked about a lot last night, much to the chagrin of some quarters in the LGBT community… and while their disappointment is understandable to a degree — the decision for LGBT civil rights organizations to push for marriage equality was largely made by and for the benefit of rich white cis gay men — I think it's an important issue worth discussing for two reasons.
First, it's an opportunity for these candidates to point to something they've done to contribute to fight for marriage equality. Harris can point to her work as Attorney General of California, Biden can take credit for the Obama administration's decision to stop defending the Defense of Marriage Act, Cory Booker can talk about his refusal to marry anyone as mayor until everyone had access to marriage rights. Campaigns should be about the future but they should also be built on records of success.
But what's more important, in my view, is that given who our opposition is and the lows to which they will stoop, nothing is truly settled law. The perpetual fight to secure reproductive rights in accordance with Roe v. Wade should be proof enough that our access to marriage isn't guaranteed. Before she left the race, Sen. Kirsten Gillibrand put forward an LGBT agenda that would "permanently codify marriage equality as the law of the land and ensure that Obergefell v. Hodges can never be overturned," and other candidates would do well to follow suit.
6. FOSTA-SESTA Finally Gets Asked About
After being ignored during the Iowa LGBTQ forum, FOSTA-SESTA, a bill intended to stop sex trafficking that has instead made consensual sex work much more dangerous, particularly for queer and trans people, finally warranted some discussion. Every Democrat currently running who was a voting member of the 115th Congress — Gabbard, O'Rourke, Booker, Harris, Sanders, Klobuchar and Warren — voted for it and it remains the issue that separates most progressive LGBT voters from the candidates. During last night's forum, Klobuchar, one of SESTA's sponsors in the Senate, was asked about the bill directly.
"I was actually the lead on the bill that included my provision for safe harbor. What that meant, of course, was that if you have sex trafficking, either domestic or internationally, that you have to have a safe harbor for young people who are victims, so that they're not prosecuted themselves," Klobuchar said. She came out against decriminalization of all sex work though she appeared interested in further discussion.
Klobuchar's answer comes after Sander's nonsensical non-response, Booker's flip-flop and Buttigieg and Harris' ambivalent answer on this same issue. Warren has said on social media she's "open to" decriminalization. It's a prime topic for continued discussion during this primary.
---
Did you watch the "Power of Our Pride" town hall? What'd you think? How'd your favorite candidate do? Was there any LGBT issue that you didn't hear discussed that you think merited discussion?