It's officially the time of year when comfort and coziness are the only thing on my mind. I'm living in sweaters and warm soft clothes that feel like a hug. I'm drinking copious amounts of tea all day long and wrapping up in blankets on the couch like the book loving lesbian that I am. I'm warming my hands on bowls of soup and sliding my feet into knit socks and slippers to walk around the apartment 'cause the floors are cool. It's perfection.
Of course I'm not walking around my own apartment because I'm STILL on my extended trip and loving every minute of it! Especially since this is the first time in seven years that I've been reunited with fall. This week the coziness is happening at my mother's house where socks are extra important cause she's a fan of tile floors that give me the shivers if I dare touch them with my bare feet, plus if she ever sees me without foot covering of some kind I get a stern warning to put some slippers on so I don't catch a cold and find myself resisting the urge to roll my eyes like I would have when I was a teenager.
Spending time at home is always an adventure. It's like every day there are a million little things; smells, sounds, objects in the house and interactions between my mom and I that remind me of where and how I grew into the person I am now. It's also so bizarre how quickly I fall back into following rules that I've completely left behind in my own adult life and space. Never leaving a dish in the sink, making the bed every morning, cutting out the lights if I'm leaving a room for even a second, and never ever daring to leave a door open and let out the heat. I'm not saying they're not good rules to live by, I'm just saying my teen self couldn't wait to relax on the rules a little, so when I'm home it doesn't matter how grown I am, I feel a little childlike again folding back into them.
I was honestly nervous to cook here 'cause my mom keeps her kitchen spotless, and I am not a spotless cook. I set down spoons without thought, leave a little trail of flour wherever I go, and always end up smeared in butter, then get the satisfaction of cleaning it all up at the end while I wait for my dish to finish. I knew that wouldn't fly in Regina's kitchen though, at least not if she was around so I waited till I knew i'd have the house to myself to bake this crisp.
Once I was alone I turned on some Motown, grabbed all my ingredients, and started baking this crisp. Five minutes in I had a huge smile on my face 'cause I remembered that first place I really fell in love with cooking was in my mother's kitchen. Different house, but same rules, and back then I'd also do my best to cook when no one was around and I could sing as loudly as I wanted, be careless with the dishes and just focus on the food. I made so many truly awful dishes here, but also some of the best. I mastered cheesecakes as a teenager in my mom's kitchen and learned how to make pretty much every iteration of pasta under the sun.
It was also the place that I made my first crisp. It was apple and I got the crisp topping completely wrong, it just kinda sunk into the apples and turned gray-ish and mushy. It still tasted alright though so I ate as much as I could then threw away the evidence so my family wouldn't rag on me for making yet another kitchen fail. I've gotten way better at making crisps since then. Where that first attempt failed at living up to its name, this one shines. If you bake this right, getting it just to golden brown, the sound that your spoon makes when you break through the buttery oat and nut filled lid will be so beautiful it might make your knees go a little weak. The first time I made this I brought it over to dinner with my friends Robin and Carly, and when I dished out the first bowl and we heard the crunch they both gasped and said "OMG THAT SOUND." It was a very proud moment.
Once you get past the toasted crisp topping you'll find a puddle of crimson plum syrup lightly infused with balsamic and rosemary coating the warm, soft, jammy plums that have married their own natural sweetness with the molasses hint of brown sugar, and just enough cinnamon and nutmeg spice to make this a dessert suited for those cozy cool weather moments of comfort I was talking about. There's nothing better than eating a bowl of this crisp while wrapped up in a blanket cocoon staring out the window and marveling at the beauty that is the leaves changing, and when the scene outside turns to falling snow I'm sure it'll be just as perfect.
Each bite of this warms me from the inside in the best way and leaves me incredibly pleased and maybe ready for a luxurious nap. All the herbs and spices plus the jammy plums give this a sophistication that I love, and the balsamic is an unexpected but very welcome touch that deepens the fruit flavors so nicely. All with the crunchy crisp crumbles adding texture and savory buttery flavor its worth mentioning throughout. I can't wait to eat bowl after bowl of this, and make it for all my friends while we hang out and watch scary movies or just catch up and swap stories as the nights get longer and darker and the urge to leave the apartment fades away.
For the filling:
3 lbs fresh plums, pitted and quartered
1/2 cup brown sugar
1 tablespoon balsamic vinegar
1/4 teaspoon fresh chopped rosemary
1/4 teaspoon lemon zest
1/4 teaspoon ground cinnamon
1/4 teaspoon fresh grated or ground nutmeg
1/2 teaspoon salt
1/3 cup all purpose flour (maybe more depending on juiciness of plums)
Crisp topping:
1 stick salted butter, cold and cubed
1/2 cup brown sugar
1/2 cup rolled oats
1/2 cup walnuts or pecans
1 1/2 cups all purpose flour
1/2 teaspoon salt
Preheat the oven to 375° F. Butter a 9×9 or 2.5-3 quart baking dish and set aside.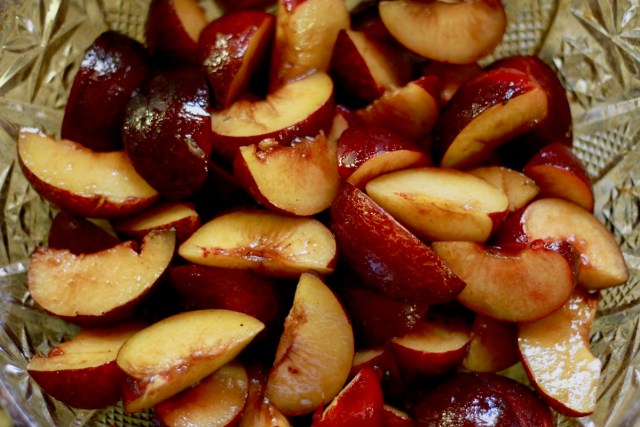 Add the plum slices, sugar, vinegar, salt, rosemary, zest, cinnamon and nutmeg to a large bowl and stir to combine ensuring the mixture is coating all of the plums. Set aside for 10 minutes to let the juices release.
Meanwhile, make the crumb topping. Warm a small (ideally) non-stick skillet over medium-low heat then add the walnuts and toast, shaking the pan occasionally for 2-3 minutes. They're done when you start to smell the warm walnut oil aroma rising from the pan. Remove from the heat to a small bowl and allow to cool. Repeat this step with the rolled oats, just until they're lightly browned and again, start to smell oat-y and toasty then pour into the bowl with the nuts to cool. It should only take a couple minutes to cool.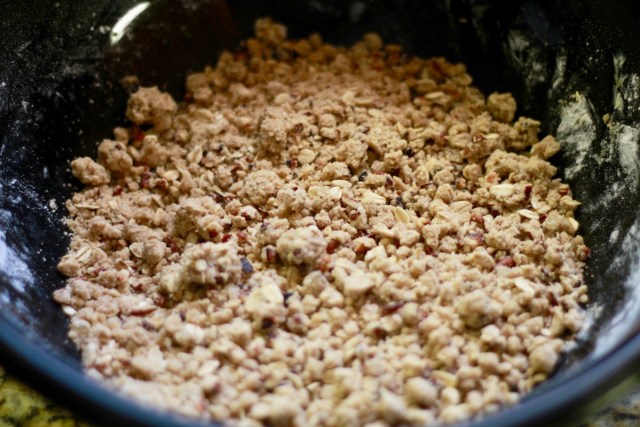 Once the oats and nuts are cool, pour them into a large bowl along with 1 1/2 cups all purpose flour, and 1/2 teaspoon of salt. Stir everything until well combined, then add the cubed butter and smoosh it into the crumble with your fingers. You want to keep pressing the butter pieces into the crumble topping until it resembles wet sand and no large clumps of sugar or butter remain.
Now, grab your plum filling and stir in the remaining 1/3 cup of flour. If your plums have released a lot of liquid and are basically swimming in juice, you may need to add an extra tablespoon or two of flour. You're looking for the liquid coating the plums to be the consistency of a thick a light syrup or melted ice cream, not runny like juice.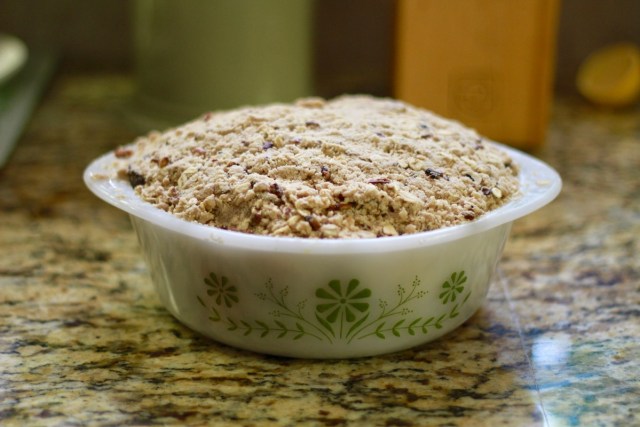 Pour the finished plum filling into your prepared baking dish, then top with ALL of the crumb topping. I use every bit of it and will ask you to do the same the first time you make this. If you decide it want less next time, okay fine, I don't understand you, but fine. For me, this amount has always yielded the perfect crisp experience. Side note: how many of your moms and/or grandmas have this dish? I had flashbacks when I saw it!
Bake it! Put it in the oven! It's time! Bake for 45-55 minutes or until the crisp topping is golden brown and the plum filling is bubbling and oozing up gorgeously around the edges of the dish. As I mentioned, my mom didn't have the right size dish for this, so pictured here is a photo Robin Roemer took of my first test of the crisp in a correctly sized dish.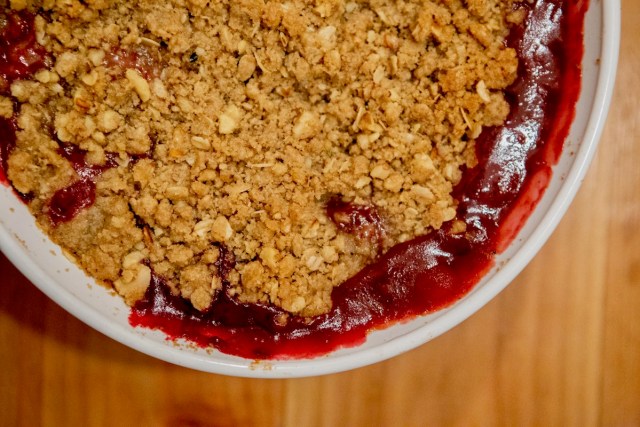 Allow to cool for at LEAST 15 minutes but more like 20-30 so you don't burn your precious little tongue off. We're queer, we need our tongues fully intact okay? It's worth the wait I promise.
Once your crisp is cool, crack through that topping and serve. I think bowls work best for this. Another throwback dish! I can't.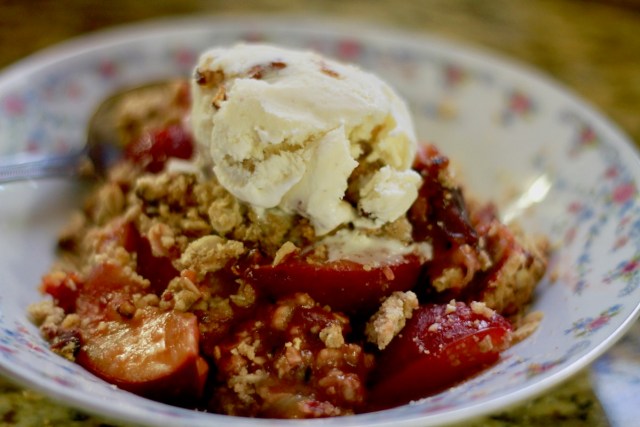 Finish it off by topping with a scoop of ice cream (I used butter pecan cause it's the official ice cream of Black Southern moms, and therefore my mom's favorite) and then greek yogurt tomorrow morning and you'll be in a very good place.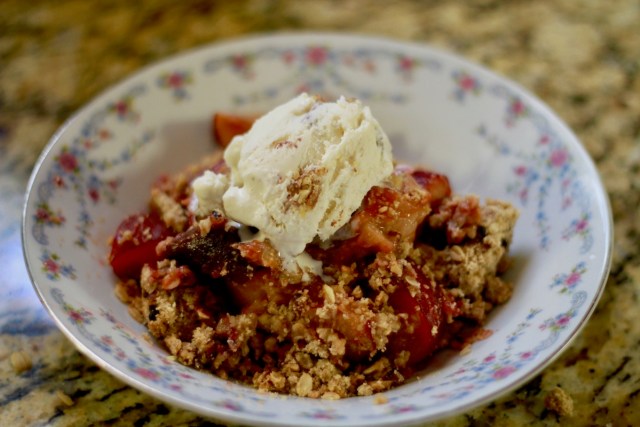 VERY good.