Like many of you, I've based my ideas about A-Camp purely on skimming the recamps and trying to decode the inside joke-ridden social media posts from all the campers I know. So in preparing for this, my first A-Camp, I've turned to movies and TV to give me inspiration and calm my nerves. Hopefully I made the right choices, but if not, at least I had some entertainment while I packed.
---
1. The L Word, "Lifecycle"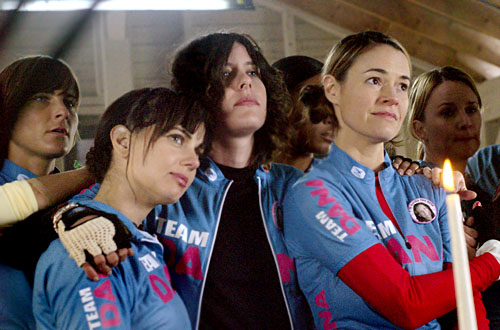 This is one of my all-time favorite episodes of The L Word, and it has a lot of things my brain anticipates as being central to the A-Camp experience: exercise, obsessive crushes, soul-baring, sex tape-making, gossip, rounds of never have I ever that turn way too serious and, of course, crying over Dana. Hopefully there won't be any Adeles running around plotting to ruin anyone's career/life/relationship, but I'm pretty sure if there were we'd all recognize the signs before they cut their hair and started dressing exactly like the senior editors.
---
2. The Parent Trap
Lindsey Lohan and Lindsey Lohan star in one of the all-time best movies about children plotting to make their parents fall in love. Honestly, I couldn't fathom in 1998 and still can't wrap my head around the fact that Lohan is not, in fact, a twin but instead managed to play both Hallie and Annie through the magic of moviemaking. But their magical summer camp bonding (which, of course, begins as a rivalry) and the ease with which each slips into the identity of the other (shhh I know why this is so convincing, don't ruin the magic) has me pumped to go to Camp and find my long-lost identical twin. I really hope she's British.
---
3. The Craft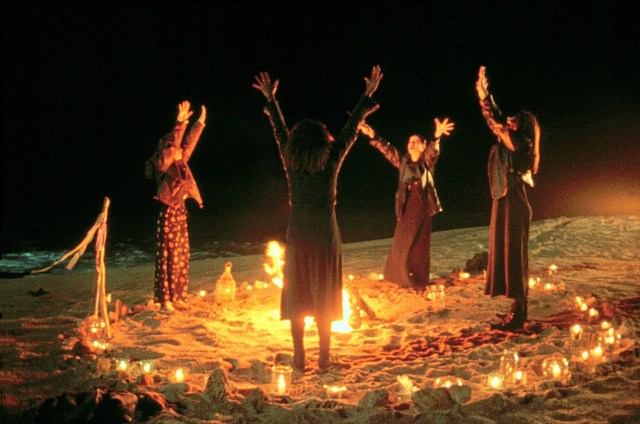 Confession time: I keep trying to watch The Craft, and it keeps scaring the pants off me, so I give up half an hour in and watch something silly and comforting, like Romy and Michelle's High School Reunion (which is not a bad alternative) instead. But I really like the witchy vibe we've got going on at Autostraddle lately, and it's enough to help me push through the story of three high school outcasts (Fairuza Balk, Neve Campbell and Rachel True) and the coven they form with the new girl, the mysterious and moody Sarah (Robin Tunney). In addition to being great outfit inspiration, it's a good warning against letting one's powers run wild — all the black lipstick in the world can't save you from the karma of an overblown ego.
---
4. Little Darlings
So I actually haven't been able to watch Little Darlings yet, because it isn't on Netflix and I keep telling myself I'm going to walk to the library to rent it and then finding excuses to stay inside on the couch instead, but it's been on my list for a while. I mean, you can't really pass up a plot summary like this one (from an excellent list of summer camp movies Riese wrote a while back): "a contest between Angel (Kristy McNichol), the tomboy 'girl from the wrong side of the tracks,' and Ferris (Tatum O'Neal), the rich girl, to see who can lose their virginity first." If those feathered bangs are any indication, Angel may just have the stuff to edge Ferris out.
---
5. Saved!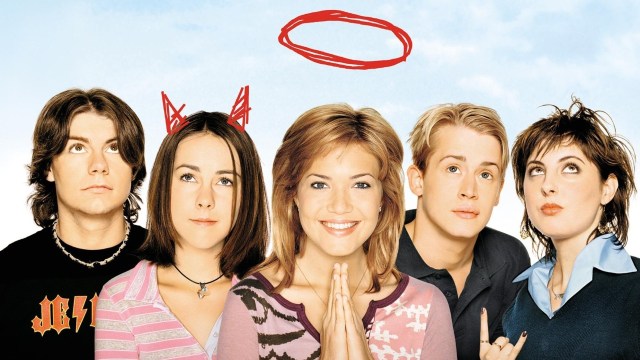 Sometimes you have to prepare for the chance that maybe this is all some sort of secret plot by the CIA to get me to accept Jesus into my heart and renounce my lesbianism for the sake of these United States of AmericaTM. Do I really think that's going to happen? I mean… no. But just in case, I want to arm myself with witty retorts and badass style a la Cassandra, who helps naive Mary find a new crowd after she gets pregnant trying to save her boyfriend from being gay. And who knows? Maybe I'll help expose my own Mandy Moore as a hypocrite and end up with a baby. That wouldn't be the worst thing, right?