This may go without saying that it's best if these ingredients are organic since you are welcoming them directly into your open pores, but what do we, have a million dollars somewhere? DO YOUR BEST! Also make these recipes vegan by substituting agave syrup for honey and almond or coconut kefir for greek yogurt.
---
When I'm feeling like I deserve it I brew my coffee with a lil' cinnamon and attempt to crack the coconut milk code on my milk frother, something I continue to fail at months into ownership. A spoonful of raw honey usually helps redeem the lifeless bubbles.
As a mask it's my go-to because I always have the ingredients. Coffee grounds stimulate skin cells, honey has anti-bacterial properties, moisturizes, and its crystallized texture helps with exfoliation, cinnamon works as an astringent, and coconut milk has a cooling effect/is rich in vitamin C. Don't be surprised if this brings out a rosy complexion – the coffee grounds and cinnamon are helping to activate everything just beneath your skin's surface. (For this reason this mask may not be good for sensitive skin.)
How I tailor it:
Build off a tablespoon of honey as brands and styles of honey can vary in consistency
Tablespoon of coffee grounds
One teaspoon of cinnamon
I don't froth the coconut milk and apply little drops of it until it's pasty, not runny
Then apply in a circular motion and leave the mask on for 15 minutes. Warm then cold water rinse.
---
One time I was eating an avocado at work right out of its self-contained bowl and a co-worker goes, "What is that?" and I said, "Oh, I just took the pit out of an avocado and seasoned it," and she looked at me like I'd just slapped her in front of everyone's she ever respected. I still stand by it being a great snack!
It's a great mask, too. It's rich in antioxidants for when your skin is feeling drier than usual, which is why I go lighter on the lime juice and salt.
How I tailor it:
Half an avocado
Juice of a little less than 1/4 of a lime
Pinch of salt
Two teaspoons of olive oil
Mash it all together with your hands because it's faster and you're going to feel pretty animalistic with this one anyway. I lay down when I apply this because most of it wants to slide downward anyway, plus then you can leave it on for longer while you do some deep breathing. Warm then cold water rinse.
---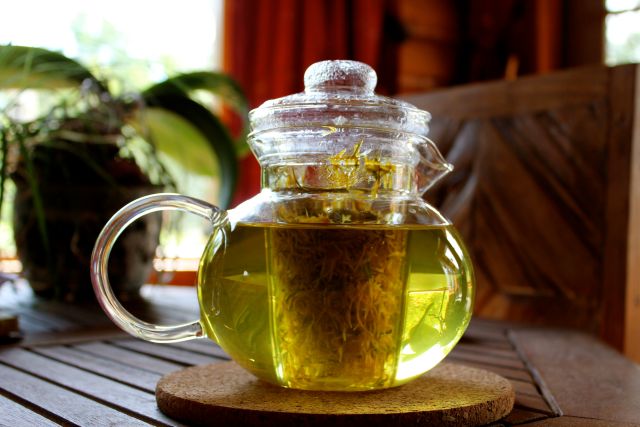 Dandelion root tea is a delicious summer tea with a woody flavor. Dandelion root seems like one of those things that you can only get online or at a specialized store for like 15 dollars per teaspoon, but here's another option: go outside, uproot them, dry them, roast them at 250 for a couple of hours and then grind/cut them into tea-leave size pieces. Or you can get a packet at the store. Whatever works!
Dandelion root is good for external use, too. It's full of vitamin A, boosts collagen, hydrates skin, is a blood purifier, and even helps protect against UV rays. What can't this plant do!
How I tailor it:
I don't! Brew enough (6 oz.) for a facial tonic that you keep on all day or as a quick rinse.
Obviously wait for this to cool and then get some cotton balls to apply in an upward swipe motion. Warm then cold water rinse.
---
Tzatziki on your face, huh? We live in a world where it's been made clear there are no rules and I intended to live as such. And that's great because tzatziki is my favorite dip that goes with pretty much everything savory. When I die bury me inside a dill leaf store!
As a mask it targets problem skin, so it's great for hormonal and environmental-caused flare-ups. The yogurt's lactic acid aids in dissolving dead skin cells which can help prevent breakouts along with reducing the appearance of fine lines – EVERY WOMAN'S WORST NIGHTMARE – cucumbers have a cooling effect, lemon works as an astringent and detoxifier, dill contains potassium which helps with skin irritation, and olive oil rounds everything out by locking in moisture.
How I tailor it:
Leave out the garlic
1/4 cup of yogurt, drained
Juice of half a lemon
Tablespoon of mashed cucumber
Tablespoon of dill leaves
Teaspoon of olive oil
Mix together and leave on for 10 minutes. Warm then cold water rinse.
---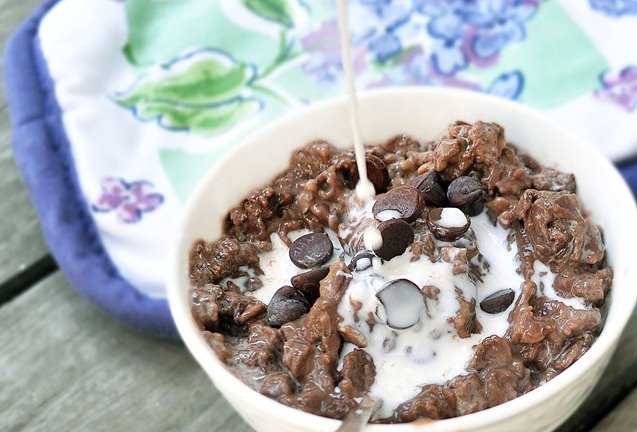 Something crazy is there are people that PREFER savory oatmeal. Not just like, can potentially enjoy it. Are you one of those people? I am a sweet oatmeal girl, because I feel deep in my bones that's how it was intended to be eaten.
As a mask it's great at replenishing. The oatmeal exfoliates and soothes skin irritants, honey clears bad bacteria away, cocoa has powerful antioxidants that eradicate free radicals, bananas have potassium to hydrate skin, and coconut milk's vitamin C helps rejuvenate skin cells.
Here's how I tailor it:
I leave out the salt and vanilla extract
Two tablespoons of uncooked oatmeal
Tablespoon of cocoa
Tablespoon of honey
1/4 of a banana, mashed
Mix together and leave on for 15 minutes. Warm then cold water rinse.