Sometimes I forget that straight people watch TV, too.
Okay let me qualify that a little. Twitter is a place where you can curate your universe. You choose who to follow, you decide what your timeline looks like. My twitterverse has been so carefully and meticulously made into the queerest space imaginable, so sometimes I forget that straight people watch the same shows my friends and I watch. And watch it differently.
I think the first time I realized it was when I went to New York Comic Con for the first time a few years ago. My friends and I went to a Once Upon a Time panel, and the first thing they did was show the premiere of the next season. The first time Emma and Regina showed up on screen together, our group whooped and whistled with abandon, the way you let yourself freely laugh at a joke in the movie theatre, expecting everyone in the room to be reacting similarly. Much to our surprise, we were the only ones who were thrilled by their closeness, with the exception of one other small group across the room. That was the moment I realized — I hadn't really thought about it before — that a large and active queer fandom doesn't mean it's the majority fandom. (Usually. Sometimes it does. It's just not mutually exclusive, is what I'm saying.)
My experiences at New York Comic Cons in the past have made me appreciate queer-focused ClexaCon and FlameCon a lot more, but I also have found ways to make any con as queer as I can. So here are some tips and tricks on how to queer your con:
1. Go With Queers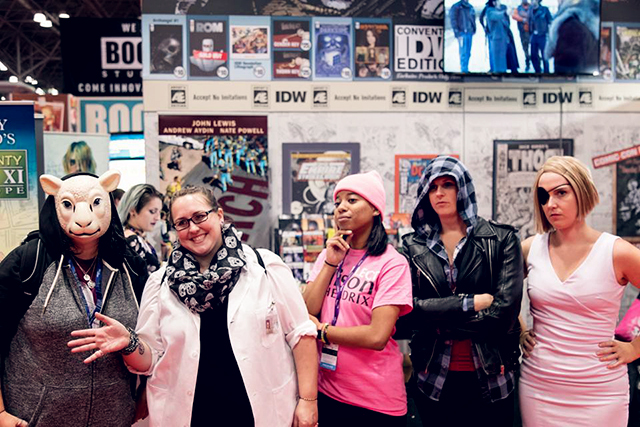 No, that's not gayer "go with God" send-up. That's my first piece of advice for you. Going to a convention with a queer squad with similar interests will really help you make the most of your time. If you don't know many queer folks going, find some new friends! Check out who in your favorite TV show's queer Twitter hashtag will be at the con, say hi to fellow fans at your favorite queer artist's table, chat with folks in the panel lines you're in. My first NYCC, I went with a small handful of my close queer friends, and now there is a whole hoard of us that break off and come together in various sized blobs of queers as the weekend goes on. It's beautiful.
2. Look queer
Of course, in everyday life, if you're queer, you look queer, no matter what you're wearing. But at cons, I've found that the more obviously queer your outfit, the more likely you'll find Your People. Wear a Fangirls Shirts tee with your OTP's portmanteau across it, cosplay as your favorite LGBTQ+ character, deck yourself out in Autostraddle Merch. People are much more open to chatting with strangers at cons than, say, on the New York City subway, so if you're wearing something that shouts, "I'm a nerd who likes to watch girls kiss girls!" chances are someone will call back, "Hey, me too!" in their own way.
3. Curate your experience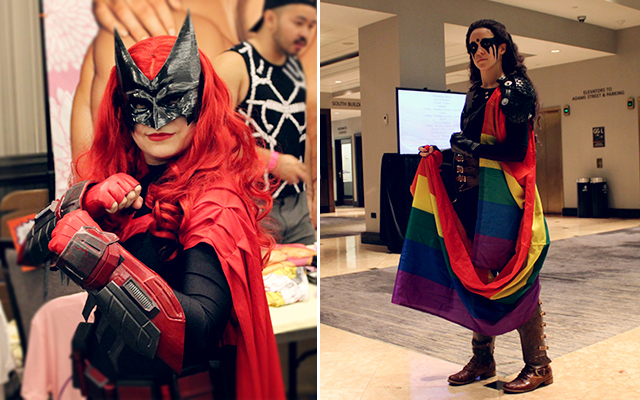 Sometimes, at cons that aren't specifically created for us and by us, it's hard to find the panels that will be LGBTQ+ focused. But it's not impossible. A lot of times, panels that start with "Diversity in…" – whether it's comics, a certain genre, a specific universe, etc – tend to be about representation of people of color, women, and the LGBTQ+ community all at the same time. Rarely are these panels diverse enough on their own, but they open up interesting conversations and some that I've been to have been much, much better than others.
One thing I learned by pretty much going to only Wynonna Earp panels at DragonCon was, the shows (or comics or universes) that represent us best are the ones whose panels will include us the most. The Wynonna Earp panel description never mentioned talking about queer representation, or specifically the WayHaught relationship, but it was mentioned in one way or another in all four Wynonna Earp cast panels and the fan panel. Because it's such an important part of the show. Media that doesn't other us onscreen or on the page tend not to other us on their panels either.
4. Start the conversation if other people won't
If you're finding yourself at a panel that's not bringing up the queer community on its own…bring it up yourself. Almost every panel opens up to audience questions at the end, and if they haven't covered a topic you would like to hear them discuss, you can lead them there yourself. (Or have a braver friend do it for you. I've done it, I don't judge.) Whether it's a show with an LGBTQ+ character or storyline you love that they somehow haven't mentioned yet or enough over the course of the panel, ask them to tease what's coming up or what the inspiration was or whatever burning questions you have about it. If it's a show you love that doesn't represent us yet, ask them if they have any current plans to add a queer character to the mix. (Full disclosure, this can make people very uncomfortable, and will probably result in a canned response, but sometimes people surprise you, and often it's worth asking for the response of the crowd alone.)
New York Comic Con starts this Thursday, and I'll be there queering it up all weekend. Hope these tips helped you queer your own con someday! Stay geeky, my friends.