Hamilton is coming to Disney+ this weekend, and if you're looking to stream other Broadway shows online after you watch that one to one hundred times, here's your guide to do that with many of the world's most famous musicals! I did not include YouTube bootlegs of live shows here, you'll have to hunt 'em down on your own. Of course that also means that most recent productions aren't available, such as Spring Awakening and Jagged Little Pill. But we make do with what we have! Also, a lot of these shows are old and therefore problematic, but you probably knew that already.
---
Grease
Free for: Subscribers to Amazon Prime and CBS All Access (2016 Live Telecast)
The 1978 film adaptation of the 1971 Grease, starring John Travolta in a tight white t-shirt and Olivia Newton-John eventually donning a perm and black leather pants, is $3.99. The 2016 Grease Live! performance starring Vanessa Hudgens is included with Amazon Prime or via the CBS All Access Channel (free 7-day trial, $5.99 after). 
Legally Blonde: The Musical
Free on: YouTube (2007 MTV Production)
The story of Delta Nu sorority sister Elle Woods pursuing a particular man and eventually a particular law school was shown live on MTV in 2007 (MTV later produced Legally Blonde: The Search for Elle Woods to replace show lead Laura Bell Bundy) and has been uploaded to YouTube by a kind soul who cares about you and your thoughts and feelings.
Cabaret
Free on: YouTube (1993 West End)
The 1972 film adaptation of my favorite musical, Cabaret, is $1.99 on Amazon Who does tomorrow belong to? You, watching this movie. A kind YouTuber has, at least for now, gifted us with a 1993 video of the Sam Mendes West End production of Cabaret, which features Alan Cumming as the emcee and is a little bit queerer in general.
Billy Elliot!
Billy Elliot was a musical about a boy who wants to do ballet, set during the 1980s miner's strike in Northern England, that became a Broadway show which was filmed live on the West End and can be watched by you for $3.99.
Company
Free On: YouTube (2007 PBS Performance)
The 2007 PBS Great Performance's recording of the Broadway revival of Company starring Raul Ezparza (aja ADA Rafael Barba). lt was uploaded to YouTube pretty recently, so it's hard to say how long it'll last, but …. catch it while you can.
Jesus Christ Superstar
Free on: Hoopla (1973 Film)
You can watch the 1973 film adaptation of Jesus Christ Superstar on Hoopla (for free) or on YouTube for $3.99. In 2012, a Live Arena Tour brought the music of Tim Rice and Andrew Lloyd Webber's classic rock musical to the UK and Australia with Spice Girl Mel C, aka Sporty Spice, playing Mary Magdalene — Amazon has that for $3.99.
Hello Again
Free on: Hoopla (2018 Film)
Wanna see Audra McDonald, Jenna Ushkowitz, Rumer Willis, T.R. Knight, Cheyenne Jackson and Martha Plimpton exist within a daisy-chained exploration of bittersweet love throughout New York City History, originally performed Off-Broadway in 1993? What if I told you that the 1989 story includes a romance between two women played by the aforementioned Audra McDonald and Martha Plimpton? Wow, well you can do this for free on Hoopla.
Joseph and the Amazing Technicolor Dreamcoat
Free on: Subscribers to Broadway HD (2000 Direct-to-Video Adaptation)
For $3.99 on YouTube, you can see a British direct-to-video adaptation of Andrew Lloyd Weber's musical, which hit Broadway in 1982. The film stars Donny Osmond and is identical to the West End stage production aside from a little tiny framing device. It's also available on Amazon free with a Broadway HD subscription or $3.99 as a one-off.
Annie
Free for: Subscribers to Disney+ (1999 Disney Adaptation)
Annie debuted on Broadway in 1977 starring Andrea McArdle, and has been turned into movies and revived several billion times since.The 1982 classic, which I watched several trillion times as a child dreaming of Broadway stardom (ahem has everyone here seen Life After Tomorrow???) is on Amazon for $3.99. Disney+ subscribers can exclusively enjoy the 1999 Wonderful World of Disney version of Annie, starring Kathy Bates, Audra McDonald, Alan Cumming and Kristin Chenoweth. The 2014 film adaptation of Annie, set in the modern day, produced by Will Smith and Jay-Z and starring Quvenzhané Wallis, Jamie Foxx and Cameron Diaz is on Amazon for $3.99.
Hair
Free On: Hoopla (1979 Film)
For zero dollars on Hoopla, you can enjoy the 1979 edition of the 1968 anti-war Broadway musical Hair: an American Love-Rock musical, about a bunch of hippies doing drugs and avoiding military service. The cast includes Treat Williams, Beverly D'Angelo and Nell Carter and choreography by Twyla Tharp. 
Into the Woods
Free On: YouTube (1989 Broadway)
Stephen Sondheim's Into the Woods intertwines the plots of Brothers Grimm and Charles Perrault fairy tales far before Once Upon a Time was even a glimmer in ABC's little eyeballs. Lucky for us all, a high-quality 1989 performance featuring the original Broadway cast (including Bernadette Peters as the Witch) is free on YouTube.
The Academy Award nominated 2014 film adaptation's cast is pretty spectacular: Meryl Streep, Emily Blunt, James Corden, Anna Kendrick, Chris Pine, Tracy Ullman and Christine Baranski. You can rent Into the Woods on iTunes for $2.99 or Google Play for $2.99. It's a purchase-only property at Amazon for $19.99, where you'll also get some Bonus Features.
Chicago
Free On: Tubi, Hoopla or for Showtime Subscribers (2002 Film)
The 2002 adaptation of the 1975 stage musical was the first musical to win Best Picture since Oliver! snagged it in 1968. And Chicago is free for you on Hoopla or on Showtime if you happen to be a Showtime subscriber or on Tubi no matter who you are or what you do.. You also can rent the Catherine Zeta-Jones / Renee Zellweger black comedy musical for $1.99 on Amazon.
Gypsy
Free On: Hoopla, YouTube or Vudu or for Broadway HD Subscribers (1993 Made-for-TV musical)
Bette Midler stars in the 1993 made-for-TV musical of the 1959 stage musical Gypsy, available for you right this minute — it's your turn! — on Hoopla or catch it free with ads on Vudu or just enjoy it for free on YouTube. It's also included in a Broadway HD Subscription. The 1962 film, starring Natalie Wood and apparently loathed by Arthur Laurents, who'd written the musical's book based on Gypsy Rose Lee's memoir, is available on TCM (Turner Classic Movies) on demand or Fuboand can be rented on iTunes or YouTube for $3.99.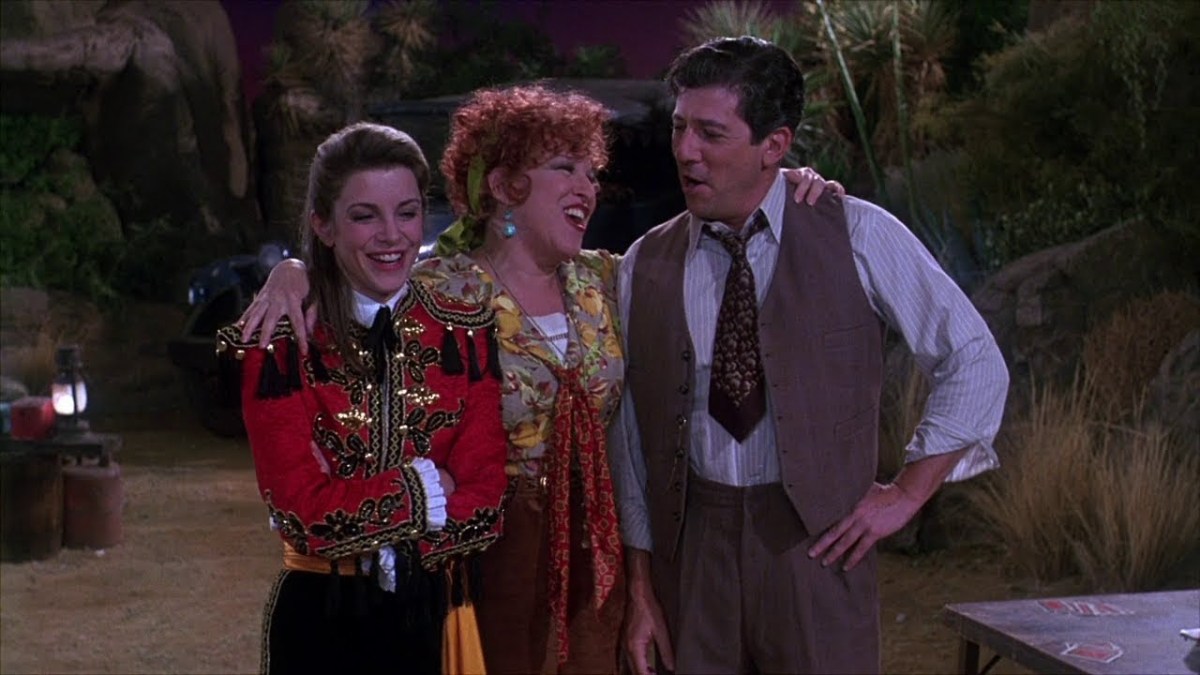 West Side Story
Free For: Starz Subscribers (1961 Film)
The legendary 1961 film for which Rita Moreno won an Oscar and a bunch of white people played Latinx characters is free for Starz subscribers or to rent on Amazon for $3.99.
Les Miserables
Free On: Hoopla (25th Anniversary Concert), Amazon Prime (1998 Film)
Hoopla's got your free hookup of Les Miserables' Live 25th Anniversary Concert filmed at the O2 Arena in London in 2010 with Lea Solonga, Norm Lewis and Nick Jonas. This very epic and lengthy musical about the French Revolution also became a very long film in 2012, starring Anne Hathaway, Hugh Jackman, Amanda Seyfried, Russel Crowe and the hubris of Tom Hooper. HBO subscribers can watch the 2012 Les Miserables movie, others are permitted to You can rent it on Amazon for $3.99.The less-discussed 1998 film adaptation of Les Miserables, starring Clarie Danes, Uma Thurman and Colin Firth, is free on Amazon Prime.
Bye Bye Birdie
Free For: Broadway HD subscribers (1963 Film)
Hi Margie! Hi Alice! What's the story Morning Glory oh it's that you can watch the1963 film adaptation of this "happy teenage musical" that hit Broadway in 1960 and has since been performed in every high school to ever erect a stage. You can rent it on Amazon Prime ($1.99) or Vudu ($1.99). Broadway HD has the 1995 film, starring Jason Alexander and Vanessa Williams.
Sweeney Todd: The Demon Barber of Fleet Street
Free On: Tubi
Tim Burton's 2007 "musical period slasher film" adaptation of Sondheim and Wheeler's 1979 musical stars Johnny Depp as serial killer Sweeney Todd and Helena Bonham Carter as Mrs. Lovett is for rent for $3.99 or for free with ads on Tubi.
Rent
Free For: Starz Subscribers (2005 Film)
Have you ever considered measuring your life in love? These young aspirants are doing exactly that in this musical we've written about quite a bit on this website. The 2005 film adaptation is included with a Starz subscription or you can rent Rent Amazon for $2.99. Rent: Filmed Live on Broadway is — you guessed it — a live film of Rent's final production on Broadway in September of 2008. You can invest in your desire to witness this on Amazon for $12.99.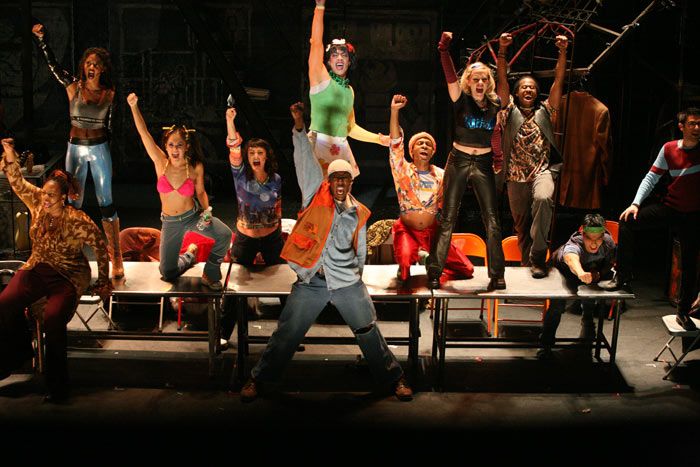 Fiddler on the Roof
Free For: Amazon Prime Subscribers (1971 film)
Matchmaker matchmaker make me a match with the 1971 film adaptation of the 1964 story of a poor milkman whose love, pride and Judaism help him face the oppression of turn-of-the-century Czarist Russia. It's included with Amazon Prime or 99 cents for non-subscribers.
The Phantom of the Opera
The film adaptation of Andrew Lloyd Webber's 1968 musical that seemed incredible when I was a child and now seems completely demented is $3.99 on Amazon. A performance of the 2011 performance of the Phantom of the Opera at the Royal Albert Hall in London is also available for $3.99 on Amazon.
Kinky Boots
Free For: PBS Members and Broadway HD Subscribers (2013 Broadway)
The 2013 Broadway Musical with music by Cyndi Lauper and book by Harvey Fierstein tells the story of an entertainer named Lola and a factory owner who come together to create a revolutionary pair of sturdy stlletos. You can watch the filming of the stage production with a Broadway HD subscription or with a membership to your local PBS affiliate.
Little Shop of Horrors
Free For: HBO Subscribers
HBO subscribers can tap in to the story of suddenly Seymour and Audrey and a plant that eats people with their subscription. You can rent this 1986 film, based on Menken and Ashman's 1982 horror comedy rock musical for $1.99. It's not a Broadway cast, but there's a pretty high quality recording of a performance of it the American Musical Theatre of San Jose.
The Rocky Horror Picture Show
Oh there's so much wrong with this little 1975 adaption of the 1973 sage musical production Amazon describes as "a bacchanalian romp of murder, bisexuality and canibalism" but also it's a cult film near and dear to so many queer hearts and you can rent it for $3.99.
Dreamgirls
A sweet $1.99 will get you a ticket to see Beyonce and Jennifer Hudson in the 2006 adaptation of the 1981 Tony award winning musical about a trio of black female soul singers, one of whom is not going, she's staying, and you're gonna love her.
Fame!
Free for: Broadway HD Subscribers (2020 West End)
Vudu's got the 1980 film Fame!, the inspirational musical about a group of unique and talented students at New York's prestigious High School for the Performing Arts for $1.99. Broadway HD has a recording of the stage musical from a 2020 West End production.
Newsies
Free For: Disney+ Subscribers (1992 Film and Broadway Musical Production)
The movie-musical that inspired the stage musical is available on Disney+ or can be rented for $3.99. If, like me, you were a fangirl of the film from the start but have yet to catch the Broadway musical production then you (me) will be pleased to know you can  watch it on Disney+ or watch it now for $3.99.
Falsettos
Free For: Broadway HD subscribers (2017 Broadway)
The 2017 revival of Falsettos was nominated for five Tony Awards for its story of "a a modern family revolving around the life of a gay man Marvin, his wife, his lover, his soon-to-be-bar-mitzvahed son, their psychiatrist, and the lesbians next door." Broadway HD has the Broadway cast, including Andrew Rannells and Traci Thoms, "live" from Lincoln Center.
Peter Pan
Free on: YouTube (1960 TV Broadcast), Broadway HD Subscribers ('90s Broadway Revival)
You can read the history of women playing Peter Pan here to start. Broadway HD has a live production starring Cathy Rigby in Peter Pan from the show's late '90s Broadway revival. Mary Martin is perhaps most associated with the role and perhaps with your gay feelings, and the 1960 NBC TV Broadcast starring Martin is on YouTube for free.
Evita
Madonna played Eva Peron — an Argentinian actress who married Argentinian president and dictator Juan Peron and became famous and beloved and controversial — in the 1996 film adaptation of the Broadway musical you can rent for $2.99 on Amazon.
Hairspray!
It began in 1998 as a cult John Waters film starring Ricki Lake ($2.99). Then it got remade in 2007 ($3.99). Then it was on the television, live, with Kristen Chenoweth ($1.99)! Wow! It's the story of Tracy Turnblatt, a teen who dreams of dancing on the teevee while growing up in Baltimore in the 1960s. You cannot stop the beat. Just try it, good luck!
Mama Mia!
Free for: Starz Subscribers (2008 Film)
Catherine Johnson wrote the 1999 musical Mama Mia! centered around songs by ABBA, which became a "jukebox musical romantic comedy" film ($1.99, or free for Starz subscribers) in 2008 that you're undoubtedly familiar with and even inspired a sequel our reviewer called "the Mommiest movie of the summer."
The Wiz
Free for: Starz Subscribers (1978 Film)
The 1978 movie-musical of "The Wiz," starring Diana Ross and Michael Jackson, is free for Starz subscribers or rented for $3.99. The Wiz Live!, a 2015 NBC production starring Queen Latifah, Amber Riley, Uzo Aduba, Mary J Blige and Common, can be purchased for $9.99.
Funny Girl
You can catch Barbara Streisand's legendary performance as comedienne Fanny Brice in the 1968 film adaptation of the 1964 Broadway musical on CBS All Access (free for subscribers) on Amazon Prime (Free with Ads).