What hot new queer young adult books are coming out this summer? Maybe you want queer romance! Maybe you want queer adventure! Maybe you just want a book that asks one of the most pressing questions of our time: what would Rachel Maddow do? Check out these forthcoming queer YA books for beach reads, park reads, and where ever your summery gay reading dreams take you.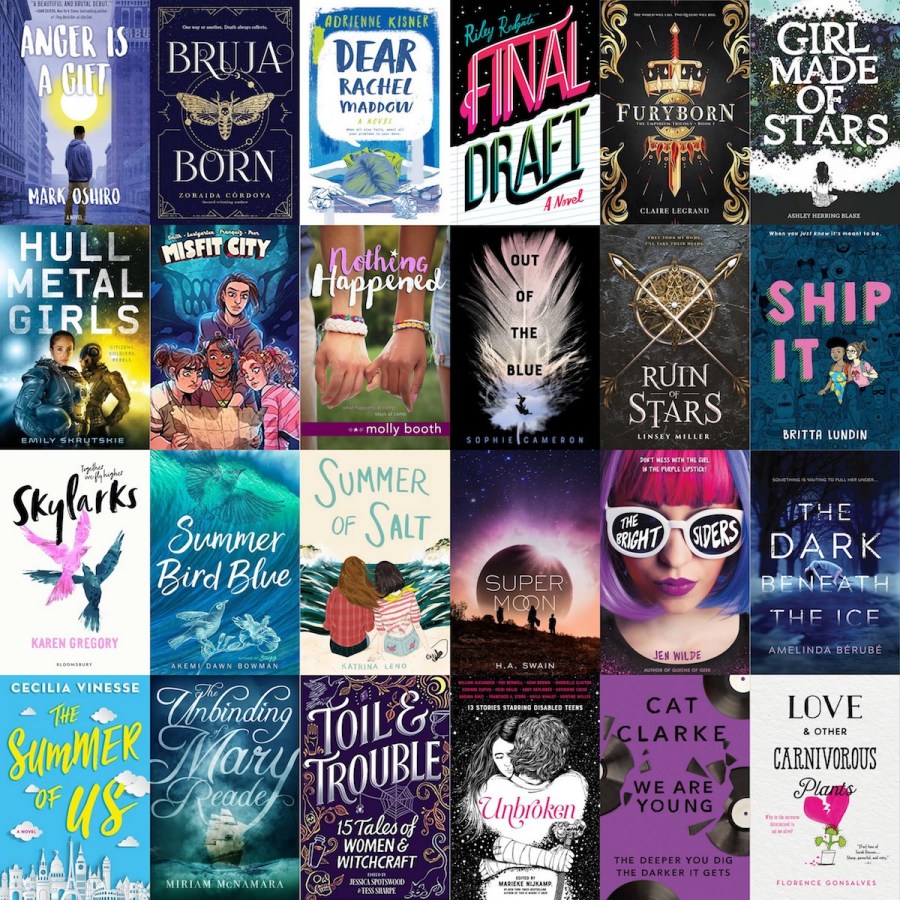 May
Ship It by Britta Lundin: This debut novel deals with the good, bad and ugly about queer fandom, slash fan fiction and geek culture. 16-year-old Claire is obsessed with the new show Demon Heart. When she gets a chance to meet the actors at a comic convention, she's determined to make her m/m ship go canon. She falls in love with a pansexual girl along the way. (May 1)
Skylarks by Karen Gregory: Joni and her family are struggling to hold it together with her dad's inability to work and the resulting money shortage. When Joni meets Annabel, Joni can't believe they might be falling in love; but Joni's parents think their socio-economic differences are insurmountable. (May 3)
We Are Young by Cat Clarke: Bisexual teen Evan finds herself playing a serious game of detective when her brand-new stepbrother is seriously injured in a horrific and mysterious car accident. The deeper she digs the more she finds disturbing community secrets. But also: a cute lesbian love interest. (May 3)
Girl Made of Stars by Ashley Herring Blake: This book confronts themes of consent, victim blaming, and rape culture as it follows Mara in the aftermath of finding out her twin brother has been accused of rape. Featuring bisexual and non-binary representation as well as an ex-girlfriend/BFF situation. (May 15)
Out of the Blue by Sophie Cameron: Ten days after the death of the disabled bisexual protagonist Jaya's mother, angels start literally falling out of the sky. When one angel falls at her feet and is remarkably alive, Jaya and new friends conspire to save it from those who wish to profit from its capture. (May 15)
Love & Other Carnivorous Plants by Florence Gonsalves: Danny's first year at college isn't going so well: her best friendship is faltering, she's failing classes and she's struggling with an eating disorder. When she finds herself attracted to an older girl at rehab, it just might be the catalyst for her to get back to her sense of self. (May 15)
Nothing Happened by Molly Booth: This retelling of Shakespeare's Much Ado About Nothing is set at summer camp where two sisters, Bee and Hana, work as counselors. Can they manage to juggle their counselor responsibilities with the increasing (queer) relationship drama? (May 15)
The Brightsiders by Jen Wilde: Teen rockstar Emmy navigates the aftermath of a wild night gone wrong that landed her in the hospital and her girlfriend in jail. The paparazzi love a celebrity train wreck, but good thing Emmy has great friends, family and bandmates to help her through. (May 22)
Anger Is a Gift by Mark Oshiro: A diverse queer dystopian story where the dystopia is contemporary America amidst police brutality and the criminalization of young people. The cast of characters are mostly teens of color who are also mostly queer, with a wide spectrum of LGBTQA identities. (May 22)
Furyborn by Claire Legrand: The first book in this new fantasy trilogy stars two bad-ass young women living centuries apart but living eerily parallel lives. Featuring two bi girl characters! (May 22)
Misfit City Vol 2 by Kirsten Smith: The second volume and series finale of this comic is full of "crackling banter and a hoard of pirate booty." Four friends and one dog — including lesbian character Ed — must uncover their sleepy town's secrets and hunt down the treasure of the infamous pirate Black Mary once and for all. (May 29)
June
Summer of Salt by Katrina Leno: This magical realist story set on an island centers on Georgina, a 17-year-old waiting for her magic to finally arrive. When tragedy strikes, the women of Georgina's family are targeted. Georgina has to do something, magic or not. An adorable queer girl romance ensues. (June 5)
Dear Rachel Maddow by Adrienne Kisner: 16-year-old Brynn loves Rachel Maddow. So much that she writes letters to her that she never sends, like about breaking up with her first girlfriend. When a student politics moral dilemma takes center stage in Brynn's life, she has to ask herself: what would Rachel Maddow do? Check out an excerpt of Dear Rachel Maddow here. (June 5)
Bruja Born by Zoraida Córdova: The second novel in Córdova's Brooklyn Brujas series focuses on the sister of the previous protagonist and takes place eight months after the events of the first book, Labyrinth Lost. Need to find out how that bisexual love triangle was resolved? Here's your chance! (June 5)
Final Draft by Riley Redgate: Eighteen-year-old Laila is a science fiction writer who has the rug pulled out from under her when her favorite supportive teacher is replaced by a Pulitzer-Prize-winning novelist who is super critical of and unenthusiastic about Laila's work. This is the second book on this list with a pansexual character! (June 12)
SuperMoon by H.A. Swain: This science fiction story set on the moon is about two girls, one from Earth and one from the Moon. What Uma, the Moon girl, doesn't know is that her new friend/maybe-girlfriend has been sent to the Moon as part of a plan to infect Moon soldiers with a deadly plague. (June 12)
The Unbinding of Mary Reade by Miriam McNamara: A romantic pirate tale — based on a true story! — about a girl who disguised herself as a boy so she could sail on the ship of the infamous pirates Anne Bonny and Calico Jack. She wasn't expecting to fall in love with Anne. (June 19)
The Summer of Us by Cecilia Vinesse: BFFs Aubrey and Rae have been planning a friend group trip to Europe the summer after graduating high school since elementary school. But they hadn't planned on so much relationship drama occurring along the way, including Rae's crush on her other friend, definitely-straight Clara, perhaps not being as unrequited as she thought. (June 14)
July
Hullmetal Girls by Emily Skrutskie: Skrutskie has called this science fiction novel "my little standalone sci-fi Battlestar/Pacific Rim/Sens8/Snowpiercer frolic affectionately known as Cyborg Space Jam." If that hasn't already sold you, here's an excerpt. (July 17)
August
Ruin of Stars by Linsey Miller: The sequel to The Mask of Shadows, Ruin of Stars is a fantasy novel about gender-fluid Sal. Now that Sal has the power to finally go after the lords who killed their family, they head towards home in the north. Along the way, the truth about what really happened comes to light. (August 1)
The Dark Beneath the Ice by Amelinda Bérubé: In this creepy queer paranormal horror story, things are not going well for Marianne. On top of her parents' divorce and her quitting dance, she's dealing with a ghost who did not react well to her first attempt at exorcism. (August 7)
Toil & Trouble: 15 Tales of Women & Witchcraft edited by Jessica Spotswood and Tess Sharpe: This anthology features a group of diverse stories — including content about queer girls and characters of color — all about witches! Some of your fav queer YA writers are included, including Tess Sharpe, Robin Talley and Anna-Marie McLemore. (August 28)
September
Summer Bird Blue by Akemi Dawn Bowman: Here's some asexual representation for you in this story about grief, family and music. Rumi isn't sure about much in her life, but she knew she wanted to make music with her sister Lea; when Lea dies in a car accident, Rumi's mom sends her to Hawaii where she is left to deal with the loss on her own. (September 11)
Unbroken: 13 Stories Starring Disabled Teens edited by Marieke Nijkamp: This anthology of short stories about disabled teens are all written by disabled authors. There's also a significant amount of queer representation from queer authors you might know such as Marieke Nijkamp, Corinne Duyvis and Kody Keplinger. (September 18)
---
Before you go!
It takes funding to keep this publication by and for queer women and trans people of all genders running every day. And A+ members keep the majority of our site free for everyone.
Still, 99.9% of our readers are not members.
A+ membership starts at just $4/month.
If you're able to, will you join A+ and keep Autostraddle here and working for everyone?
Join A+