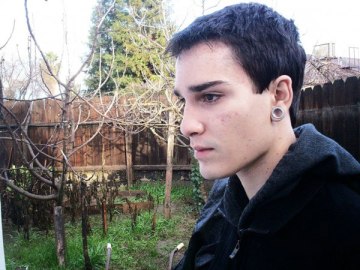 After nineteen years on this planet, throughout which he endured shocking levels of ostracism, abuse and rejection, this week gay filmmaker Eric James Borges decided shit actually wasn't getting better and took his own life.
In the It Gets Better video he shot one month ago, Borges describes his lifelong odyssey through various rings of hell-on-earth: he'd been teased since kindergarten, his parents tried to perform an exorcism on him when they learned he was gay, he was bullied throughout high school.
"I was physically, mentally, emotionally and verbally assaulted on a day-to-day basis for my perceived sexual orientation. My name was not Eric, but 'Faggot'," he says in his video.
He ended up leaving high school after suffering an assault during which a teacher was present and did nothing. He home-schooled his way into early graduation and went to college. He describes his first year of college as "a nightmare."
But something changed — he doesn't say what, actually, just that it was something and it happened after his first nightmarish year of college — and then he changed, now he's a published writer and a public speaker and he works at The Trevor Project and he's a Supplemental Instructor of Sexuality at The College of the Sequoias.
Borges seems like a guy who knew the value of his life and the importance of living through it. He's self-aware. He knows what resources are available to a gay teenager going through hard times — the worst times. Hell, he IS one of those resources. He wants to be a role model, you can tell that just from watching his video.
I know I can't diagnose this stranger from my latop, but he also says in this video that he suffered from depression and anxiety and I don't think we should ignore that factor considering the well-established link between depression and suicide. Furthermore, he'd been kicked out of his home and worked part-time jobs, so it's unlikely he had health insurance or could afford to see a psychiatrist or therapist if he'd wanted to.
It'll be tempting to tack this suicide on the wall with the others, all those bullied gay boys who killed themselves because of bullying. But this story, like Tyler Clementi's, isn't just about being a gay person in a society that demands its boys display their worth through their financial power and sexual relationships with women. It's also about being a gay boy with a mental health condition in a society that demands its boys internalize or eradicate their feelings and always appear strong, confident and brave. Sometimes "it gets better" can sound like a blanket that muzzles more than it protects.
The thing about depression is that it's so big, it swallows everything. And it can make your life feel like it sucks even if it doesn't suck. So if your life actually does suck then things can seem really fucking bleak, things can seem like too much. It can seem like more than all the resources, encouragement or support in the world could change. Sometimes having more ducks in the row of a good life can feel even worse — so now that I have this/that privilege, why am I still so sad?
Sometimes you spend your entire life being told you're worthless and adulthood doesn't make up for that. Sometimes your parents act like monsters and they do inhumane things like disowning you and kicking you out of the house.
Maybe sometimes by the time it gets better, it's already too late.