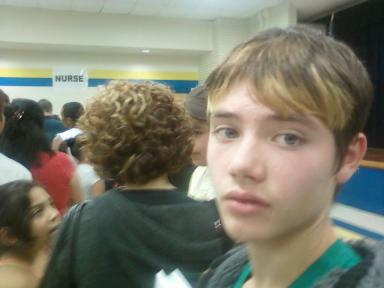 Phillip and Gena Parker didn't know their son Phillip was being bullied at school until, it seems, Saturday or Sunday. Probably Saturday night. On Friday, they didn't know. That was the day they found their 14-year-old son's dead body in their house. Phillip Parker was in 8th grade at Gordonsville High School in Gordonsville, Tennessee and he had killed himself.
"I should have known something was wrong, but he seemed happy," said Gena.
On Saturday night, when they gathered to grieve Phillip's death, Students "bombarded" the parents with information about the bullying. Some kids said they went to teachers about it but nothing was done. "We are going to find out who done it, we are going to get justice for Phillip and you will pay for what you did to my son," said Phillip's father.
Ruby Harris, his grandmother, said: "He kept telling me he had a rock on his chest. He just wanted to take the rock off where he could breathe."
In May, the Tennessee Senate passed a law forbidding discussion of anything gay in schools. Same-sex marriage is illegal in the state's constitution and LGBTQ people are not protected from employment or housing discrimination.
The parents intend to speak to school representatives on Monday. Today, school officials were given training on how to handle the grieving students they will surely face when classes resume. According to Citydata.com, it is estimated that 0% of Gordonsville households are homosexual men and .4% are homosexual women.
Phillip's friend Courtney made him a Facebook page to remember their friend. A parent wrote, "Phillip was in my childrens church and he was the funniest kid. I just loved him."
A girl named Alissa left the following message on his facebook wall: "Me and Phillip were best friends. Like brother and sister. Now he is gone. I am broken. He was always there for me. I love you Phillip. You always put a smile on my face. You always ran up to me gave me a hug and say i love you Alissa. Now you can't.. :( I will see you one day phillip. I hope heaven is as beautiful as people say it is. I love you."