Watching Guardians of the Galaxy this past weekend was definitely a blast, but even as I was watching Zoe Saldana and Karen Gillan kick total ass and look super amazing on the screen, I couldn't help but think about what a wasted opportunity it was. I mean, if they're going to go through the trouble of introducing the alien race the Kree (which is where the original Captain Marvel came from) and about a dozen and a half other characters straight out of the Captain Marvel universe, why not just introduce Captain Marvel herself?
I keep on seeing praise for Marvel saying things like, "While DC is busy saying 'Wonder Woman is too complicated,' Marvel is like, 'Here's a movie with a tree person and a talking racoon!'" But are they really being that progressive? Sure, they're willing to take a chance on a movie starring a talking raccoon and a talking tree, but they're not willing to take a chance on a movie starring a woman (at least one who isn't the main character's love interest or higher than fourth billed). And even though Marvel seems to be fully aware of their women problem and the fact that audiences want female superheroes, they aren't really planning on doing anything about it right away. Anyway, it just made me wish even more for a female-led Marvel movie.
This is even more true now that Sony has announced that they plan on releasing a female-led Amazing Spider-Man spinoff in 2017, beating both DC and Marvel to the punch. This is pretty awesome news you guys! Sony is planning on building an entire movie universe around their new Andrew Garfield Spider-Man including already announced Venom and Sinister Six movies. While Sony hasn't announced who this movie will center around, some fair guesses include Spider-Woman, Spider-Girl (which would be kind of awesome as she's also a Latina) and of course, Black Cat. In my opinion, Black Cat probably makes the most sense, as her secret identity, Felicia Hardy was introduced in The Amazing Spider-Man 2 as played by Felicity Jones.
So, here's a list of 11 women who I would love to see star in their own movies in the Marvel Cinematic Universe. Now, I'm not counting any characters who are from the X-Men (like Storm or Kitty Pride), Spider-Man (like Spider-Girl or Spider-Woman) or Fantastic Four (like Ms. Thing or Tong) universes, as those are owned by other movie studios, and I'm not putting people like Medusa or Clea on the list, as they're pretty much guaranteed to appear in the already announced Inhumans and Doctor Strange movies, respectively.
---
1. Captain Marvel (Carol Danvers)
Who else could be number one? Not only is she probably the highest profile female superhero in the Marvel Universe not named Storm or Jean Grey, but she would also easily fit into the already established MCU. Like I said, Guardians of the Galaxy has set a firm foundation for establishing Captain Marvel as a character. Actress Yvonne Strahovski has even been mentioning the character in interviews lately. Seriously, this one should already be in the books.
---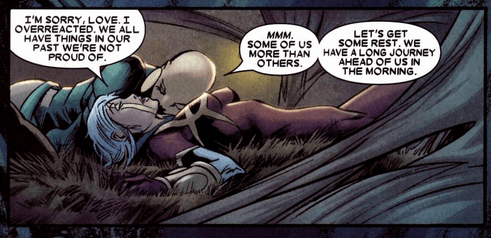 2. Phyla-Vell and Moon Dragon
Another pair of characters who would super easily fit into the Marvel Cinematic Universe, these two are members of the Guardians of the Galaxy. So, technically, this would be a sequel to the Guardians of the Galaxy film, but I would much rather see three women (or more) on the team than just the one. Plus, it would be nice to see some queer women be added to the MCU.
---
3. Valkyrie (Brunnhilde)
Believe me, I love Lady Sif, but the Thor movies could definitely use some more lady power. Not only has she been in a bunch of Thor comics, but she was recently part of the fun, but short-lived all-lady Fearless Defenders title. Yeah, she wouldn't be able to get her own film until after Thor 3 came out, but imagine a movie with her and Lady Sif just going around, kicking some Asgardian butt.
---
4. Hawkeye (Kate Bishop)
This next group of women might be a little more difficult to add to the MCU, but it should be very doable. First up is Hawkeye. Now, I know that they already have a character named that, but Clint Barton Hawkeye is made immensely more interesting when he has Kate Bishop to interact with. So I think that if Marvel ever wants to do a stand alone Hawkeye film, by far the best way to do it would be to have Kate Bishop as at least the co-lead. She's also a part of the killer Young Avengers team with another person on this list that I would be equally happy to see as a movie.
---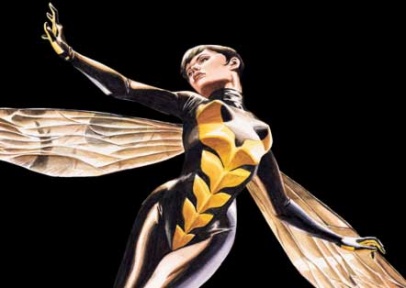 5. The Wasp (Janet van Dyne)
When I first heard that they were making an Ant-Man film, I was sure that The Wasp would appear, because well, she is Ant-Man's wife. However, if you've heard any of the details about the upcoming Ant-Man film, you know why it'll be hard to get her her own movie. Basically, she's being killed off in order to give Hank Pym (the original Ant-Man) a more tragic story and allow Scott Lang to have a love interest in her daughter. But come on, she's one of the founding members of The Avengers, and she's one of Marvel's most iconic female superheroes. Frankly, it's insulting that she's not going to be a character in the MCU, and it's even more insulting that she's being killed off essentially offscreen. That would be like DC not having Wonder Woman appear in a live-action film for the first 65 years that they make movies (oh yeah, that's exactly what DC is doing).
---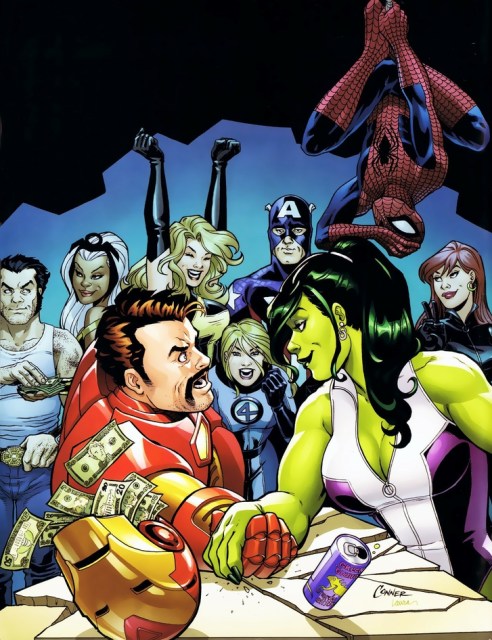 6. She-Hulk (Jennifer Walters)
Here's another character directly tied into an already-established MCU character. All they would have to do is have one little scene where Jennifer Walters gets a blood transfusion from her cousin Bruce Banner, and then give her her own damn film! Honestly, I find She-Hulk to be an impossibly more interesting character than guy Hulk. At least in the MCU, Hulk is barely a character, where She-Hulk still keeps her Jennifer Walters personality, making for much more well-rounded story possibilities. Like, don't get me wrong, I love Liv Tyler in That Thing You Do!, but The Incredible Hulk was basically just a werewolf or Dr. Jekyll and Mr. Hyde movie. It didn't really need to be made. She-Hulk would be a much better film.
---
7. Misty Knight and Colleen Wing
One of Misty Knight's most recognizable features is her bionic arm, which was provided by Tony Stark, perhaps the main character in the already established MCU. All they have to do is introduce her in an Iron Man movie and then give her her own film. Easy peasy. Or, if they introduce Valkyrie, Knight could join up with her in a Fearless Defenders movie. Or, team her up with Wing, her often partner-in-crime fighting for a Daughters of Dragon or Heroes for Hire movie after introducing the characters in either the upcoming Iron Fist or Luke Cage Netflix shows.
---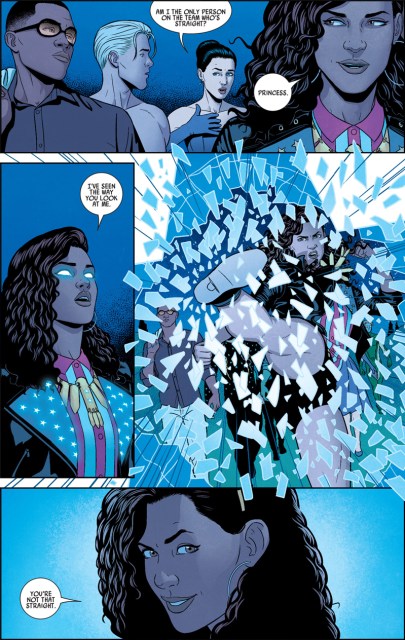 8. Miss America Chavez
Now, it's getting to the heroines who I'd love to see, but don't really have an easy way in. They'd have to be introduced on their own, like Thor or Captain America or Hawkeye or The Hulk were. My definite favorite of all of these is Miss America Chavez. This Latina lesbian was my clear favorite character in the recent Young Avengers comic also starring the previously mentioned Hawkeye. She may be a little rough around the edges when you first get to know her, but when she wants to be, she can be as smooth as butter. Like seriously, if your'e able to read one comic with her in it and not fall instantly in love, I don't even know how to deal with you.
---
9. Squirrel Girl (Doreen Green)
Definitely one of Marvel's weirdest characters, Squirrel Girl has your average squirrel-based powers, plus the apparent power to be completely unbeatable in battle, as shown when she was able to defeat everyone from Thanos to Doctor Doom to Deadpool. Marvel recently filed a copyright on Squirrel Girl, so a lot of people are guessing that they're going to be doing something with her. She was recently the babysitter for Luke Cage and Jessica Jones' child, so she might make an appearance in their TV shows for Netflix, but I think it would be pretty funny to see her straight up get her own movie.
---
10. Nico, Karolina, Gert, Molly, Xavin and Klara from The Runaways
This one is super frustrating, because over the past four or so years, there have been seemingly dozens of rumors and announcements about The Runaways getting a movie. There was even some freaking casting news at one point! This team had such a great and diverse lineup of ladies. And the stories are (almost) all so amazing. This is seriously one of the best original superhero comics of the past 15 years and it's already totally cinematic. Plus, it has queer ladies! And I guess the guys on the team are allowed to be in the movie too.
---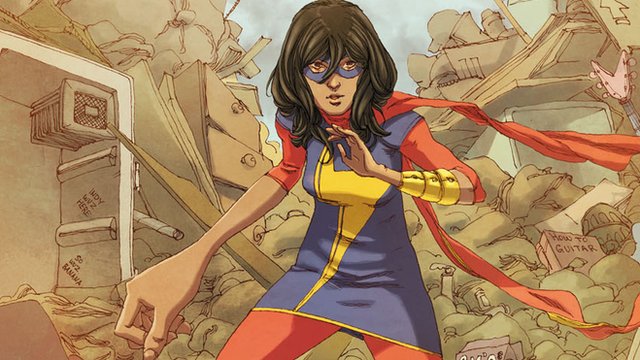 11. Ms. Marvel (Kamala Kahn)
Of course, this list wouldn't be complete without Marvel's current hottest rising star. Kamala Kahn is fresh, funny and totally kickass. I mean, the current Marvel Cinematic Universe has more actors of color playing non-humans (in movies like Thor and Guardians of the Galaxy) than it has playing humans, so I kind of doubt that they would make a movie starring a young woman of color, but this is a wish list, so I'm going to wish. This would be such a fun movie, like seriously, such a fun movie.
---
 New Releases (August 6)
Rachel Rising #27 (Abstract Studios)
Steven Universe #1 (Boom! Studios)
Angel and Faith Season 10 #5 (Dark Horse)
Fairest #28 (DC)
New Vampirella #3 (Dynamite)
Hack Slash Son of Samhain #2 (Image)
Black Widow #9 (Marvel)
Painkiller Jane The 22 Brides #2 (Marvel)
She-Hulk #7 (Marvel)
---
Welcome to Drawn to Comics! From diary comics to superheroes, from webcomics to graphic novels – this is where we'll be taking a look at comics by, featuring and for queer ladies. So whether you love to look at detailed personal accounts of other people's lives, explore new and creative worlds, or you just love to see hot ladies in spandex, we've got something for you.
If you have a comic that you'd like to see me review, you can email me at mey [at] autostraddle [dot] com.