For a show so beloved by lesbian and bisexual women everywhere, The X-Files sure didn't have a lot of actual lesbians or bisexuals. OR DID IT??? At least IN MY IMAGINATION?? Not discussed is the sexual orientation of Scully herself, because my heart can't take it, but feel free to cover the topic roundly in the comments.
1. Colleen Azar, "all things," Season 7 Episode 17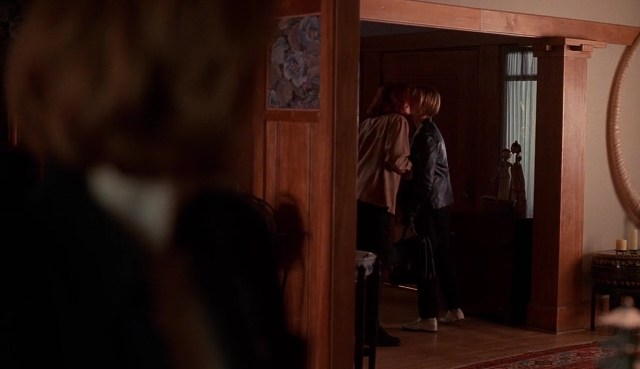 I always remembered this as a subtextual lesbian episode — like here are Colleen Azar and her "friend," two nice white lady "roommates" who live together and are really into chakras, wink wink nudge nudge. Imagine my surprise when I rewatched it a year or two ago and found out they are canonically lesbians who talk about their relationship! And kiss! This episode was directed by real-life lady who likes other ladies Gillian Anderson, so I am assuming we have her to thank for this lesbian representation way back in the year 2000. They seem like they take things super seriously in general and aren't that fun to hang out with, but hey, at least they're still alive at the end of the episode!
2. Karin Berquist, "Alpha," Season 6 Episode 16
The best part of this episode is that one subplot is supposed to be Scully being jealous of what she perceives as romantic chemistry between Mulder and Karen Berquist — Karen Berquist, who lives in the middle of nowhere with her mullet and a young female assistant, training dogs and eschewing most human contact. Scully is a brilliant scientist, but we have to be real about the fact that gaydar is not a strength of hers.
3. Michelle Fazekas, "Detour," Season 5 Episode 4
Michelle is a beautiful and powerful force for good in the world and looking at her makes me want to weep, and also she is a lesbian. She is the only person who understands how forests work on this whole show, she is extremely competent, and also her hair is perfect. Also she makes this face when talking to Mulder for the first time, which I find very gay and relatable.
4. Angela White, "Syzygy," Season 3 Episode 13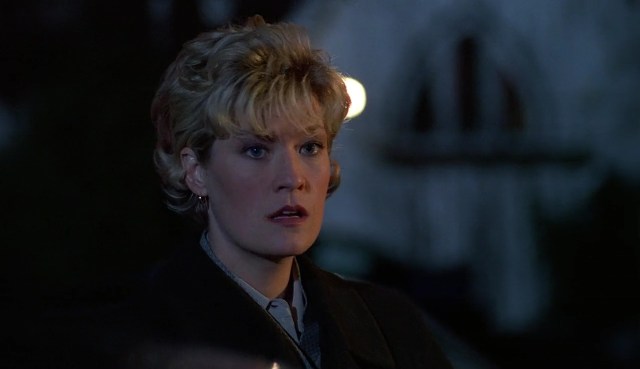 Angela White has perfect cheekbones, wears shoulderpads with her skirt suits and drinks cheap whiskey out of the plastic pint bottle; I feel strongly that she is bisexual, and I would like to get a bottomless mimosa brunch with her.
5. Invisigoth, "Kill Switch," Season 5 Episode 11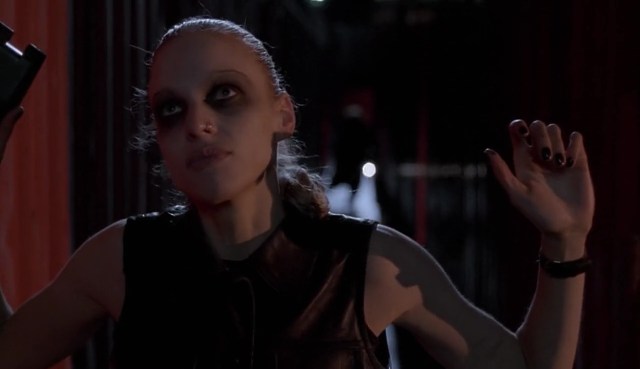 I mean, come on. She even dies at the end of the episode. Somewhere Invisigoth and Lexa are together in television lesbian heaven, smearing on eyeliner straight out of the gel pot with their whole palm.
6. Nancy Kline, "Arcadia," Season 6 Episode 15

For many fans, the appeal of this episode was the fanservice plot point of having Mulder and Scully go undercover as a married plot point. Fair enough, but let's not forget about Nancy Kline, who keeps her cool when her husband gets shouty about the azaleas by remembering the sweet embrace of Suzy Ferris, her college girlfriend that she met in ceramics class and dated for two years before Suzy joined the Peace Corps.
7. Kristen Kilar, "3," Season 2 Episode 7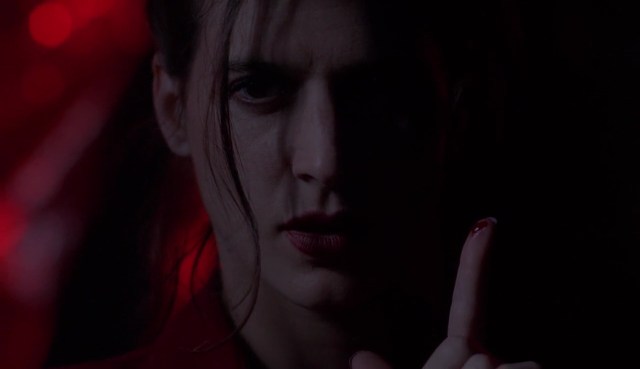 Kristen Kilar has to be bisexual because she's a vampire, and all vampires are bisexual. I don't make the rules. That's just how it is.
8. Lab technician, "The Erlenmeyer Flask," Season 1 Episode 24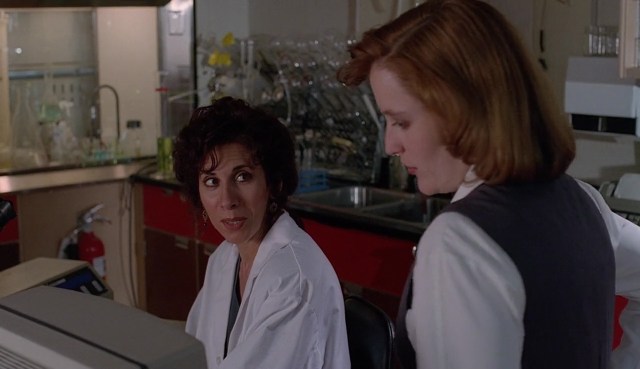 She has lesbian voice and a general air of weariness that I suspect resonates with us all to some degree.
9. Phoebe, "First-Person Shooter," Season 7 Episode 13

She has blunt-cut bangs, is the only woman in a world of annoying narcissistic software developers, and she secretly creates an avatar who looks like a leather domme from space and murders male gamers.
10. Monica Reyes
Why am I so sure Monica Reyes is queer? Is it because she lit candles and put on whale music to help a friend give birth? Is it because she's sort of psychic and has a great haircut? Is it because of how far short the show fell in terms of doing her character justice? How natural a v-neck and blue jeans look on her? I don't know, but if Monica Reyes is straight I will get in my car, drive to a hat store, purchase one and then eat it bite by bite with a knife and fork.