With Riverdale coming to a close this week, I thought it would be a good idea to put together a viewing guide of sorts for folks who either 1. Want to revisit some of the most iconic moments in the series' history or 2. Want to plunge into Riverdale for the first time but want to get a taste of what it's all about first (or, you know, just not commit to 137 episodes). This proved to be a difficult task! So much has happened over the course of seven seasons (I mean, just peep my Riverdale quiz for a small sample), and the thing I love about this show is that it constantly reinvented itself. Selecting just 10 episodes to represent the series as a whole is a fool's errand, but it's one I have attempted nonetheless.
With a one exception, I tried to avoid just making this a list of premieres and finales. Of course all the premieres and finales are great! That's pretty standard for a long-running network drama. But to really get into the meat of this series, you have to reach into its middleparts, where the show experiments and plays with form, style, and story with reckless abandon. The episodes of Riverdale most often made fun of online are actually some of the finest installments of the series, showcasing just how strange and surreal the series is willing to go. I'll have more to say on that as the final week of Riverdale unfolds, but for now, let's dive into the 10 episodes I think you should check out right now, whether you've seen them before or not!
As a note, the list does not include any episodes of the final season, as it's not yet readily available to stream online in full. Also, it's meant to be more of a retrospective, so the new season is a little too fresh. Also, because this is a list specifically for Autostraddle, I've focused intently on a lot of the show's queer moments in the episodes I've highlighted — though not all of them will be explicit/obvious in that regard. A list highlighting some of the show's gayest moments is coming soon.
Again, there's no way to capture all of the show's bizarro magic in just 10 installments, but if you watch all of these, you'll meet just about all of the Biggest Bads, the most significant serialized storylines, and a lot of the show's many MANY ships. It will be a disorienting mini marathon, sure, but it will also be delightful! So in Cheryl Blossom's honor, light a hundred candles, put on an elaborate outfit, and press play on the following 10 must-watch episodes of Riverdale.
Spoilers abound for all seven seasons of Riverdale!
---
1. Chapter One: The River's Edge (Season 1, Episode 1)
Here, we have my one exception to the no premieres or finales rule, but of course I had to include the show's pilot. Rewatching it feels like visiting a simpler time, and there are fittingly lots of parallels between it and the penultimate episode of the series — Chapter One Hundred Thirty-Six: The Golden Age of Television — which aired last week. If you watch the Riverdale pilot without having seen any episodes before, you might be surprised that the show really did start out as a pretty straightforward teen drama with a murder mystery plot. It was about a town undone by the death of a teen boy and all the familial secrets, lies, and histories that death kicks up.
I've seen this pilot a lot — to the point where I have much of it memorized. Something that stands out to me is how laden with queer subtext it is from the start, even as its supposedly about mostly heterosexual teen romance and drama (with the exception of Kevin Keller, who really did used to be so much more fun back in the day!). Archie going to find the "girl next door" (aka Betty) at Pop's only to instead find Jughead? Romance! Veronica choosing friendship right away with Betty even though they're set up to be rivals with a typical love triangle premise? Romance! The other thing that stands out to me is how Lili Reinhart's acting is leagues above the rest of the younger stars from the start. They catch up to her, but whew Reinhart, along with Cheryl Blossom one-liners, were definitely the initial hook that made me stay up for two late nights in a row catching up on season one when I first dove into the show.
Veronica and Betty share a kiss in this first episode, and while it's played off as "not real," which soon-to-be-queer character Cheryl rolls her eyes at, events in the final season cast that kiss in a new light in my opinion.
2. Chapter Twelve: Anatomy of a Murder (Season 1, Episode 12)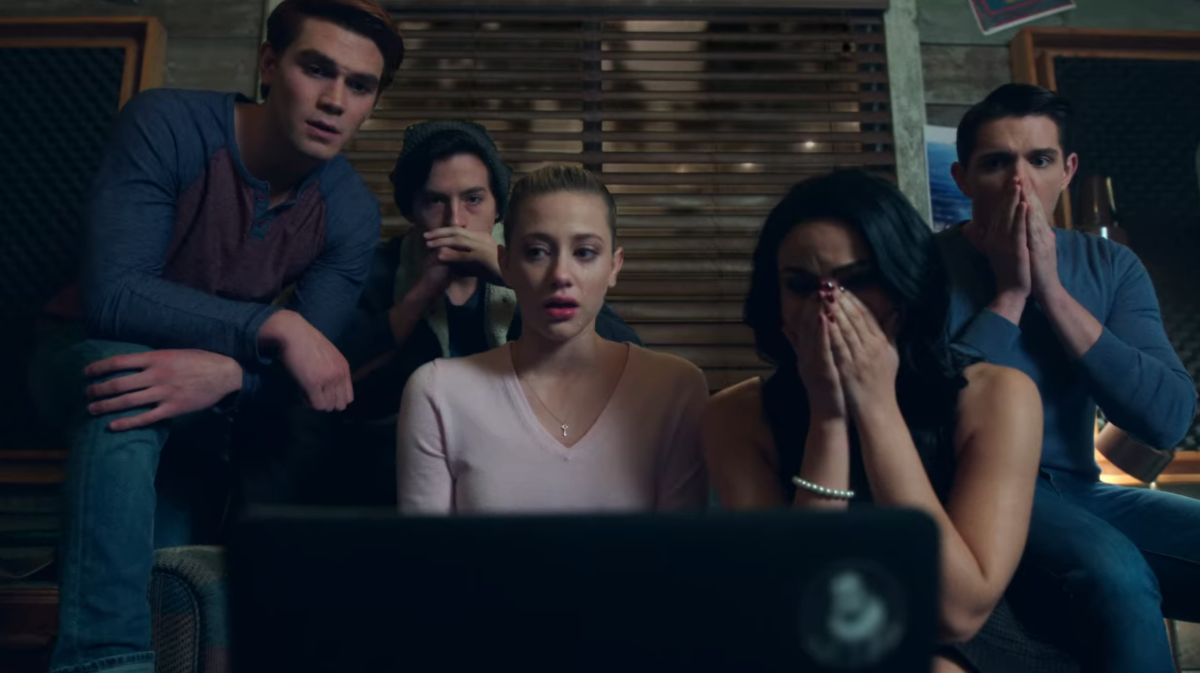 In a big swing, Riverdale reveals what really happened to Jason Blossom in the penultimate episode of the season rather than in the finale. We learn Jason was killed by his own father Clifford Blossom and that Jughead's father FP made a false confession because Clifford threatened to kill Jughead the same way. Kevin, Archie, Veronica, Betty, and Jughead all watch a horrific video of Clifford shooting Jason in the head at close range, and look, I don't want to wander too far into the weeds of trying to justify why Riverdale allows its narrative to go so off the rails from pretty much this point on, but in a lot of ways, Riverdale's sharp evolution into a show that dabbles in the absurd, the surreal, and the straight up supernatural actually does make sense when you consider this act of violence to be the firestarter. How can these teens ever go back to normal after seeing that? The town is never the same, and Riverdale pushes that to outrageous proportions. But did anyone really want seven seasons of a formulaic suburban crime/mystery narrative? Seems like there are plenty of shows out there that do that! Riverdale does something different. Very different.
3. Chapter Twenty-Four: The Wrestler (Season 2, Episode 11)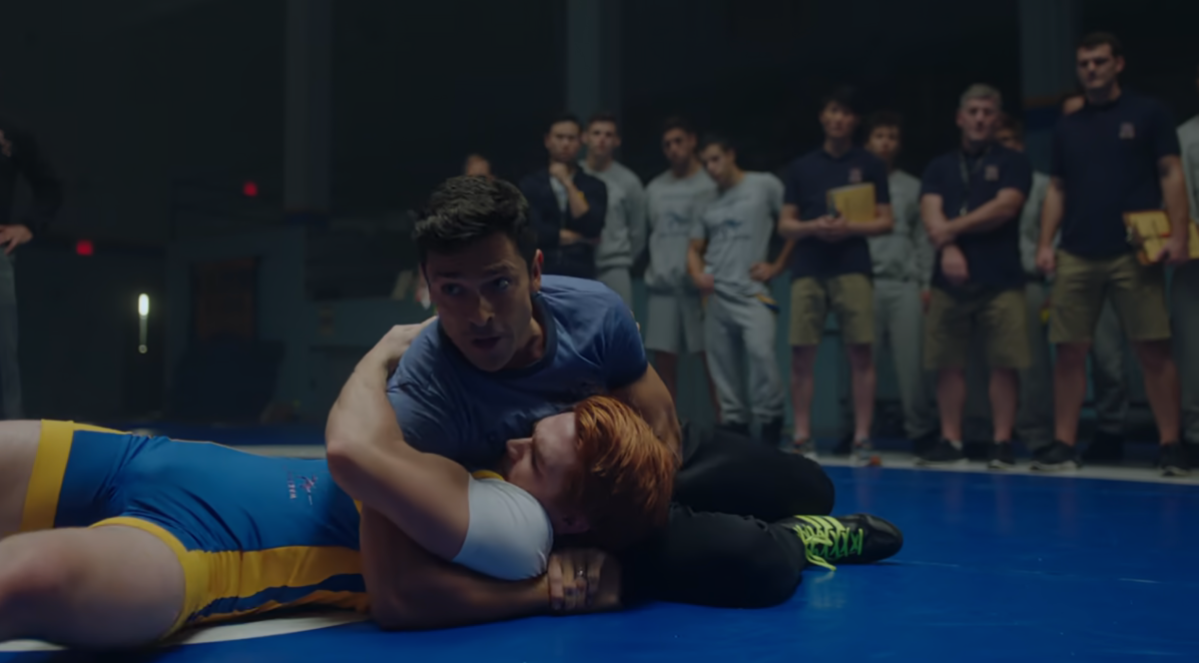 Remember when queer film icon Gregg Araki directed an episode of Riverdale?! Because I will never forget!!! This show has always felt queer in its marrow, even when that queerness isn't explicitly at the surface. The homoerotics of all the wrestling sequences in this?! Araki's touches are distinct and evocative. Sometimes I swear this show is at its most queer when dealing mostly with subtext/ambiguity than with its more straightforwardly gay storylines.
Season two sets up two Big Bads: a serial killer dubbed The Black Hood who is introduced in the season premiere when he shoots Archie's dad Fred and also Veronica's father Hiram Lodge, who remains a villain over the course of the series until Veronica eventually has him killed. (Sometimes fathers kill their sons on this show, and sometimes daughters kill their fathers.) At this point, the Black Hood is assumed to be dead and assumed to have been the school janitor. Neither of these things will be true by the end of the season.
In this episode, Jughead also learns the truth about Riverdale's violent, genocidal history and its residual effects on the town. You'll meet Chic, thought to be Betty's long-lost half-brother (and product of the teenage relationship between Betty's mom Alice and Jughead's dad FP), but his real identity is more complicated than that. But most significantly on a plot level, this episode sets up the intense and toxic mentor/mentee relationship between Hiram and Archie. Daddy issues! Everyone's got em in Riverdale.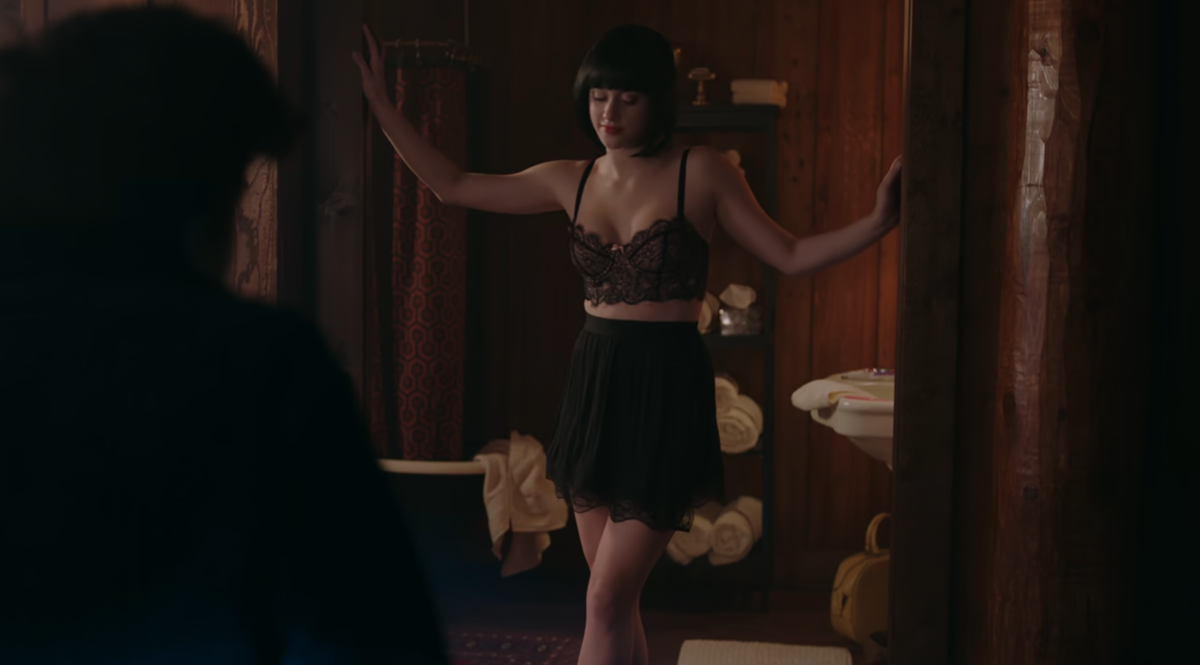 Hiram Lodge's villainy ramps up in the background of this episode, in which central couples Veronica/Archie and Jughead/Betty head out to Veronica's family's gorgeous lodge in the woods for a romantic getaway. Acting out after being hurt she wasn't invited, Cheryl calls Jughead right as the couples arrive for their fun weekend and tells him she saw Archie and Betty kiss outside her house around Christmas. Not such a fun weekend anymore! Archie had already told Veronica about the kiss, so the two just bang about it, which is kind of their whole thing. Jughead and Betty eventually work through it, too (and also have sex, Betty donning a wig and embodying her sexy alter ego Dark Betty who's initially introduced in season one), and the core four drink too-green margaritas while having a horny — albeit fraught — weekend away.
Veronica decides that the best way to resolve the tension is for Jughead and her to make out, and at first it reads as pretty fanservicey, thrusting under-explored ship (at the time; in season seven, they become more solidly canon) Vughead together. But it all unexpectedly comes together rather organically in a later scene when Jughead talks to Archie about how it's both a good and a scary thing that the friend group is all tangled up together and intimate in a way that sometimes leads to new romantic feelings for each other? If the final season of Riverdale highlights anything, it's that literally any ship on this show works convincingly — even queer ships for characters previously believed to be straight.
The weekend is mainly made fraught not by the shipping wars but by Hiram's background behaviors, which include buying up the trailer park Jughead lives in, the newspaper run by Betty's parents, and additional properties throughout the Southside of Riverdale.
Yes, that's right, one of the big evils of this season of Riverdale is GENTRIFICATION and the devilish acts of developers determined to destroy small towns for their own capitalist gains! Even at its most over-the-top, Riverdale does manage to weave in some real world stakes to its dramatics.
This is also the episode in which Cheryl Blossom officially comes out as queer! I have mixed feelings about it, because the moment sort of doubles as a promo for Love, Simon, Cheryl deciding to come out to out bisexual character Toni Topaz (who will go on to be her girlfriend) after a screening of the movie in Riverdale. But I suppose it is believable that a small town closeted teen wouldn't really be exposed to queerness on-screen until a big studio release like Love, Simon, so I'll accept. It helps that Madelaine Petsch nails Cheryl's brief but effective monologue about her junior high friend Heather who she loved (also, for a very good and classic Cheryl Blossom moment, go back to the season two premiere).
It was immediately following this episode that I started doing episodic recaps of Riverdale, which continued through mid-season five.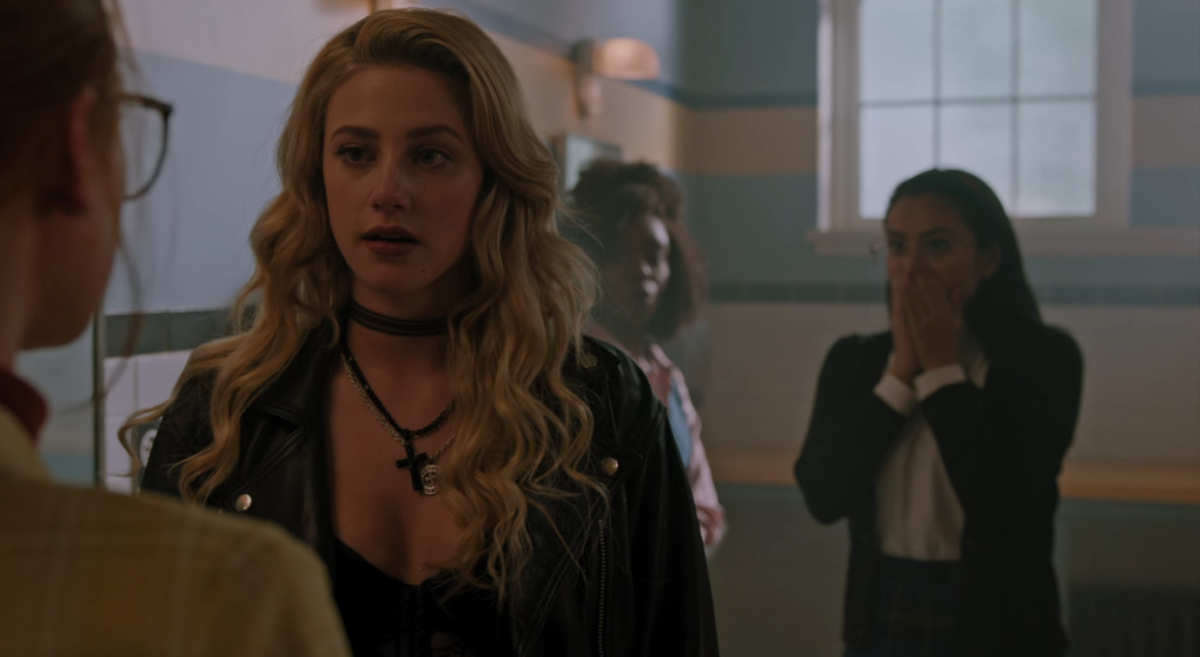 I love when Riverdale does a gimmicky episode (and as a result, there are several on this list). This one operates as a flashback episode as well as a twisted homage to The Breakfast Club (which has an extra layer of meta to it, considering Archie's mother is played by Molly Ringwald). The cast's younger actors get to try something new by playing younger versions of the parent characters, and it's very fun! Cole Sprouse is particularly good at evoking the physicality and general vibe of his older counterpart, Skeet Ulrich. And no one is having as much fun as Lili Reinhart playing a teen Alice Cooper, who was a bad girl with a penchant for starting fights. We get to see some of the relationships between the parents that later play into the dynamics of the present timeline, starting in season one, like Hermione/Fred and Alice/FP.
The episode is also the clearest overview of Gargoyles & Gryphons, the Dungeons & Dragons-inspired tabletop game that spreads like virus throughout Riverdale in season three, teen characters so drawn into the game and also the drugs that seem like a requisite for playing that it leads to multiple suicides and deaths. You must accept you'll never fully understand the inner-workings of G&G, but that's okay! The point is that the game makes its players into monsters…or, perhaps, brings out the monsters already within. As with a lot of Riverdale storylines, the meaning is a pick your own adventure situation.
There are many Riverdaleisms throughout the series, like the drug Jingle Jangle or the…other drug, Fizzle Rocks, which you'll see here. They're like pop rocks but drugs!
IT WAS VERY HARD FOR ME TO CHOOSE WHICH MUSICAL EPISODE TO HIGHLIGHT. The first one — which takes on Carrie: The Musical — made me cry the first time I watched it. But the more I considered what exactly I love about Riverdale's reality-bending musical episodes, the more I kept coming back to the second one, all about Kevin's decision to put on a production of Heathers: The Musical. Hermione Lodge says it all in the episode's opening: Doing a musical about teen violence and suicide in RIVERDALE? A town wracked by those exact things?! There's only one way to grapple with the macabre fates that have befallen this town, and it's to lean into camp!
While it's introduced earlier in the season, this episode also paints a picture of the season's (second?) central conflict. In addition to a wicked D&D-like game, there's also a cult in town called The Farm, and they're sponsoring the musical. The cult is led by a man named Edgar Evernever, played by Chad Michael Murray, a sentence I like to type out because it sounds totally an entirely made up.
Reggie and Veronica are together in this part of the show, and I've always thought they were an underrated ship. Cheryl and Toni are full-on exes at this point, too, and Cheryl returns to her baddest mean girl ways, and that descent fits very well with the musical's themes. But the episode also hints at the eventual rekindling of their relationship, which is on and off for the rest of the series.
I love when this show tilts into horror territory, and I love when any show does a special installment for Halloween, and this checks both those boxes! It opens with a very unsettling setup: Several of the families in Riverdale receive VHS tapes containing hours of footage of their front steps. Everyone, it seems, is being watched.
What follows is a Frankenstein of classic horror tropes and references. Scream, When a Stranger Calls, Halloween, Nightmare on Elm Street, and more all have their DNA woven into the episode, which provides several scary stories to tell in the dark at once. Betty Cooper, dressed up as Laurie Strode, receives a call coming from inside the house. Jughead Jones is drugged and locked in a coffin by his creepy rich literary freak classmates at Stonewall Prep, the private school he has transferred to. Cheryl Blossom's manor — where she currently lives with her girlfriend Toni — is being haunted by the spirit of her dead brother (whose corpse she has been conversing with as if he's alive). A stranger shows up late at Pop's where Veronica is working in search of a hot meal, and a news story casually reveals a serial killer recently escaped a local hospital and is on the loose. Archie goes full 80s grunge thriller at the boxing gym/youth center he's trying to run. The episode is a fun and stylish exploration of genre, but there are still some very real and very frightening emotional layers to it all, especially for Cheryl/Toni, as the true source of the haunting is much more fucked up than if we'd just been dealing with a ghost.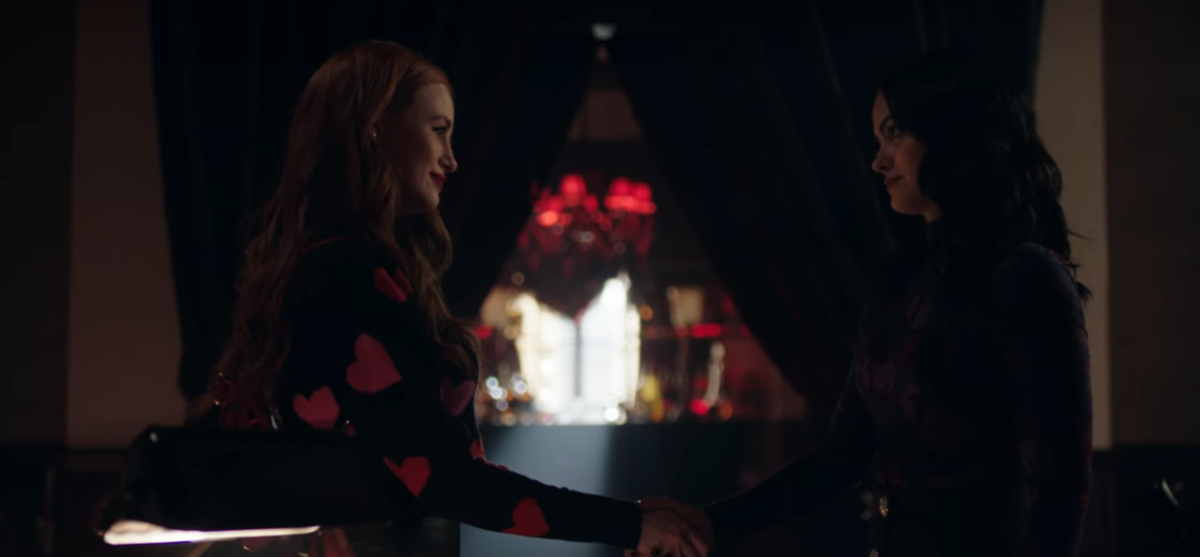 By this point, Jughead has already faked his own death and revealed that he faked his own death. It was all a ruse to expose those Stonewall Prep classmates and the nefarious doings of their secret literary society Quill and Skull. I know it sounds like we skipped a lot of plot, but we really didn't!
Cheryl and Veronica are just two teen girls running a rumpire — that's right, a rum empire! They're full-on business rivals with Hiram, and my favorite brand of unrealistic things the teens of Riverdale get up to are the unrealistic BUSINESS ventures. I love the commitment to giving the teens adult storylines before they're adults. High school drama gets too repetitive, you know? But on the high school drama front, Archie and Betty are once again feeling feelings for each other despite still being in relationships with Veronica and Jughead, having just kissed in the series' third musical episode, which I wasn't really a fan of at the time but might revisit. Betty revisits old journal entries in which she yearned for her neighbor Archie as a little girl. I love how often over the course of the series we delve into Betty's psyche in terms of her desires. While this season four entry mainly looks at early, youthful conceptions of love and romance, season seven is largely about her exploring the messy contours of her sexual fantasies. I feel like every season provides a new challenging of Betty as the "girl next door" trope.
The voyeur tapes sent in "Halloween" have escalated to now feature a recording of someone in an Archie comics-like Betty mask bludgeoning someone in an Archie comics-like Jughead mask in the woods. Jughead uncovers a seedy underground video rental operation, which has a library that includes a sex tape of him and Betty filmed without their consent. As its title suggests, strange and cinematic images are the name of the game for this freaky episode, which also has a subplot about Reggie, Kevin, and Fangs getting into the very specific business of making tickling videos.
While there were certainly a lot of more explosive moments on the show (literally, season six involves a bomb that triggers a new pocket universe), the voyeur tapes were some of the most legitimately scary things to happen in Riverdale history. Art imitating death, as Jughead puts it.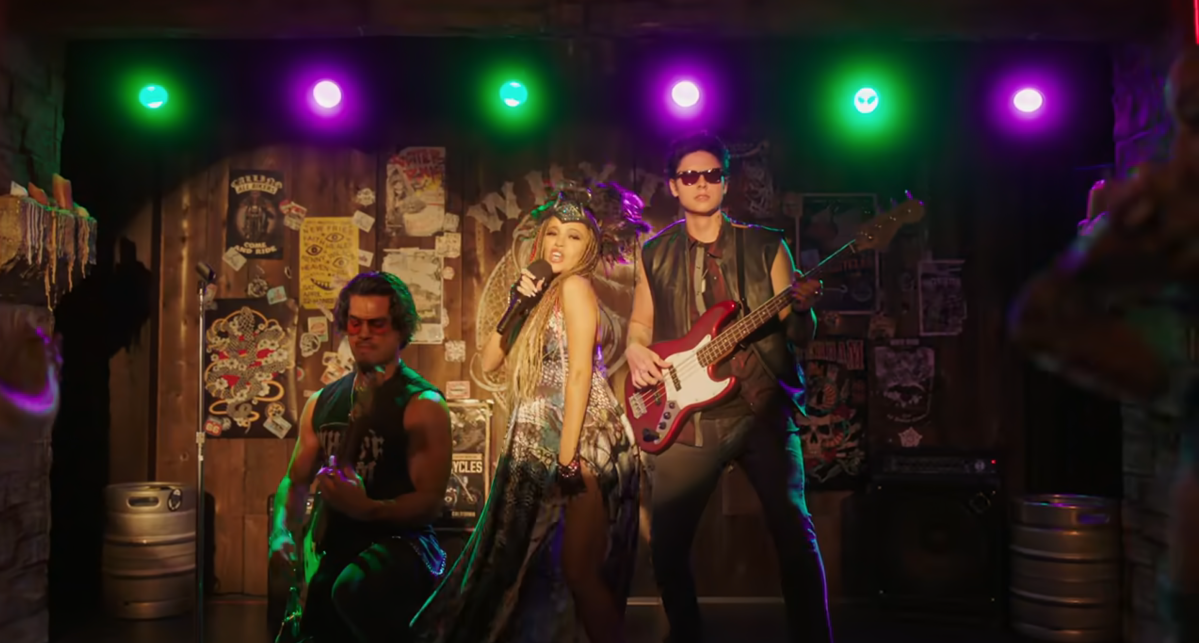 Speaking of the teens becoming adults…they're adults now! After season five's high school graduation episode, we do a seven year time jump into the new mid-twenties lives of our main characters. The gang has been away from Riverdale for a while, and Archie calls them all back to the roots of their various traumas by asking them to return to town for Pop's retirement party.
The episode has one of the most nonsensical cold opens of the show's history: In a nightmare sequence, Archie is haunted by recent memories of war (? it's never clear what active combat zone he has been in in the time between graduation and the time jump) and distant memories of high school — from football to longtime nemesis-daddy Hiram Lodge.
Betty, meanwhile, is an FBI agent specializing in serial killers (which is fitting, since it's revealed in previous seasons that she has something called the "serial killer gene," another Riverdaleism). She's haunted by a murderer called the Trash Bag Killer (TBK, a play on BTK) and fucking her superior, because these characters will simply never learn any lessons about toxic and ill-advised relationships! Veronica is married to a rich man named Chadwick and living a secret Uncut Gems life. Chad's basically a Hiram wannabe. Don't worry, she'll eventually kill him! Cheryl is living a reclusive life painting in her manor and gearing up to entire the wonderful world of ART FRAUD. Don't worry, she'll get a temporary girlfriend out of this business. Before eventually going back to Toni.
Here's another one of Riverdale's episodes where it feels like we're getting a smattering of distinct genres all at once — from war drama to serial killer thriller to Jughead's honestly quite entertaining literary noir narrative. I enjoy these collage-y episodes of the series for the visual stories they tell.
But the most important part of this episode to me personally is Toni Topaz doing a sexy musical number while pregnant. At a certain point, I think we have to all admit Riverdale isn't just a series that does musical episodes but a musical series period. Toni's working at the high school, and that's what the others end up doing, too, after Archie convinces them their new purpose in life is to revitalize the dying town of Riverdale, which has been starved of resources by Hiram as he continues to work on his SoDale luxury community project nearby, a storyline that has somehow been going on since season two. But hey, again, when the true source of evil is money-hungry developers ravaging small town America…consider me hooked!
Another episode from season five that exemplifies the themes of the season is "Chapter Eight-Six: The Pinchushion Man."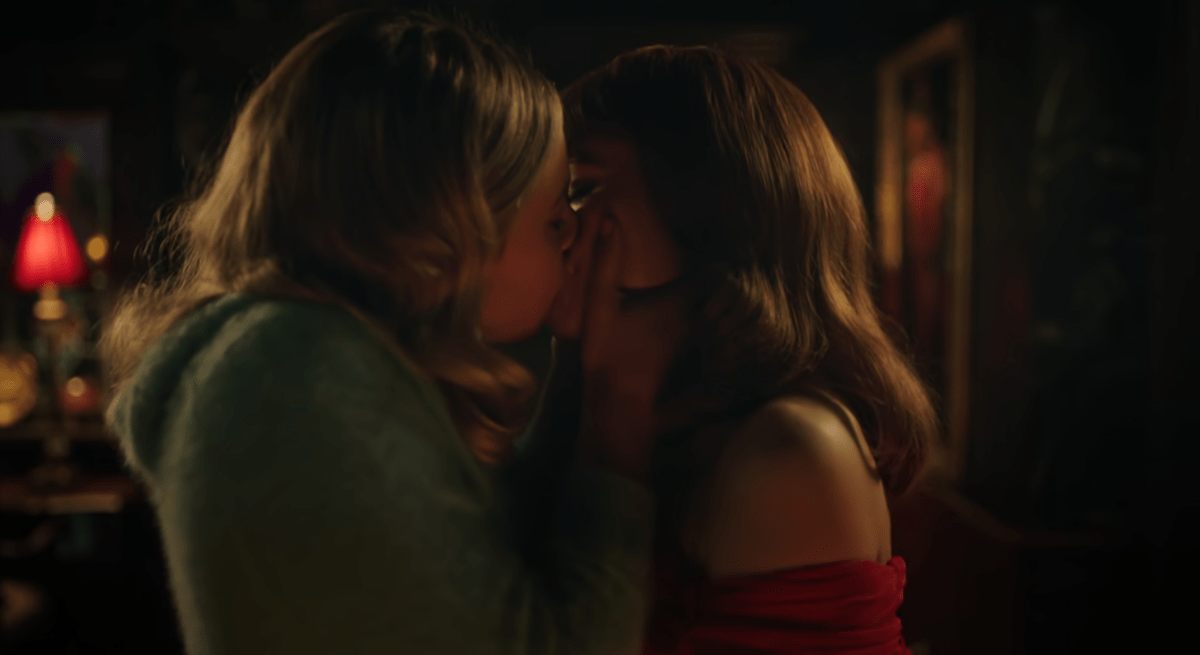 I just realized that four entries on this list are the fourth episodes of their respective seasons. I guess Riverdale just really knows how to do a fourth episode!
Building to its 100th episode (Chapter One Hundred: The Jughead Paradox, which is in some ways essential viewing, too, but also so extremely pushes the boundaries of metafiction/paradox/alternate universe storytelling that it's almost headache-inducing, so if you're the kind of person who mentally spirals out any time there's time travel involved, be warned!), Riverdale did its wildest experiment to date and created a five-episode arc called Rivervale — like Riverdale with a V! Jughead turns into a classic horror host for this arc, introducing each increasingly bizarre episode that pushes Riverdale into its most overtly supernatural territory. You see, a bomb goes off in Riverdale leading up to these events, triggering a pocket universe where things are just slightly off and where magic, witchcraft, and mystical comets exist.
This is my favorite of the Rivervale episodes, for obvious reasons (it's gay gay gay). It tells a three-timeline story about Cheryl Blossom in her ancestral manor Thornhill in the present day; Poppy Blossom in Thornhill in 1957; and Abigail Blossom in Thornhill in 1892. In all three timelines, a comet is set to pass Riverdale. This is the comet that Cheryl will eventually be tasked with melting (using witchcraft), which will lead everyone to time travel back to the 1950s and also age down to teens again…which is where season seven picks up!
But before all that, we get this trio of witchy period dramas, the episode doubling as a Chilling Adventures of Sabrina crossover! In case you were wondering, yes, Poppy and Abigail are also both queer, so this episode contains three magical Sapphic love stories as well as some confusing plot points about bodily possession, but try not to overthink anything that happens in Rivervale, which is very much Riverdale's version of doing an experimental art project. In fact, a part of me wishes we had just stayed in Rivervale for the rest of the series! It got to basically be a new show every episode.
And that's exactly what I love the most about Riverdale: Its proclivity for play. Episodes that feel like costume parties, gimmicky narrative structures built around themes, character arcs that allow actors to go big and bold and theatrical — these are the Riverdale moments I'll cherish the most.
---
This piece was written during the 2023 WGA and SAG-AFTRA strikes. Without the labor of the writers and actors who are currently on strike, series like Riverdale would not be possible, and Autostraddle is grateful for the artists who do this work.