My Halloween costume philosophy is simple: don't spend more than you'd spend on a 40, and only wear what you're willing to get stained, because the Law of Halloween Celebrations states that alcohol, fake blood or facepaint will be end up  on your person at least once per event. Here's a few suggestions for assembling a costume that says "I'm gay" or "I'm up to date on trends and politics" or "I'm gay AND I'm up to date on trends and politics," AND takes less than twenty minutes to put together. You probably own everything you need and what you don't already have, you can very easily borrow, thrift or pick up at a dollar store. Cuties can't resist a topical queer, especially one who is wise with their dweebish finances.
 Romney's Offshore Assets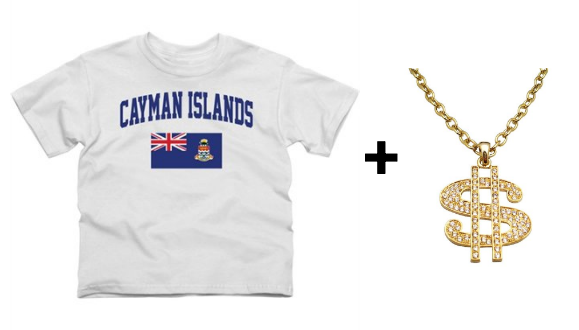 Find yourself a Cayman Islands t-shirt (or you know, write the words "Cayman Islands" on a plain white shirt) and a dollar sign necklace. Bonus points if you have pockets full of play money. If you see anyone dressed as the American public, make sure you hide from them as long as you possibly can before giving a strategic appearance at the end of the party.
Lesbian Bed Death
This might actually be the scariest costume on the list. Pair pajama pants and a spare pillow with a t-shirt you're willing to write on. Draw a skull and cross bones, and if you have a feeling you're going to be too inebriated to explain your costume for the rest of the night, write "lesbian bed death" on there, too. This was my costume during the day last year, and after wearing it to class, I got a lot of comments on how frightening it was. Only at a women's college, anassa kata.
Queer Temporality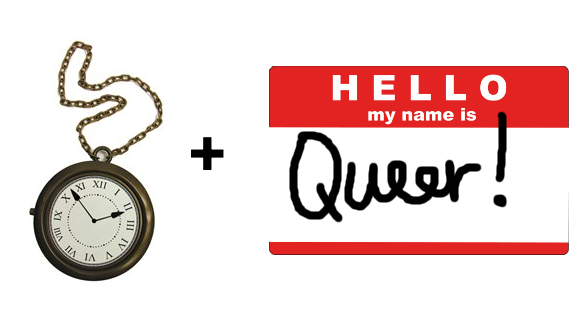 Weed out the queer theorists at your Halloween party by wearing an oversized clock necklace (yes, apparently Flava Flav is a popular enough costume that there are five-dollar oversized clock necklaces at party stores) and a nametag that reads "QUEER." Ta-da, you're queer temporality! If Jack Halberstam is at the party, you guys will totally become best friends and do body shots off whoever is dressed up as "Female Masculinity." Hot.
God's Gift to Women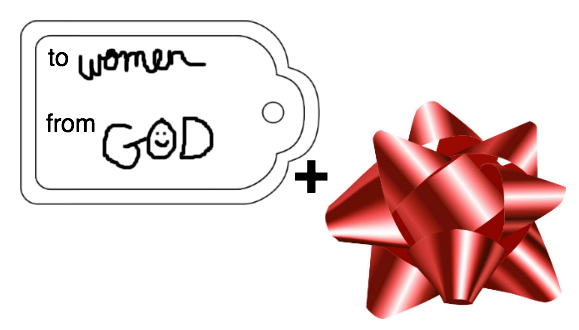 This was my costume two years ago, not even gonna try and cover that up. It's super easy, and it's further proof that what looks douchey on a cis dude can look adorable on a queer, in that adorable-cocky queer sort of way. Make an oversized gift tag and hang it around your neck. Add a shiny bow. Have your wingwoman dress up as a UPS worker and hand you off to babes.
 Waldo
The thing that is both super fun and wildly irritating about hanging out with twenty-somethings is the whole 90s nostalgia thing. It's caused way too many themed college parties where I have gotten way too drunk and been photographed in way too awkward positions while dressed as Fox Mulder. You'll probably see a lot of 90s nostalgia costumes this year, and they will either be totally awesome or totally tedious. This one is particularly easy because you probably already own three of the four items. Also, this costume just turns out really, really cute on queers. I don't know what it is, but lesbians look freaking adorable in striped shirts and beanies. Add glasses? Porn, it's legit porn. Throw in a cane and boom, you're Waldo. Every time you run into a babe, grin and say "you found me," and make sure you have a cute prize waiting. Note: if the prize is making out with you, that is cool, too.
Workout Paul Ryan
Pay homage to the glory that is Paul Ryan's workout portraits with this costume. Grey t-shirt, running shorts and hiked up socks with athletic sneakers. If you're like me and typically run from the gym as if you've seen the Dark Mark, you might have to borrow these from a friend, but I guarantee someone you know owns these items. Add a dumbbell (make your own with cardboard and toilet paper tubes, or carry around a 5 pound weight so you look awesome for your hangover) and armband for your iPod, and you're looking radical, dude. Make sure you stay hydrated, and if you run into a Joe Biden costume, drink six glasses of water.
The Gay Agenda
Make a list of everyday activities, including the part of your day where you make war against the institution of marriage and destroy traditional values, and pin it to your t-shirt. Bonus points if the shirt is pink and therefore extra gay.
Lesbian Who Looks Like Justin Bieber / Dani Shay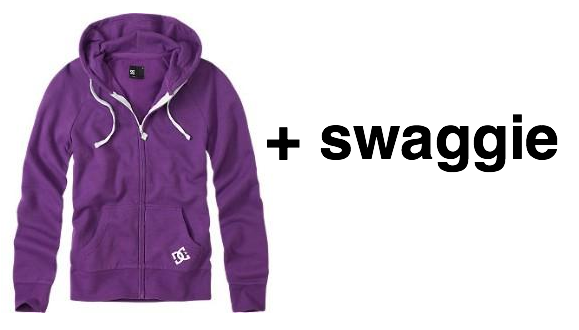 Since Justin Bieber continues to evolve into an even more lesbian version of himself, you don't really need to do anything for this costume put turn up your swaggie. I suggest a purple hoodie so people recognize you, but just walk around like a cocky teenage boy and you're set. Also, are you Justin Bieber or are you Dani Shay? Are they secretly the same person? Does it matter? It doesn't matter because you can post it to Lesbians Who Look Like Justin Bieber later and get mad tumblr pussy.
Bonus: me and Justine in our matching Kelly Kapowski shirts last year. Swaggie.
Lazy, broke, or busy queers, what are you wearin' this Halloween? Fill me in, kids.