Yo, Pride month is here. Whatever that means for you, we hope you enjoy it. If you're headed out to Riis Beach to soak in the topless and queer section, go, baby, go. If you're at the crafts store buying out their entire glitter and stickers section, we hope your credit card goes through.
Pride can also be tough. All the parties are so focused on booze and ladiesladiesladies!!!! What if that sentence alone makes you feel like you need a nap? Also, what if you're under 21? What if you don't drink? Where do you go? What do you do??
We've got you, lil queermo. Everyone is Gay, Bluestockings Books and Autostraddle have gotten together to throw the best All-Ages Pride Party in New York City.
Everyone is Gay co­founder Kristin Russo, along with Autostraddle's Gabby Rivera, will emcee. We're going to have music by Jenny Owen Youngs and Mal Blum! Spoken word by Gabby and Khalin Vasquez, a Lincoln Center Poet-Linc alum.
Admission is free!!
There's a suggested door donation of $5 to benefit the work done by Everyone is Gay, Autostraddle, and Bluestockings. But don't sweat it if you can't swing it — just come be with us! Bring your lil baby dyke cousin, all of your friends, your college roommate and their Tinder date. Bring everyone you know and love.
And then carry on to the NYC Dyke March!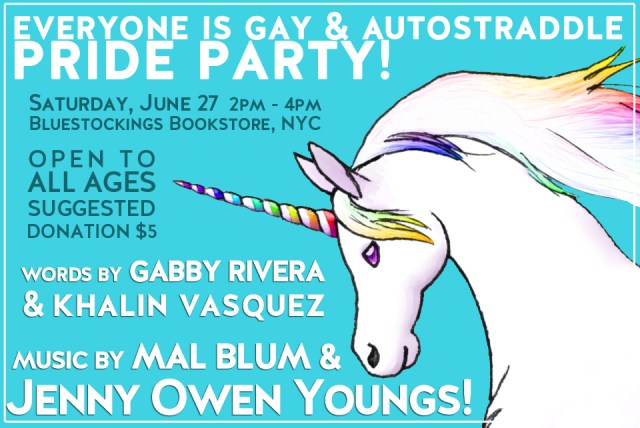 When: Saturday, June 27th, 2015
Time: 2 pm – 4 pm
Location: Bluestockings Bookstore, 172 Allen St., NY, NY, 10002