Lunchtime: unequivocally the best part of the day. But could it be better? Yes sir, it can. You don't have to spend gobs of money going out, but you also shouldn't be packing the same peanut butter sandwich year in and year out; there is a middle way. The path to becoming a lunch box buddha isn't so hard. All you need is a good balance of inspiration and  improvisation. Every week, we'll make one or two packable recipes so that you have something new to fill your lunch box and your stomach. 
---
This week marks six months since I've been here. On the first sunny day after a few too many months of endless rain, I dragged by ass out of my room and into a cafe to write and met two new people during the hour I was there. Those two people led to six new friends, a latin dance class, an Arabic cooking workshop and a beer in Pontevedra's St. Patrick's Day tent where we listened to an Irish man sing Bruno Mars songs (your guess is as good as mine). You know all those cheesy songs about how after the rain stops the sun comes out and there are rainbows and everything is shiny and perfect? They exist for a reason.
Oh and did I mention that I just now learned that there's an empanada place one block away from my house with the best empanadas I've ever tasted and the sweetest mom-like woman ever? Speaking of empanadas, did you know they were invented in Galicia? While we're talking about the culinary delights of Galicia, this is probably a good time to tell you that they also invented a cheese and named it after breasts because it kindasorta looks like them. Anyway, empanadas here aren't the little half-moon things you're probably thinking of. They're giant flat pie-ish things filled with tuna, cod or some form of pig (obviously). Here, those little babies are called empanadillas, little empanadas. Since keeping fried food crispy for a whole week can be tricky, we're going to be baking them in the oven but if you're serving them right away, I'd definitely consider taking the more-delicious frying route.
Spinach Empanadillas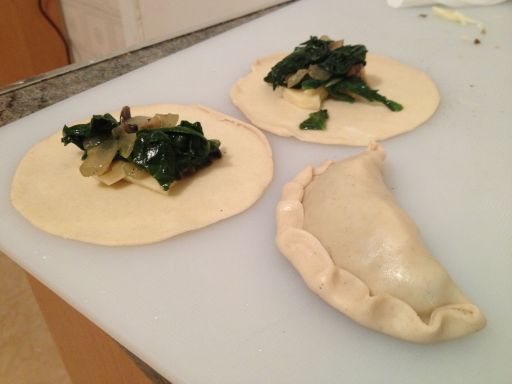 inspired by Pilar's Empanadas
Ingredients:
Empanadilla wrappers (you can make them but this time, I went ahead and bought some to save time. If you can't find empanadilla wrappers, I hear wonton wrappers work pretty well.)
An onion
A handfull of mushrooms
A bag of spinach
1 T of garam masala
1 T of cumin
Salt
Pepper
Gruyere or swiss cheese
1 egg yolk
1 T of water
1 t of sugar
Instructions
1. Dice the onion and then cook them in olive oil over medium heat for about 10 minutes until they're translucent and soft. I like to add a little sugar to help them caramelize.
2. Cut the mushrooms into small pieces and then add them to the onions. When they begin to soften, add the spinach and cook until it's entirely wilted. Add the spices and salt and cook until most of the liquid from the spinach evaporates.
3. Take an empanadilla wrapper and put about a teaspoon of cheese in the middle. I take that back. Put as much cheese in the middle as you think will bring you the most pleasure. Now spoon a little bit of the spinach mixture into the middle. Don't add too much or everything'll ooze out the sizes and the genius of the empanada (everything's self-contained!) will no longer come into play.
4. Fold the wrapper in half so you have a little crescent shape. Now, there are a bunch of different ways to close them up, but the Galician way is to make this pretty little braided thing. I'm not Galician, though, so I just kind of folded mine over to make a nice little edge. If you don't want to fold, you can always grab a fork and seal them my pressing all the way around. Place them on an oiled pan.
5. Mix together the egg yolk, water and sugar. Using your fingers or a brush, paint the eggwash over the tops of the empanadillas. This will make them turn crispy and dark.
6. Bake them for 20-30 minutes on 400°F/200°C until they're brown on top and the bottom is not longer soft.
+Storage and eating: You'll need to wait before the empanadillas completely cool before storing them anywhere. If there's even a little bit of heat, condensation will form on the inside of the container and they'll be all soggy.
Romesco Sauce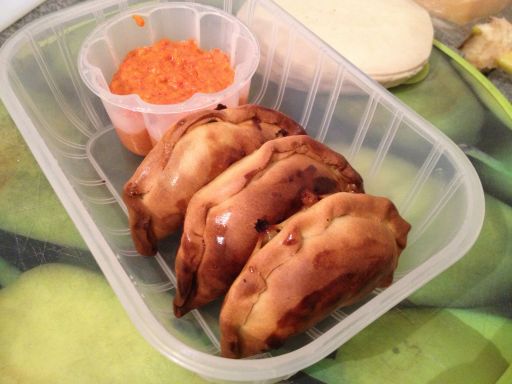 So Romesco sauce doesn't come from anywhere near here. It comes from Tarragona, a Catalonian city about an hour away from Barcelona. They're big into stale bread and over-ripe tomatoes over there and this sauce (along with pan tomàquet!) exists to show the rest of the world just how good old food can taste.
via About
Ingredients:
12 peeled almonds
12 hazelnuts
1 head of garlic
1 slice of stale bread (If you don't have any, ask your grocery. I guarantee they do.)
2 tomatoes
2 roasted red peppers
Olive Oil
2 T of Vinegar (Technically it should be red wine vinegar, but I can never tell a difference in sauce)
Instructions
1. While the empanadillas are cooking, cut the top off the head of garlic, pour a little olive oil over it, wrap it in foil and throw it in the oven for 20 minutes or so. We're going to roast it to mellow the flavor a little.
2. Place the almonds and hazelnuts in a food processor and pulse until they're completely pulverized. Don't you love pulverizing things? I do!
3. Dice the tomatoes and cook them in olive oil over medium heat for about 5 minutes until they're soft and mushy.
4. While that's going on, tear the bread into pieces and add t to the nuts. Chop chop cop!
5. Add the tomatoes and the red peppers and puree them as well.
6. Take the garlic out of the oven. Once it's cool enough to touch, squeeze the garlic out of each clove. Puree that right into the rest.
7. Add the vinegar and any extra olive oil if it needs thinned.
8. Take a taste and season with salt and pepper as needed.
+Storage and eating: This'll stay good in the fridge for a week as long as you keep it sealed.
Banana Empanadilliñas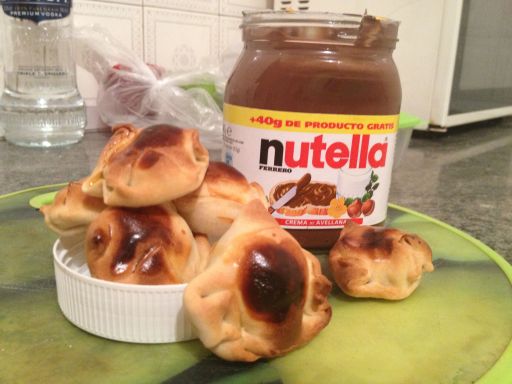 You know how to make something diminutive in Spanish you just add an it@ to the end? Well in Galician, you add an iñ@. Since empanadilla already means "little empanada," we're going to call these tiny guys empanadilliñas because we can.
Ingredients:
Empanadilla wrappers
A banana
Nutella
1 egg yolk
1 T of water
1 t of sugar
Instructions
1. Slice the banana into what my family used to call "Mickey bananas" when I was little but which the rest of the world calls, um, I don't know. What do you call them? Little coin things.
2. Cut the empanadilla wrappers in half. Place the banana on one half, fold the top over, and scrunch in the sides so it's all sealed up.
3. Place each empanadilliña on an oiled pan and them dab the top with the egg wash.
4. Bake them for 20-30 minutes on 400°F/200°C until they're brown on top and the bottom is not longer soft.
+Storing and eating: Just like the other empanadillas, make sure these guys are completely cool before you seal them up. Take a little bit of nutella with you for dipping.