This You Can Live Forever review contains very mild spoilers. It was originally published from The Tribeca Festival in June 2022. You Can Live Forever is now streaming on Vudu, Google Play, and Amazon Prime. 
In this Canadian romantic drama, two young teen girls from completely different worlds discover a love for each other amidst familial and religious pressure to adhere to strict tradition. You Can Live Forever attempts to break the mold of the typical teen love story, by utilizing a very contemporary cinematographic style and exploring a religious community not often represented in popular media — Jehovah's Witnesses — but it ultimately falls short. While I will always appreciate and enjoy cheesy sapphic stories, this movie's strangely quick pacing and rather shallow commentary left me wanting more.
During the first church scene in You Can Live Forever, churchgoers begin their service by singing a religious message in unison: "Come and spread the joyous news. Paradise for those who chose to follow Christ's eternal word, […] life free from pain.wp_postsThe choir's melodies speak to a greater truth believed by Marike, one of our main characters, and her community of fellow Jehovah Witnesses — you can achieve rebirth and live forever if you follow "the truthwp_postsof Jehovah. But as the movie proceeds, we begin to see that "the truthwp_postsmay not lie within religious doctrine, but within Marike and her future crush Jaime as they secretly explore their forbidden sapphic desire and love for one another.
Traveling to her aunt's home with a cassette in hand, Jaime is quickly revealed to be a young high school teen navigating the '90s, temporarily moving in with her extended family as her mother takes time to mourn the death of her husband and Jaime's father. While her sexuality is not overtly announced or discussed until later in the film, her rather on the nose Kristen Stewart Twilight-esque costuming and monotonous line delivery certainly gives the audience an indication. The intensity with which Jaime's eyes lock onto the back of devout follower Marike's head and frame during church is the confirmation.
As Jaime and Marike's friendship begins, viewers can immediately see how these characters are from two completely different worlds. The opposition is vibrant, with scenes of Jaime smoking marijuana around town, which starkly contrasts our look into Marike's traditional, religious background. While we see Jaime being independent and making friends with classmates — all viewers see is Marike facing ostracism, rigid family rules, and a rather undetailed exploration of her religion steeped in stereotypes.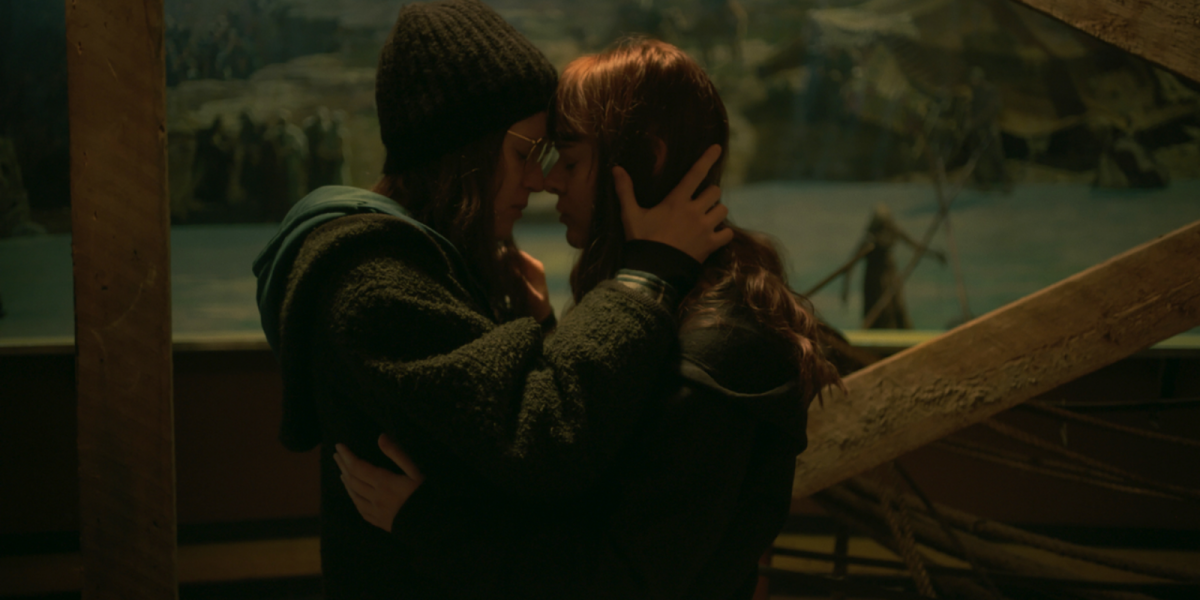 Desire, passion, and love quickly override those differences as they fall in love with each other at a speedy pace — a pace so abrupt it felt a bit rushed and unrealistic. Longing stares during church quickly transform into secret bedside cuddles. Hugs in public bathrooms evolve into oceanside sensuality in the back seat of Jaime's car. As Jaime and Marike get closer and closer to embracing their truths, anxiety and fear arise at every turn as both the characters and viewers brace for the inevitable moments they are seen being affectionate. It is, however, refreshing to see how, despite various social forces working against her, Jaime remains stalwart in her decision to be herself.
The film would have benefited from richer dialogue between our main characters, a deeper exploration of Marike's community and family background, and more appropriate pacing. But ultimately, it offers a pleasant portrayal of young queer love and desire, as well as a good message regarding the importance of being true to oneself — and isn't that the type of storytelling we want to add to the slate of sapphic films? I believe so.