feature image by bigtallguy
Emily's Team Pick:
It's the end of the semester and you probably have, like, 4 research papers due in the next 3 days but you are so tired and don't want to write them and instead you are reading this. Well, my friends, my roommate has just discovered the greatest essay writing tool of all time.
It's called Written? Kitten! and this is what happens: for every 100 (or more, you can change it) words you write, a picture of a kitten pops up!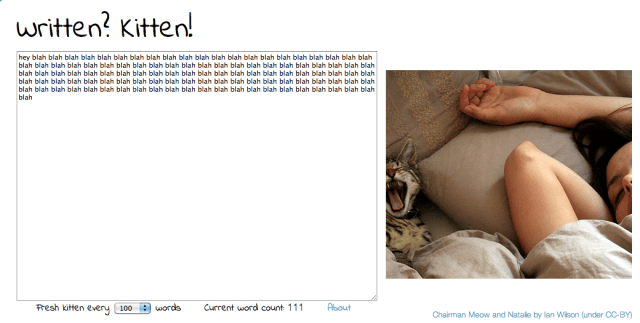 If your browser supports it, Written Kitten will also save your essay so you can close the window and not lose it. Obvs it's also probably better if you save it somewhere else too, though.
Do you need more motivation than this!?
---
Before you go!
It takes funding to keep this publication by and for queer women and trans people of all genders running every day. We will never put our site behind a paywall because we know how important it is to keep Autostraddle free. But that means we rely on the support of our A+ Members.
Still, 99.9% of our readers are not members.
A+ membership starts at just $4/month.
If you're able to, will you join A+ and keep Autostraddle here and working for everyone?
Join A+