Widely adored musician-artist-poet-writer, Patti Smith will be releasing her brand-new album Banga this week (June 5!) and to celebrate, we're giving you the chance to win a super special edition box set!
The package comes with the Banga album, a hardcover book that includes 64 pages of original images, complete lyrics and liner notes, plus the exclusive track "Just Kids". Sounds great, right?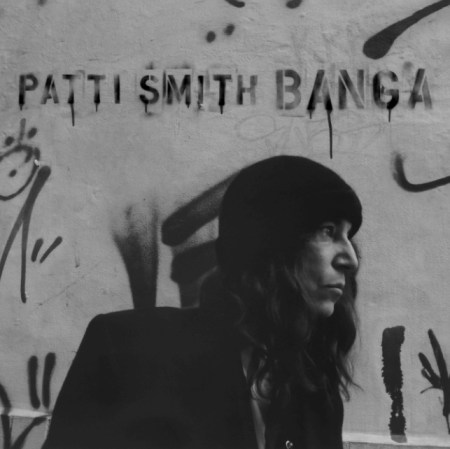 From the Columbia Records press release:
"This highly-anticipated album marks Smith's first collection of original material since 2004… Inspired by Smith's unique dreams and observations, Banga's poetic lyrics are a reflection of our complex world – a world that is rife with chaos and beauty. Praised for her storytelling abilities, Smith has crafted an album that captures a wide range of human experience.
There is an exploratory spirit in the songs that make up Banga, including a melodic overture imagining the voyage of Amerigo Vespucci to the New World in 1497 (Amerigo), a rock song for the people of Japan in the wake of last years earthquake (Fuji-san), a classic ballad in memory of Amy Winehouse (This Is The Girl), an improvised meditation on art and nature (Constantine's Dream) as well as a birthday song written for her friend Johnny Depp (Nine)."
Banga's first single, "April Fool" was released on April Fool's Day to rave reviews. NPR is now streaming a brand-new track, "Fuji-San" which you might also enjoy.
How To Enter
Write a haiku poem (three lines: five syllables, seven syllables, five syllables) about Patti Smith and leave it in the comments section. I'd probably write one about how much I loved Just Kids or maybe even how I aspire to have her hair style from the cover of Horses. Anything goes.
We're going to pick the winner at random on Thursday June 7. Make sure you use a valid email address (that you check often!) when leaving your comment, as that's how we'll notify the winner.