feature image via shutterstock.com
Welcome to We're All About It, where we talk about investment-worthy things that are going to make your adult lives 100% more amazing.
---
Once upon a time, I lived in a college dorm room and my only cleaning supplies were a flimsy plastic handbroom and some mostly-dried-out Clorox wipes. Before that, I lived at home with my parents and didn't think much about where cleaning supplies came from (the Windex stork?) or how much they cost. Then I moved into my first apartment and was suddenly in charge of buying my own toilet paper and cleaning my own messes. I slowly started acquiring a quite decent arsenal of cleaning tools and products. For the first time ever, I owned a vacuum cleaner.
It's been over a decade since my first vacuum cleaner and I got together. There have been multiple vacuums since. They always break within a few years. Like chumps, my partner and I just keep replacing them, hoping the next vacuum will be "the one."
To be fair, our house is like some sort of sadistic vacuum challenge course. We have a long-haired cat that creates massive grey hair tumbleweeds all over our hardwoods and rugs. We also have two bunnies who are free-range in their own bedroom and they are like little furbombs detonating all over the place. If you know one thing about pet bunnies, know this — they shed every f-ing season. So, basically, always all the time every day. They have a big brown rug in their room which turns grey from all the hair within a week. What I'm trying to prove here is that we have a lot of hair in our house, like a lot a lot. Animal-hair-on-everything is a hallmark of queer home decor and queer fashion, but it is not kind to vacuum cleaners.
In 2011, my partner and I got tired of our sucky (See what I did there?) and unfulfilling vacuum relationships and opted for a slightly more expensive pet hair Bissell that ran around $250. It was a sparkly red color and you could make it into a hand vac by popping out the canister. It was very sexy. It came with all these fancy attachments, including a "pet hair brush" that you were supposed to vacuum your pet with. Because dogs and cats love being right up next to a vacuum, being touched by it. Nope. (We did try this attachment out on our fearless bossy bunny and she was totally chill about it.) Anyway, we hoped it would last a long time.
As you probably guessed, our $250 vacuum cleaner totally crapped out within three years.
When the Bissell vacuum died, we decided it was time to upgrade for real. We did some online research. We googled "bunny hair vacuum" and "long-haired cat vacuum" and "best pet vacuum" and decided that the only option was to go for a Dyson. If you don't know, Dyson vacuum cleaners are, like, the Cadillac of vacuum cleaners. They are known for their innovative technology. Oh, and also they are astronomically expensive — like $400-$700. We scraped our pennies together — OK, in this case, my partner mostly scraped their pennies together — and went to check out these too-good-to-be-true Dyson vacuums in person. For such a large purchase, it felt like we should eschew online shopping and actually touch the thing before buying it.
Honestly, we were kind of not that impressed just looking at the thing. Dysons are aesthetically pleasing — don't get me wrong — but they also just kind of look like…vacuum cleaners. In fact, some of them are so thin that we just couldn't believe they would work. How much better could this Dyson possibly be? After much fretting about whether we were making the worst choice ever, my partner waved fistfuls of cash at the cashier (I lie. It was a debit card.), yelled, "Take my money!!!" and we came home with a lovely new Dyson DC65 Animal. We picked it for its long 35′ cord, slightly more reasonable price point ($500 on sale), and large canister.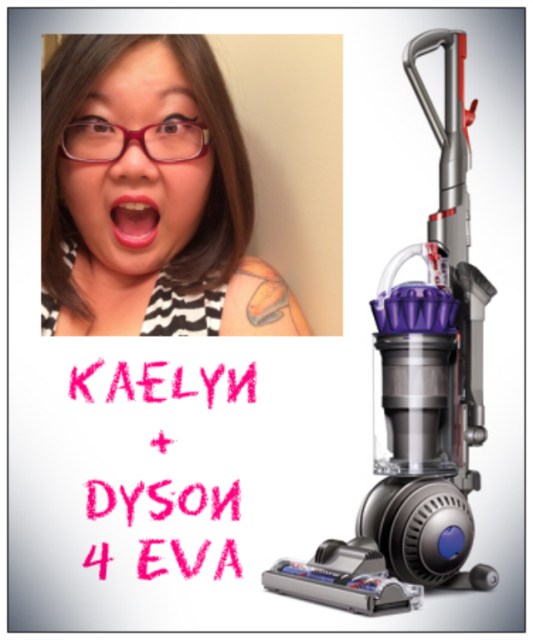 Right out of the box, it was a game-changer. My partner slapped it all together in less than 10 minutes and took it for a spin around the living room rug and floors. This vacuum is supposed to perform equally well on hardwoods and carpet, all without touching any dials. It is no joke; it just picks shit up.
I have never experienced this kind of suction (whomp whomp) and I was kind of freaked out by it at first. Honestly, I was a little afraid I might break it if I touched it — the thing retails for almost $600, OK? When I did finally take our new life partner out for a ride, it was pure magic. Also, it was super gross. It sucked stuff out of our rugs that may have been from the Neolithic era thanks to their trademarked "Radial Root Cyclone™ technology." It also has these fancy brushes, the "Tangle-free Turbine tool," that helps get all that gross stuff out without getting tangled up with hair or debris. In a fur-heavy household, this is a big deal. It maneuvers like a champ thanks to the slim head and Dyson Ball that allows you to get into corners without doing a 10-point turn.
What is most impressive about the Dyson, suction power aside, is how intuitive everything is. The hose attachment slides right up at the touch of a button and the tools pop on and off with the touch of another button. I was cleaning the bunny room this weekend and I felt like I was a special agent or something. I was just like BAM BAM BAM and my magical Dyson attachments were on. And then I was like PEW PEW PEW and the vacuum was reassembled like normal. The bunnies tried to eat the cord and were generally unimpressed by my technique.
The canister is also the easiest thing ever. There's no special trick to taking it off to empty, which was always a prob with my slightly-less-fancy Bissell. It felt like one of those impossible-to-solve puzzle games getting the Bissell canister off. With the magical unicorn Dyson, you push the red button and it just pops off. You push that same red button again and the bottom drops open to release the contents. The simplicity is a time-saver and it's so much cleaner. You're not accidentally spreading the dirt and dust all over again while wrestling with the canister. It's genius.
We are still at the beginning of this affair, so only time will tell if this love is forever, but I have high hopes. I don't believe in "the one," but this Dyson is damn close. With a five year warranty, we figure that we have nothing to lose since that's what we'd spend on two crappier vacuums anyway. If you have had a Dyson for many years and have an opinion about it, I'd love to hear it!
Price: $499-599
Good for: pet owners, hairy people who shed a lot, lazy cleaners, couples looking to improve their intimacy