It is a universal truth that tea makes everything better. We're holding another round of high tea festivities on the mountain this camp session, and we wish you could all be there to join us as we lounge under beautiful garlands made by darling Laneia and sip teas of all different flavors. In lieu of a giant revolutionary queer grrrl tea party (that we truly do hope will happen one day), we've decided to put together a tiny tea round table for you reading along at home, so you can learn exactly how each member of Team Tea became acquainted and fell in love with the most perfect of beverages. So brew a pot of your favorite tea, grab some biscuits, put on your fancy hat and gloves, and when you're done reading about our feelings, tell us about your own tea love stories in the comments!
---
Vanessa
I started drinking and enjoying tea in the fall of 2006, when I arrived in New York City to begin university and the beginning of the rest of my life. That is how I thought of that particular September, and I am both embarrassed and proud of my tiny 17-year-old self when I think about her now. I was young and naive but determined, and I wanted to say yes to every single thing my new home had to offer. One of the things New York offers in excess is coffee shops, but you see, I don't like coffee. I will not drink it, ever. I used to order steamed milk, or even just plain old cold milk, when I met high school friends at the local Starbucks in Newton Center, but the idea of ordering milk as an actual beverage in a Greenwich Village coffee shop just did not seem like a thing I could do. And so I slowly dipped my toe in the boiling waters of tea. And, like I did with so many other things and people and places that autumn — Ali, Katlyn, Matt, John, Dara, 4 am, independence, kissing strangers and of course New York City itself — I fell in love. Now, seven years later, I've lost touch with most of my best friends from freshman year, 4 am no longer seems new or particularly charming, I haven't kissed a stranger in the longest time, I gave up my independence and left New York to move back home with my parents in the suburbs… but my love affair with tea is still going strong.
My parents are South African, and while the stereotype about British people worshipping at the alter of the afternoon tea goddesses may or may not be true, I can say with absolute certainty that my South African mother loves tea. She was forever disappointed by my disdain for the beverage while growing up, as she truly believed in its ability to cure all ailments, both physical and psychological — perhaps especially psychological. When I returned from my first semester at NYU and announced that I now adored tea the same way she did, she was overjoyed. Our relationship wasn't complicated yet — I didn't know I liked girls yet — and she took great pleasure in offering me a cup of tea and then sitting down to chat for hours. She'd boil the kettle, steep the tea bags (Five Roses, always, imported from South Africa or the store in Canada that stocks South African goods or, finally, the store down the street that now stocks South African goods because my mom bothered him about it so frequently that he finally gave in), add a bit of milk (yes I take my tea with milk, also always), remove the tea bag, and place a steaming mug in front of me at the kitchen table. We'd sit in our spots — the same ones, always, of course… we are nothing if not a family of habit — and we'd talk. Our relationship is more complicated now, but a cup of tea can still connect us. It is a friendship bracelet, a peace offering, a salve, a gift. It is something we continue to have in common, even as other bits and pieces fall away and apart.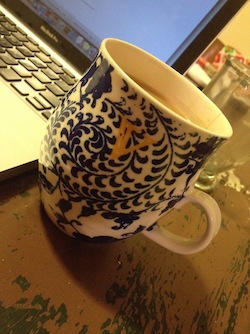 My favorite tea shop is, appropriately, the Tea Spot in Greenwich Village, a tiny space boasting more than seventy flavors, located just a few doors down from the first coffee shop where I ever tried tea, which has since closed. My favorite everyday tea — as in, I drink at least one cup a day, often closer to three or four — is Five Roses, but my favorite special occasion tea is Almond Cookie, which is expensive and feels luxurious and as far as I know can only be purchased from the Tea Spot. My favorite tea pot is the ceramic one I hand-painted on a spontaneous date with my ex-girlfriend at a pottery shop in Brooklyn; it took me hours to get it just right and it reminds me of something fancy that might get sold for too much money at Anthropologie. My favorite time to drink tea is all the time: I've warded off colds and the flu by guzzling cup after cup, I've kept myself awake through boring lectures and long days at work (remember, I don't drink coffee), I've wiled away whole afternoons and evenings with friends and my mother. I take tea bags with me when I travel — both overseas and overnight — and I get cranky if I can't enjoy a cup as soon as I wake up and roll out of bed.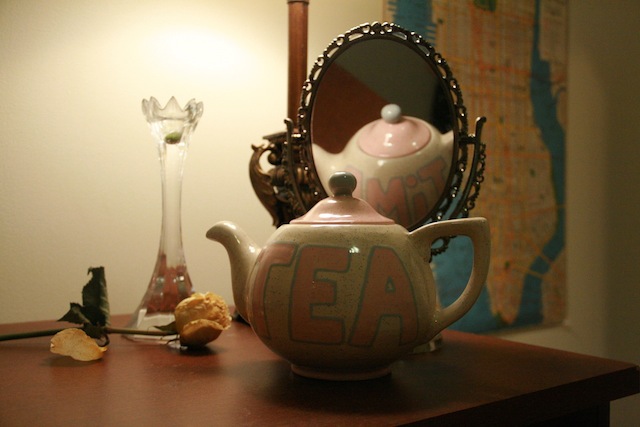 Now it's the fall of 2013, and almost everything is different than it was in the fall of 2006. But my love of tea and my desire to say yes to everything life sends my way is still strong.
Carolyn
There are moments in life that show us who we really are, and I'm pretty sure that the time I tap danced around a school lobby at 4:30 a.m., higher than I'd ever been in my life on caffeine and sugar alone (a shot of espresso, a caramel macchiato and two cans of espresso beans later) was pretty revealing for me. It revealed that maybe I should start drinking tea.
For most of the time I was a hard-core coffee drinker, I wasn't very good at it. I came to coffee from the land of triple-doubles (three cream, two sugar) and office vending machine mochas, and when I went to university I fell in with the type of crowd that requires three lattes or macchiatos or other gross often-dubious dessert coffees a day. Habit reform was low in my priorities.
Then I worked for a newspaper and fell in with the type of crowd that drinks coffee hot, black and seven times a day, and my tolerance became a point of pride. "I drink coffee to help me fall asleep," I would say, jittering wildly, to non-newspaper friends who would look on with concern. I was still putting pretty obscene amounts of cream in my coffee — and still do sometimes, dairy intolerance be damned — but otherwise I wasn't the least bit picky. Instant, Tim Hortons, French press and Starbucks were all equal. It was gross.
I eventually switched to tea because I became vegan and have never had a taste for black coffee, and even though I haven't been vegan in a while my love of tea has stuck.
For me, one of the points of hot beverages is not necessarily the kind of caffeine — it's being able to drink cup after cup all day without risking some sort of heart failure. When I was drinking coffee, I drank about four cups a day, unless I'd made a pot, in which case I'd drink the entire pot and then make another because I'd need to do something to help calm myself down. Now, I drink on average six cups of tea a day — some green, some black, some weirdly delicious combinations of herbs and things like sprinkles or liquorice and some straight up herbal. Sometimes I drink too many cups of something super caffeinated too quickly and feel a little nauseated, but it's "once a month," not "every day before 10 am."
Also with tea for me, it's not just about the consumption, it's about the ritual. Steeping tea is an exercise in patience, especially with the type of tea that needs to be steeped at a certain temperature, and drinking it is often an exercise in deliciousness. It can be fancy or not-fancy. I can add almond milk or sugar or agave or honey or ginger or nothing and the experience is just as good. Which is pretty great.
Pages: 1 2See entire article on one page