Carmen's Team Pick:
If you're in Australia, you already know what "Wastelander Panda" is. Or if you really paid attention to Jezebel.
Wastelander Panda Prologue from Epic Films on Vimeo.
In case the word "panda" didn't pique your interest, there's also the summary of the film, which goes like this:
The sky has collapsed and chaos reigns. There is only one panda left on Earth and this is his story. He travels through the wasteland in the live-action tale to avenge his brother's death with the help of a young girl.
Also, the hopefully-soon-to-be webseries was written, directed, and produced by women (2 of whom are dating, which is both predictable and adorable), so now you just have to help make it happen. Gay women making anything about cute animals is so you! Just ask the person who writes the Sunday Funday. (It's me.)
But in order to make this story happen – in order to bring "Wastelander Panda" into your life in full – the filmmaker and her crew need some monetary support. They're using the Australian version of Kickstarter, Pozible, to raise a total of 20,000 AU dollars within the next 7 days.
Not to mention today is Pandathon – a 24-hour streaming session focused on fundraising:
On March 7th, from midnight to midnight, Adelaide time, we'll be holding a Pandathon, where the Wastelander Panda crew will stay up for 24 hours to raise money for the project.
There will be live streaming from Epic HQ, hourly updates and giveaways, Q&A sessions and public appearances by Arcayus the panda.
If you want to tune in, add us on Twitter: @epicfilmsAUS
or join our Facebook page: http://www.facebook.com/epicfilmsAUS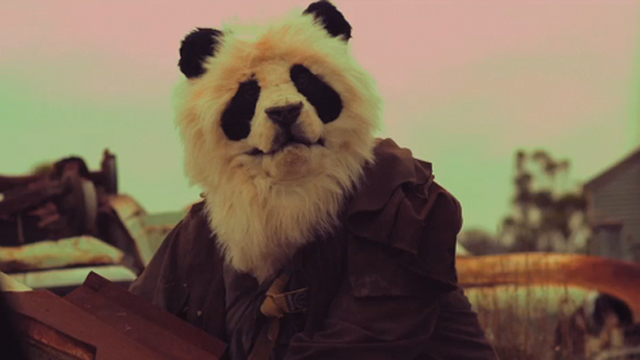 If you have a lot of money to give, you might be lucky enough to get a "Wastelander Panda" hoodie, which I want. But even if not – every dollar helps, and every dollar earns you the ability to say you were involved with what is possibly the most fuzzy, adorable, and unique thing to hit this Earth since my own dog. Can you really say no to that face?