This morning as I was drinking my vat of coffee I received an email from the Obama campaign (actually, I receive the Obama emails to two different addresses, just so I can be sure to never miss one.) Maybe you received the same one? It read:
Alison —

This afternoon, I'm casting my ballot in my hometown of Chicago. I'm told I'll be the first sitting president to take advantage of early voting. 

And I can't wait.

I know I can count on your vote. Now, it's on all of us to make sure our friends and family step up. Reach out to folks you know in important early vote states.

Look, this race is extremely tight. It's going to come down to which side can more effectively turn out the vote in these final days, and early vote is a huge part of that.

Whether people get out to vote this year, in this election, is even more critical than the last time around.

So this is serious, and I'm going to need your help if we want to win.

Connect with your friends and urge them to vote early:

http://my.barackobama.com/Help-Your-Friends-Vote-Early

Thanks,

Barack

P.S. — Not on Facebook? Don't let that stop you from getting the word out. Ask your friends and family to get the information they need at vote.barackobama.com.
The first two links take you to a website with a handy button that lets you remind your facebook friends to vote. I highly suggest using those links.
This afternoon, Barack Obama did indeed become the first sitting president to take advantage of early voting in person. He was scheduled to land at O'Hare airport today at 3:40 and then go vote in his home district. Michelle Obama has already voted by absentee ballot. The message behind these actions? You too can cast your vote. Right now.
As we've covered in the
Voting: an Autostraddle Guide (VAG) series
, some states have early voting and some states have no-excuse absentee voting (meaning you don't need to have a reason, like actually being out of state, to vote absentee.) These two policies can both be used to vote early. For instance, New Jersey doesn't have early voting, but we do have no-excuse absentee voting. So I went to City Hall, where the elections board for my county lives, to request my absentee ballot. Then I just filled it out standing right there, went upstairs and handed it in. Voilà! I have already voted! Actually, it was really super good that I did that because I was inexplicably listed as inactive voter (!?) and it gave them a chance to fix that right away without the sheer panic that I would have experienced had I waited until election day.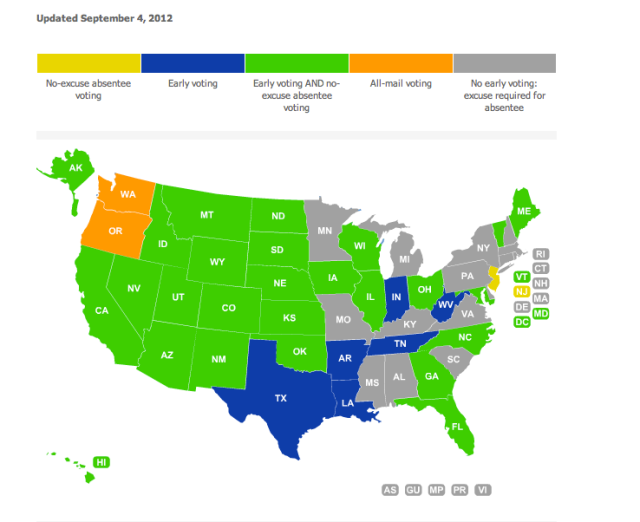 We already knew from the last time that the Obama campaign is really hip to the way our generation operates, but I feel like this is the future of voting. Vote at your convenience, get this information online, use apps to remain politically aware… And let's not forget the time he showed up on Reddit or when the White House did a press release on Twitter. When the President embraces technology and convenience in the face of tradition and voter suppression, perhaps it rings in a new era. Perhaps going forward, we'll look at Election Day as more of a deadline than an event.
If you're in one of the states colored in green, blue or yellow above, go ahead and strategize your early voting! And then share it with your friends. Talk to people. Tell them to vote. It doesn't just stop with your ballot being cast.