Oh, God. Movie reviews are so nerve wrecking. I'm supposed to watch this thing and then tell you about it without telling you about it. I understand why people give thumbs up and stars and such now; it's way safer than saying "go see it" or "don't go see it." But I suppose I actually have it easiest because if there are two women kissing in the movie, I'm going to tell you to go see it. Which brings us to Jack & Diane. No, not the Mellencamp song.
I don't know if you remember Riese's review of Room in Rome but she had the line, "It's not even exciting-weird, it's like, occasionally-boring weird and sometimes uncomfortably emo." This is not to say that this film is another Room in Rome. It's not. But it is weird as fuck and sometimes uncomfortably emo. From the trailer I thought this would be an adorable coming of age tale of two lesbians in which the line, "I just wanna like, unzip my body and put you in there" would enter lesbian lexicon forevs. Then I got to the end of the clip and the title of the movie was spelled out in hair and I was like hmm. Something seems a bit off. Then I watched the trailer again and paid more attention to all the weird animated bits between the live action and started to worry that this tender story about first love would be a lot like first love in that it was going to rip you in half and play monkey in the middle with your brain.
Jack and Diane, two teenage girls, meet on a summer day in New York City and spend the night kissing ferociously. Bubbly and naive, Diane's charming innocene quickly begins to open tomboy Jack's tough skinned heart. But when Jack discovers that Diane is moving at the end of the summer, she pushes her away. Diane is overwhelmed by her powerful new feelings, and they begin to manifest themselves in terrifying ways, causing unexplainable violent changes to her body.
Let's talk about Jack. Jack is played by Riley Keough and is not wearing a bra a majority of the movie. She has that feigned worldliness and maturity that makes you do things like ask someone if they've ever had sushi and then instruct them to put ketchup on it. Even as a teenager, she's mastered that butch aloofness that makes the ladies go cray. She's the kind of girl that genuinely doesn't care about your morning breath and isn't just saying that so you won't feel insecure.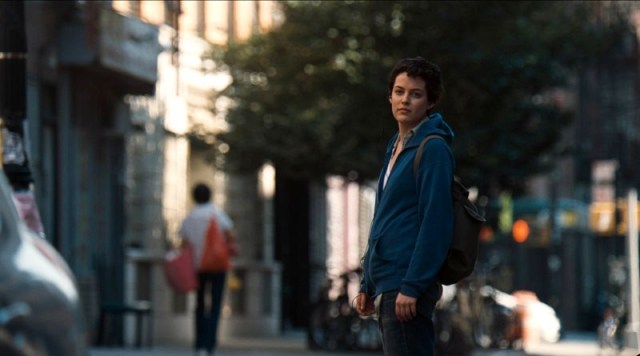 Diane, played by Juno Temple, is the girl that Jack likes for who knows what reason. It feels like one of those times when you can't figure out why you like someone and it only makes you want them more. Diane's hopelessly independent and indignantly helpless. The movie is pushed along by her only-sometimes-subtle wackiness and desperate pursuit of Jack's vulnerability.
What sets this story apart than a lot of other lesbian films is that it doesn't matter that Jack and Diane are both girls (which might be a sign of the times). The homosexy of it all is barely mentioned in the film. There is no element of will she leave her boyfriend or won't she. There's no big coming out moment. There's no internal misery about what this means for Diane or her life or her future as a straight woman. This story ventures into some bleak and depressing territory that really doesn't give anyone time to have an identity crisis.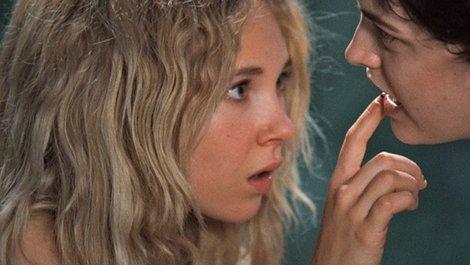 This is a movie about love and how incomprehensible and engulfing it can be before you learn to tame the monster. At the same time, it's about youth and being confused with yourself and your inability not to be an idiot. So when you put those two things together, being young and in love makes you an idiot monster and that's what this movie is about. I did enjoy the film, but towards the end when I knew things would get ambiguous and lacking catharsis, I started to wonder about my life and my own dealings with separation, which is perfect because I think we are all on a quest to become more self-involved via art, other people, or any medium at our disposal.
Jack & Diane was written and directed by Bradley Rust Gray and hits theaters November 2, 2012. There are no werewolves as previously reported everywhere.