I didn't want to have a baby shower. I didn't have a bachelorette party or a bridal shower. I know this is going to sound odd coming from someone who is currently vlogging the most intimate parts of her life on camera, but I feel sort of awkward being the center of attention. Unless I'm doing something I feel is worth watching, I guess, since I do love being on stage. But being the center of attention for something as mundane as growing a baby? And asking people for presents for it?
I didn't think we needed a baby shower. Simone and I both have older siblings with kids who were handing down a fair amount of baby stuff, and so I was sure we didn't really need anything else. I am pretty horrified by the amount of junk that accumulates around small children, all those expensive pieces of plastic that will eventually end up in a landfill. The anti-consumerist in me cringed at the idea of people buying us all these things. Where would we even put them in our 800 square foot apartment that also houses our business?
And what does the baby really need? A car seat, diapers, a place to sleep. Unfettered access to my boobs for food. We decided not to have a baby shower. Then, when I was 4 or 5 months pregnant, people started asking when our baby shower was. I realized people like celebrating babies, like celebrating the people they love embarking on a new chapter of their lives, and, let's be real, a lot of people like buying tiny adorable baby things. So when a most generous friend of ours offered to host a baby shower for us, we said yes.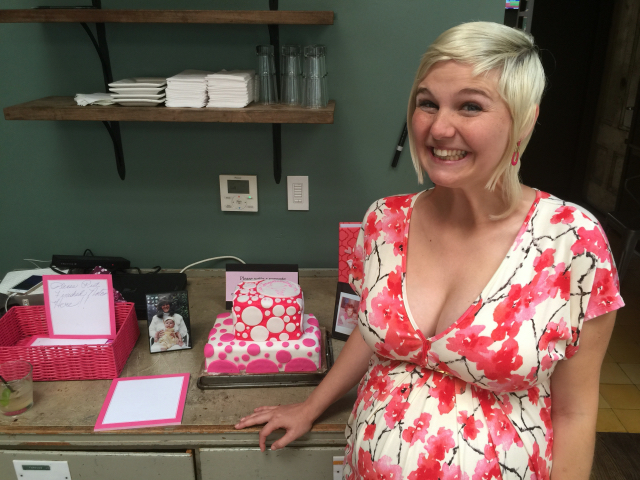 I started looking at lists of what a baby "needs," and, despite my supposed desire to raise my children with nothing more than a bearskin rug and my bare breasts, I started thinking maybe there were just a few things that might come in handy once the baby arrives… I started making my own lists, and it started fairly simply. A baby bathtub did sound convenient, and a bassinet for the first few months. A crib, too, for later. Probably something to carry the baby around in.
My list quickly grew from there, as I consulted every corner of the internet I could find to decipher what we actually needed or wanted. Sure, we could change the baby wherever, on the floor, but maybe a changing station would be nice? Simone reminded me how many diapers we'd change a day. I knew I wanted to try cloth diapers. It's (arguably, I know) better for the environment, but also it's a whole heck of a lot cheaper. Over time that is – buying the initial stash can be kind of pricy.
Then there were the small practical things, like a snotsucker, baby first aid kit, a sunhat. There were also some things for the nursery (currently an office) we could use, like a dresser and blackout curtains. Bottles. A travel crib. Swaddle blankets. A diaper pail with reusable liners. What about a white noise machine?
I'm Type A, and an avid researcher, and when I decide to buy things I want the highest quality, most eco-friendly thing I can afford ("can afford" being a seriously subjective designation.) I spent the next three months looking at the reviews for baby products in every single category. Turns out there are a lot of rabbit holes to fall down in the world of baby stuff. People, you'll be surprised to learn, have opinions about these things.
There isn't just one best baby carrying device, there's a whole community around "baby wearing." Baby wearing, I learned, is a sort of religion, or perhaps a sub-sect of attachment parenting. It appeals to me because it seems so much more convenient than hauling a bulky stroller everywhere, and also it's just so darn sweet. So what to get? There are ring slings and soft structured carriers, stretchy wraps and linen fabrics. There are things that can carry floppy infants and carriers meant for toddlers, all in dozens of different brands.
The baby wearers told me I should wait until my baby is here to decide what to get, come to a meeting (there are meetings!) and try a few of them on, but I didn't want to wait. These things are expensive, and so I wanted to register for them. I decided on a ring sling because they are great for infants, my yoga teacher loves them, and they are easy to get on and off. My community of twitter mamas helped me solidify this decision and pick a brand, Sakura Bloom. I also decided on a Tula soft structured carrier for when the baby gets a bit bigger. Later we were handed down an Ergo and a Baby Bjorn. I'll probably also buy a used Moby for $20 at my local kid's resale store. Baby wearing here I come! I will report back.
For cloth diapers, there were even more choices. Flats or prefolds with covers? Something with inserts? All-in-ones? There are the easiest cloth diapers (all-in-ones), which are the most similar to disposables and the easiest for people unaccustomed to cloth. But they are also by far the most expensive, and they take the most time to wash and dry. Did I mention we don't have our own washer and dryer? There are dozens of different brands of all these things. I decided to get mostly flats and some prefolds with covers from a couple brands, plus a few all-in-ones for ease for other caretakers, like her grandparents.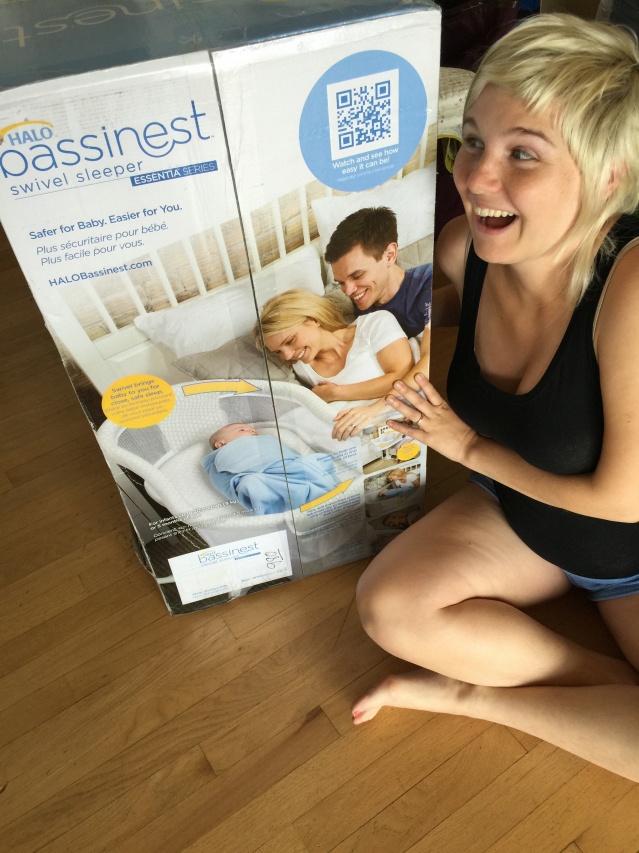 As I went into the depths of baby product internet review land I was nearly seduced by things like an adorable wooden baby "play gym", but I just could not imagine asking someone to pay $135 for something I could probably make for $20. On the other hand, I had no problem asking for the $60 bathtub when the $15 one would have done the job. But we have a tiny apartment! And plan to have at least two kids! My choices were very carefully considered and yet of course also somewhat capricious, I admit this.
I could detail every decision for every product I put on our registry like this, but I imagine it might be somewhat boring other than to people who are about to make these decisions themselves. The big decisions, for you other soon-to-be-parents out there are as follows:
1. The Lotus Everywhere Travel Crib
More expensive than other brands, but the only travel crib free of flame retardants and very well reviewed by moms.
2. The Halo Bassinest
Not the prettiest bassinet (see this hot little luxury number) but well made and convenient and really darn nice compared to a lot of the options (not cheap though, so we better use it at least twice).
I'll stop there, but feel free to ask me questions in the comments if you want to know more or geek out on baby products or cloth diapers or whatever with me. And tell me your favorite baby items! Though I really probably don't need to buy too much more at this point. I still have a too long list of items to get, things like diapers and detergent, a drying line, maybe the white noise machine.
The shower itself was incredibly dreamy, and of course not really about all this stuff at all. Simone and I wanted to make our marriage legal before the baby came, and we surprised our guests with a little wedding ceremony at our shower.
We renewed our vows to each other and said new ones to our sweet little baby, and we signed the paperwork that made our marriage legal in California. And then, just about a week later, it became legal everywhere. Our hostess surprised us with the most awesome hot pink wedding cake I've ever seen, which we ate amidst mountains of other delicious food.
We played no games, thank goodness, but we did ask guests to write little letters to us and to our baby. I love real letters, these tangible expressions of love and support that I can re-discover time and time again, and I'm so glad we did this. You should watch the video to hear some of the incredibly generous, funny, and thoughtful messages our friends left us and our daughter. She is so lucky to grow up surrounded by such a caring group of friends and family, and so are we.
I felt so grateful, then, at our baby shower, and I feel so grateful now still, to be transitioning into this next phase of our lives as parents with all this community around us. I know all these decisions about stuff I probably spent way too much time on are really the tiniest, most meaningless decisions we will make in the life of this child. We are going to have so many more and harder decisions to make. I will rely on the internet, my online parent communities (including you fine folks here!), and all these wonderful people as we make our way. Just a month to go!!