Last week our Style Editor Becky emailed me about her Valentine's Day dilemma: Mix Tape Block. See Becky's just started courting a lovely girl and doesn't want to use the same seven or eight tired love songs that she's gifted to other girls. Which is fair, I think every girl deserves her own special mix and so here we are to help!
'Cause Mix Tape Block is a problem at any time of the year. But it's particularly serious in the lead up to Valentine's Day if you're a sensitive soul who wants to tell a girl how you feel through the language of love, which is music, and the words to the music, despite what Ursula might try to tell you when trying to steal your voice away.
Also let's not forget that mix tapes are affordable, personal, and something you can throw together quickly if you've only just now realised that Valentine's Day is two days away.
So I thought it'd be fun if we took a group approach to solving Becky's problem by asking a few members of Team Autostraddle to suggest a few songs for a Valentine's Mix. And we want to hear your suggestions too, because there's only so many times you can play the girls in your street "Every Breath You Take" before your reputation as a repeat mix tape offender spreads. Also if you're gonna buy iTunes and you click out via Autostraddle, we will get about half a cent for every song you buy. Eventually, that means WE'RE GOING TO DISNEYWORLD AND YOU'RE INVITED. So please do, if you wanna.
And once you've created the perfect Valentine's Mix Tape, you're gonna need the perfect CD cover. Check out our Executive Editor and DIY guru Laneia's how To guide for making a super fly mix tape sleeve.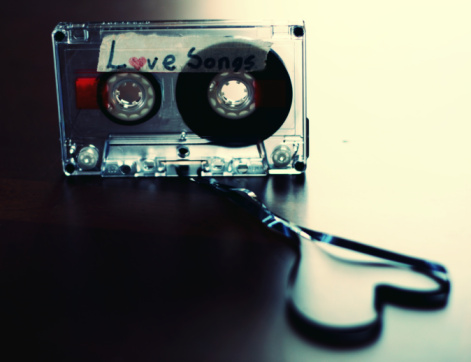 Valentine's Day Mix Tape: The Love Tracks
–
FILM & TV EDITOR LOLA:
The Magnetic Fields – "The Book of Love"
Of all their 69 Love Songs, this is the most straightforwardly romantic. It acknowledges every silly aspect of love, and celebrates it anyway.
Elbow – "Mirrorball"
Falling in love can make your whole miserable life feel soft and new again. Nothing says 'epic love' better than lush instrumentation & harmonies.
Macy Gray – "Sweet Baby"
I dare you not to smile when you listen to this song. Love is all you need.
Lauryn Hill – "Can't Take My Eyes Off Of You"
Hands down, best version of this song! Simple & sweet.
Mélange Lavonne – "Marry Me"
There is absolutely no doubt that this is a LOVE song — a lesbian one, at that.
+
MUSIC EDITOR CRYSTAL:
Placebo – "I'll Be Yours"
I interpret this to be about loving someone selflessly and unconditionally, being whoever they need you to be – a friend, a lover, etc. It's beautiful.
Phoenix – "Rally"
This is a really fun and upbeat song, perfect if your mix tape will be given to someone who you're still in the process of winning over.
Guns 'N Roses – "Patience" and "Sweet Child of Mine"
Axl Rose has written some of the best love songs ever. This is obvs debatable.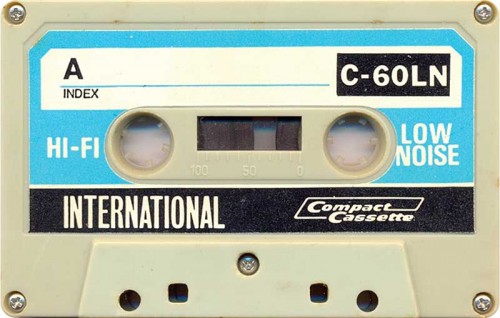 AUDIOSTRADDLE WRITER ISABELLE:
The Cure – "Love Song"
Yeah Yeah Yeahs – "Maps"
Daniel Johnston – "True Love Will Find You In The End"
Dire Straits – "Romeo and Juliet"
Bjork – "All is Full of Love"
EDITOR-IN-CHIEF RIESE:
The Cure – "Just Like Heaven"
Of all songs; Just Like Heaven.
Dave Matthews Band – "Crush 16"
The song is tumbly, just like falling in love! – "It's crazy I'm thinking / Just knowing that the world is round / And here I'm dancing on the ground," and the way he sings "I will treat you sweetly/ Adore you / I mean – you crush me."
EMO DEATH MATCH: Magnetic Fields – "Luckiest Guy on the Lower East Side" & Bright Eyes – "First Day of my Life"
These is especially relevant for ppl w/soft souls who fall in love in Williamsburg (Brooklyn), Portland, San Francisco, or wherever in Nebraska Bright Eyes is from. Bicycle not included.
Bonus – the video is gender-bending to the max, and full of familiar faces. Actually I think this video marks the high point of the emo queer hipster movement. From here on out it's all sort of been a rehash, but angrier.
Unwritten Law – Callin
When these guys perform live they're usually drunk and tearing their eyeballs apart sweaty and angry, and then suddenly this song is super gentle and super simple and super earnest. "Hey little girl look what you do…"
Adam Lambert – Whatya Want From Me
"It's me/ I'm a freak / but thanks for loving me / 'cause you're doing it perfectly."
Erykah Badu – "On and On"
'Cause it's sexy.
EXECUTIVE EDITOR LANEIA:
The Blow – "Parentheses"
"There's plenty space to encase whatever weird way my mind goes / I know I'll be safe in these arms." Um hello, this is what we all want.
Her Space Holiday – "Sleepy Tigers"
"It's not that I have news to bring / I just wanna make your telephone ring / so it shows / and you know." Shut up that is so cute.
The Knife  – "Heartbeats (Live)"
The lyrics may not be especially lovey, but to me, this song feels like I'm being promised something I really wanted.
+
INTERN [HOT] LAURA:
Counting Crows – "Up All Night"
"Cause I've been think I'd like to see your eyes open up real wide the minute that you see me."
Explosions In The Sky – "Your Hand In Mine"
This song is just so pretty. It makes me have lots of nice feelings about things lasting forever  [especially because in songland, 8 minutes is a long time].
AUDIOSTRADDLE WRITER COREY:
Bruce Springsteen – "I'm On Fire"
AUDIOSTRADDLE BLOGGER EMILY:
The Beatles – "Something"
In my opinion, this is one of the Beatles' most beautiful songs. "Something in the way she moves…"
+
The Turtles – "Happy Together"
Who hasn't randomly burst out singing this song? I CAN'T SEE ME LOVING NOBODY BUT YOU, FOR ALL MY LIIIIIIIIIFE. So good.
+
The Cure – "Friday I'm in Love"
I love this song because sometimes you have the crappiest week, but then it's Friday, and you're in love.
Queen – ""You're My Best Friend"
I think it's important that your lover is also your friend. I think Queen understood that.
AUDIOSTRADDLE WRITER JESS G:
Devendra Banhart – "At The Hop"
"At The Hop" could be read as an end-of-relationship song, but I hear it differently. With eloquent words, Devendra Banhart artfully conveys the desperation of wanting to be near the one you love — in any incarnation.
Blink 182 – "Josie"
Blink 182 might not write the most profound lyrics, but they tell it like it is and that counts for something. With aggressive punk percussion and catchy melodies, they break down love to its molecular level — because love can be as simple as buying your true love a burrito from her favorite dive.
TECHNOSTRADDLE EDITOR TAYLOR:
Lucinda Williams – "Righteously"
For Flirtation / Southern Sexytimes
PJ Harvey – "You Said Something"
Earnest, atmospheric & best enjoyed on a rooftop having a moment
Ryan Adams – "Gonna Make You Love Me"
Says: "I'm upbeat & confident. I know you want me."
ASSOCIATE EDITOR SARAH:
Iron & Wine – "Naked As We Came"
I think this is one of the best love songs ever. It's so adorable and sincere! The rest of the album is fantastic, too.
+
BellX1 – "Rocky Took A Lover"
It talks about stars, and I think stars are a lovely thing to think about on a holiday for love. But it's also about drinking, which is relevant to a lot of people on Valentine's Day.
Pete Yorn – "Strange Condition"
Just for the line "you know you're the best thing to come out of this place."
AUDIOSTRADDLE WRITER KARMEN:
Glen Hansard & Marketa Irglova (The Swell Season) – "Falling Slowly"
This is from the Once movie soundtrack and is one of the sweetest and most honest love songs I've ever heard. It's the kind of song that your girlfriend might play after a big fight, and you'd forgive her instantly.
Sufjan Stevens – "The Dress Looks Nice On You"
Everything Sufjan does is brilliant, but this song is so simple lyrically, but so, so perfect. Because sometimes when we're in love, it's only the simple things that we can manage to verbalize.
Emiliana Torrini – "Me and Armini"
Iceland and raspy-voiced, this song is all about being willing to wait for someone you know is worth it and not giving a damn what anyone else says. Emiliana doesn't recall writing the song, and claims she was possessed by a woman who was in love with a man named Armini.
In the process of creating the Valentine's mix tape, a few Autostraddlers confessed that this year their Valentine's Day will probs be less about love song dedications and more about sitting out the front of their ex-lovers house, seranading them with the Kaiser Chief's "Every Day I Love You Less And Less" via their sub woofer. Which is why we've also created a special B Side of anti-love songs for those of you who have a different sort of mix tape in mind.
Valentine's Day Mix Tape B Sides: The Anti-Love Tracks
–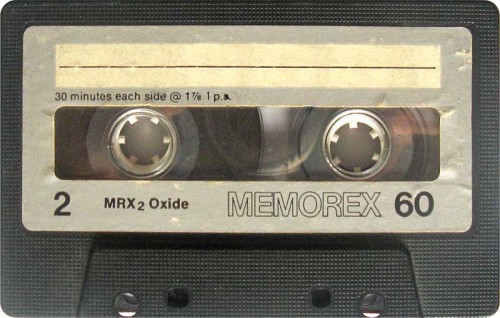 TECHNOSTRADDLE EDITOR TAYLOR:
Lucinda Williams – "Ventura"
Best with a broken heart & too many empty bottles of whiskey.
PJ Harvey – "Long Snake Moan"
Everything is fucked, let's have angry sex.
Ryan Adams – "Come Pick Me Up"
Fuck, this breakup just got messy.
Neko Case – "Twist the Knife"
I'm spurned but hell, I'm honest.
Neko Case – "This Tornado Loves You"
It's Understandable You Filed That Restraining Order.
MUSIC EDITOR CRYSTAL:
A Perfect Circle – "3 Libras"
A girl gave me this song on a mix tape once and it did not feel good. It's a kick in the gut.
Jeff Buckley – "The Last Goodbye"
Just flat out heart-wrenching.
+
Jay-Z – "99 Problems"
"If you're having girl problems I feel bad for you son, but I got 99 problems and a bitch ain't one." Just shake it off.
Hunter Valentine – "Jimmy Dean"
"I don't want to make love, I want to fuck with abandon. I don't want no sweet valentine, I want a shot of jack to forget this time." The way this girl sings is so hot that you'll forget about whoever you're moping over.
AUDIOSTRADDLE WRITER EMILY:
Bright Eyes – "It's Cool, We Can Still Be Friends"
This song should come with a warning: May make you want to fucking kill yourself.
EDITOR-IN-CHIEF RIESE:
Chris Pureka – "Momentary Thief "
"I'll tell you what/I'll save you the trouble of running away/yeah I'm already at the door/and I stole this moment for me."
Fiona Apple – "Paper Bag" & "Get Gone" but really all of "When the Pawn."
"'You got your game, made your shot, and you got away / With a lot, but I'm not turned-on/ So put away that meat you're selling /Cuz I do know what's good for me-
/ And I've done what I could for you/ But you're not benefiting… it's time the truth is out that he don't give a shit about me."
+
Liz Phair – "Fuck and Run"
This was good to sing in the 90's when you didn't want to have feelings. Then in the '00s maybe you realized that there were feelings in this song, like that she actually wanted a boyfriend to win her over. So then it has many layers, like a cake.
Dar Williams – "As Cool as I Am"
It's happy but it's about moving on: "So you're leaving/you can find out how much better things can get/and if it helps/I'd say I feel a little worse than I did when we met/so when you find someone else/you can try again/it might work next time."
Hilary Duff – "So Yesterday"
If you sing it over and over and over again it starts to feel true!
Shiny Toy Guns – "Don't Cry Out
It's such a simple phrase, I should've thought of it myself — "I don't get you, I can't forget what you've forgotten" — but I didn't, they did, and they sang it; and it was wholly, completely, entirely literally true.
Ani DiFranco – Dilate
"I just want you to live up to / the image of you I create / I see you and I'm so unsatisfied / I see you and I dilate."
ASSOCIATE EDITOR SARAH:
Rilo Kiley – "A Man / Me / Then Jim"
It's partially about suicide, which is a lot. But it's also beautiful. And one time Jenny Lewis looked right at me while she sang the best part, and I almost passed out in the front row.
The Mountain Goats – Woke Up New
It's about waking up the first day after a breakup. Surprisingly hopeful, given the subject.
The Postal Service – "Nothing Better"
Obvs.
AUDIOSTRADDLE WRITER COREY:
Jimmy Eat World – "Hear You Me"
To help you get over someone you lost.
EXECUTIVE EDITOR LANEIA:
Thao + The Get Down Stay Down – "Easy"
Sad people dance, too!
Jessica Lea Mayfield – "We've Never Lied"
Stinging and honest. I'm sad just thinking about it. Damn.
Third Eye Blind – "How's It Gonna Be"
"How's it gonna be / when you don't know me anymore." #wallow
No Doubt – "Ex Girlfriend" or "Don't Speak"
Pick one. Are you indignant and sassy? "Ex Girlfriend" is for you. Are you a little sad for real? Feel it in your bones? "Don't Speak" is your jam.
+
Rolling Stones – "Angie"
Baby let's just cry. Get it all out. They can't say we never tried.
The Muffs – "Red Eyed Troll"
This was my favorite high school breakup / angsty song! Lots of screaming.
FILM & TV EDITOR LOLA:
Beyoncé – "Irreplaceable"
You don't wanna treat me right? YOUR LOSS, SUCKA!
+
Atmosphere – "Fuck You Lucy"
I like songs that say 'fuck' a lot when I'm bitter. Sometimes you just wanna shout "FUCK YOU" to love.
Mariah Carey – "Shake It Off"
Bad break-up? You're better off anyway. Mariah Carey always makes things better for me.
The Ataris – "The Last Song I Will Ever Write About A Girl"
While my adolescent skater punk days are (mostly) behind me, shouting "GIRLS ARE FUCKING EVIL" is still necessary sometimes.
The Mountain Goats – "No Children"
Vehemently hating your spouse has never sounded so upbeat and catchy! Seriously, the lyrics to this are genius.
AUDIOSTRADDLE BLOGGER JESS G:
The Clash – "Train In Vain (Stand By Me")
Shake it out and dance up a frenzy to this classic by The Clash. A catchy and upbeat chorus is juxtaposed with lyrics of loneliness and abandonment.
The Decemberists- "The Engine Driver"
For the poet in all of us, Colin Meloy offers this tune featuring some of his most beautifully crafted lyrics. If you're trying to get over her and can't, discover emotional solidarity here: "And I've written pages upon pages / Trying to rid you from my bones."
INTERN [HOT] LAURA:
Blessid Union of Souls – "Light In Your Eyes"
I heard this song for the first time since, like, 1999 a few weeks ago and was reminded about everything that was great about the last '90s. Oh yeah, and it's about breaking up and stuff.
Rihanna – "Hard"
Speaking from experience, the best time to listen to this song is when you're angry and dressed up in heels [or kicks or however you roll] because then you can stomp around and think thoughts like "fuck the man! and also you!" when you see the person you're mad at. It is very empowering.
+
Ingrid Michaelson – "Sort Of"
Guys, "my love's too big for you" is such a not fun feeling but Ingrid's so cute about it. No sane person would ever break her heart, you know?
AUDIOSTRADDLE BLOGGER ISABELLE::
Belle and Sebastian – "I Don't Love Anyone"
Gram Parsons and Emmylou Harris – "Love Hurts"
Bob Dylan – "It Ain't Me, Babe"
Band of Horses – "No One's Gonna Love You"
Elliott Smith – "Somebody That I Used To Know"
AUDIOSTRADDLE BLOGGER KARMEN:
The Cinematic Orchestra – "To Build A Home"
Hands down one of the most beautifully orchestrated, heart-wrenching, excruciatingly loving, beautifully sang song that I've ever heard. Listen to it. It's close to perfect.
Glen Hansard & Marketa Irglova – "When Your Mind's Made Up"
Everyone has felt abandoned by the one they love. This is the perfect song to drive and cry about it to.
Rachael Yamagata – "Even So"
Written by a woman who broke her own heart by cheating on the only man she loved and who loved her in return. Get ready to feel.
Tegan and Sara – "Call It Off"
"Call, break my own heart"…
Pages: 1 2 See entire article on one page