So you've got two options: you can spend the whole day being a miserable sad (albeit incredibly attractive and intelligent and with your finger on the pulse of everything) human, OR you can take some time to enjoy these 100% Critter Tweets from Ellen Page and have the best damn day since Bing Crosby tap-danced with Danny fucking Kaye.
Ellen Page is your imaginary best friend. You love her because she's hilarious, small enough to crawl through tiny tunnels (should you happen upon a tiny tunnel), whip-smart, Canadian, queer, and a board certified critter. Quickly, for the uninitiated, a definition of critter:
A critter is someone who does things that normal people do in a way cuter than the average person. It can be used as a noun, adjective, or a greeting. If I was to see you on the street randomly I might say, "Hey Crit."

Examples of critter behavior are as follows: being super cute and fun all the time, not causing drama, wearing hoodies that make you want to cuddle no matter what your relationship is, a stranger being super nice for no reason for no personal benefit for themselves, making the best out of awful situations, always being up for anything.

Critter is totally not a sexual term at all, although obvs we've probs all had sex with critters, it is by no means a qualification for the term.
Roughly 90% of Ellen Page's tweets are of the critterish variety, thank god. And sometimes in this wasteland of broken hearts and dirty windows, you just want to be really thoroughly reminded that not everyone is the worst. Now is that time for you.
---
Realizing I pack like an 8 year old that is running away from home

— Ellen Page (@EllenPage) March 17, 2013
Definitive critter.
---
Cracked the formula for crying A LOT Binge watch Friday night lights + PMS Lolllllll :(

— Ellen Page (@EllenPage) April 7, 2013
Warning: side effect of Friday Night Lights bender leads to calling people sir.

— Ellen Page (@EllenPage) April 26, 2013
So Ellen Page had (at least) two Friday Night Lights marathons, or one 19-day Friday Night Lights spree during the month of April. We enthusiastically support either of those routes, as well as talking about your period on the internet. Obviously.
---
Dressing up as a piece of kale. That is what garden attire means right?

— Ellen Page (@EllenPage) May 31, 2013
Look what Intern Grace made for you: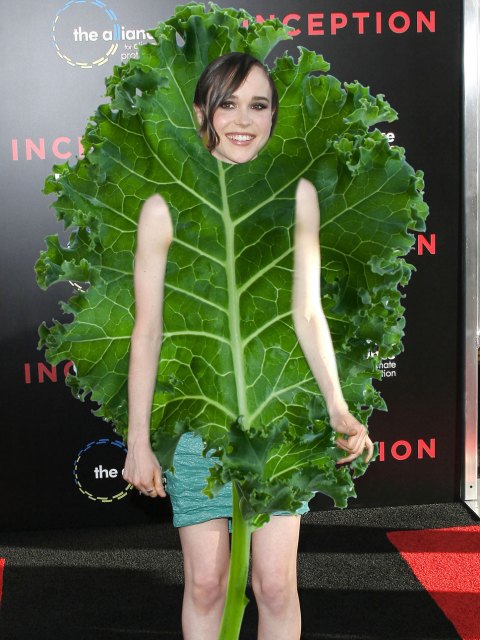 ---
Just saw a dog n cried K Bye #pms

— Ellen Page (@EllenPage) June 15, 2013
#solidarity
---
Don't know why I don't get more "style" themed press questions. Putting a hat on wet hair after washing it is totally a cool #style no?

— Ellen Page (@EllenPage) June 20, 2013
It is when you're a critter!
---
Just googled: green tea makes me fart Incase you wanted more proof of how hip n cool I am

— Ellen Page (@EllenPage) June 29, 2013
Critters can talk about farting for hours and you'd still be down to hear more, because they're critters. Critter farts also probs smell like butterscotch, sidenote.
---
Caution tape around me please today Thnx

— Ellen Page (@EllenPage) August 7, 2013
Does Ellen Page need caution tape because she poses a threat to casual passersby? Or because she's fragile and could be shattered very easily? In any case, caution tape around my cracked heart because this is so much dearness.
---
Knew kids that used 2 throw a pet hedgehog around. Still makes me so angry & sad. I hope they now feel deep regret. Sweet dreams!

— Ellen Page (@EllenPage) October 26, 2013
This is only 26 words, but it's so chock-full of critter on so many levels, you could just stop here and not read the rest of the list. You've probably reached critter critical mass. Maybe take a small break to gather yourself.
---
Totally shouldn't have PMS yet but I guess I do cuz I saw ducks running in a commercial & cried….and that is pretty much scientific proof.

— Ellen Page (@EllenPage) November 17, 2013
Bless it.
---
I still have my childhood teddy bear and it's AWESOME Why do we feel like we have to give up this kinda thing (I'm so alone)

— Ellen Page (@EllenPage) November 29, 2013
I hope you took that break earlier, because now you have to process the idea of Ellen Page in a hoodie (default critterwear) or maybe a flannel, with wet hair and a hat, possibly crying about waterfowl, with "The Son" episode of Friday Night Lights playing in the background and a TEDDY BEAR IN HER ARMS.
Shit.
---
So excited 4 this time of yr. Dec 25th being the day I get 2 celebrate my lord & savior's birthday, Sissy Spacek. Badlands Poster=Xmas tree

— Ellen Page (@EllenPage) December 21, 2013
If I asked Ellen Page to co-write a Sissy Spacek fanzine with me, do you think she would? Well I already did and she hasn't replied yet so I'll keep you updated.
---
Oh my word @volcanochoir too beautiful tonight

— Ellen Page (@EllenPage) January 21, 2014
Ellen Page just said, "oh my word." You haven't heard that since you visited your third grade teacher that one fall and she couldn't believe how much you'd grown.
---
There are times when I think WWJDD ? (What would Julie Delpy do?)

— Ellen Page (@EllenPage) January 28, 2014
Meanwhile you're wondering WWEPD, and the answer is: be the most critter.
---
My twitter doesn't let me write things in Canadian Always changing it on me Here: Favourite Honoured Colour There we go.

— Ellen Page (@EllenPage) February 1, 2014
All the Canada.
---
"@_KateMara: Hey @EllenPage…Be my Valentine? #respect" yes please

— Ellen Page (@EllenPage) February 15, 2014
Jesus christ remember when Ellen Page came out on VALENTINE'S DAY?? Only a critter could make Valentine's Day legitimately beautiful. I cried, you cried. I'm crying right now.
---
COSMOS!!!!! Rogue planets Wtffffffffffffff

— Ellen Page (@EllenPage) March 10, 2014
!!!!!!!!
---
My favorite hobbies: Reading Playing the guitar (badly) Flirting with @_KateMara

— Ellen Page (@EllenPage) March 15, 2014
Kate Mara and Ellen Page femslash would consist entirely of them play-wrestling on the sofa, singing "Call It Off" by candlelight, then making out in a pillow fort.
---
I feel like all Nova Scotia tourism has 2 say:"dude u can ride your bike, then walk through the woods, then jump in a lake" #summerspecific

— Ellen Page (@EllenPage) March 18, 2014
Ellen Page knows how to get you to visit her hometown, because Ellen Page knows how to get you, period.
---
My good pal (and movie sister) @evanrachelwood and I love hats @wearewildfang pic.twitter.com/PZTjsBa3D7

— Ellen Page (@EllenPage) March 27, 2014
Are you ok? Do you need a minute? Take a minute if you need one.
---
Good morning.

— Ellen Page (@EllenPage) March 27, 2014
Blesssss it.
---
Guys, I talk about degrassi too much Like in my life It's weird

— Ellen Page (@EllenPage) March 29, 2014
So Canada.
---
I'm feeling very emoticon

— Ellen Page (@EllenPage) March 30, 2014
ME TOO.
---
Sooooooo yeah. How was your Sunday? Was it melancholy and quiet? With golden hour stillness and school books laid out? fun? Adventurous?

— Ellen Page (@EllenPage) March 31, 2014
Like if small cartoon birds could take flight from your heartspace right now, they would.
---
I feel like Lima beans are something everyone decided to hate together. Don't listen! They're great!

— Ellen Page (@EllenPage) April 10, 2014
BLESS. IT.
Ellen Page you are such a critter.
---
Before you go!
It takes funding to keep this publication by and for queer women and trans people of all genders running every day. We will never put our site behind a paywall because we know how important it is to keep Autostraddle free. But that means we rely on the support of our A+ Members.
Still, 99.9% of our readers are not members.
A+ membership starts at just $4/month.
If you're able to, will you join A+ and keep Autostraddle here and working for everyone?
Join A+