This week, Carlytron covers a bunch of season finales, including the best rundown ever of how Grey's Anatomy has gone "L-Word level crazy," and geeks out over the premiere of Real Housewives: New Jersey.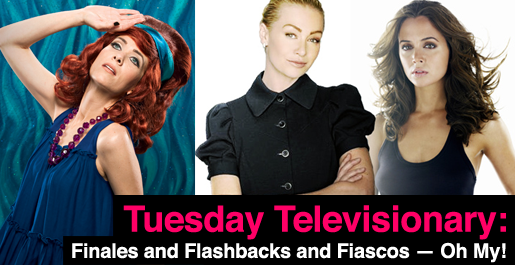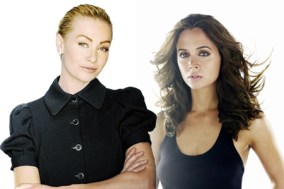 Great news, TV fans. Two Autostraddle favorites got renewed before the upfronts — Dollhouse and Better Off Ted! Oh, happy DAY! Speaking of the upfronts, Fox went yesterday (see their official fall schedule here), NBC and ABC are today, CBS is Wednesday, and the CW is Thursday. Prepare for lots of decisions based on "the economy" (ugh). At least the Ab Fab remake has been shut down, that would have been a travesty.
And a retraction! @joshwhedon is not the real Joss Whedon. Ugh, twitter. And tonight is the GLEE preview! Shriek! Catch some sneak peaks here (thanks, Nicole!). And remember, it's just the one episode, the show doesn't start for real until the fall (sads).
Anyway, we have MANY finales to discuss (serious SPOILER ALERT!!), so without further ado…
The Carlytron TV Awards for the Week Ending on 5/16/09
The Awesome 80s Flashback Award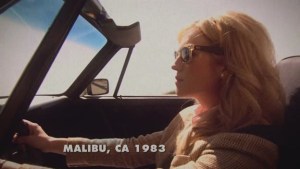 Gossip Girl was so self-referential and amazing this week (case in point: the Mean Girls talking about prom king/queen). This is the episode that sets up the Lily-in-the-80s spinoff, should the CW choose to pick it up (looks like it could be a midseason replacement). Back in the 80s, we learn that Lily went to LA and things got CRAZY and also AWESOME (have I mentioned how much I love No Doubt?). She and her sister Carol were loose canons who hated their mother. Back in the present, said mother is interfering in Lily's parenting but in the end they kiss and make up. Dan redeems his dumbassedness and bails Serena out of jail and takes her to prom. Chuck is the besssst evarrrr because he secretly gives Blair her dream prom, and then she breaks up with Nate! Bluck is ON! Finale was last night, we will OBVS be discussing this next week, same Bat time, same Bat channel.
The Are You KIDDING Me? Award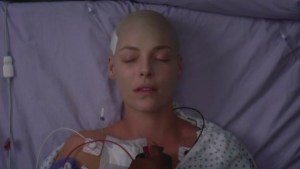 This one obviously goes to our good friend Grey's Anatomy. Seeing that this was a 2-hour finale, I was scared. But then I learned, "If you're not scared you're not paying attention." Oh Bailey, you are always the best part of this show. I feel like Shonda was just messing with us. Over the past few months I had read that Izzie may/may not die as a result of her cancer and that Owen would convince George to ship off to Iraq. Fine by me; it's not exactly news that both actors have wanted off the show for like, ever, now so I figured they'd just kill Izzie, send George away, and call it a day. Boy, was I wrong!
During the finale, Meredith and Derek got married via Post-It note (I actually thought this was sorta cute. I'm not made of stone, people!), Izzie had brain surgery and was on her way to recovery when she flatlined at the end of the show, Callie cut off a guy's leg, Alex was an asshole, Owen and Cristina are in loooo-oooove, George enlisted in the army, and a mysterious John Doe was brought in. OH, EXCEPT IT WAS GEORGE. SHONDA HIT GEORGE WITH A BUS AND DRAGGED HIM DOWN THE STREET. Ugh. I wish I hadn't seen that coming, so I could've shrieked along with Meredith when she finally figured it out, but I DID so I DIDN'T. I love how, before they knew it was George, they were like, "whatever, he's gonna die in a few hours," but once they got that memo they were like, "OUTTA THE WAY, WE MUST SAVE THIS MAAAAN!" Poor George, though. He didn't deserve that.
In lesbian news, Arizona got mad at Bailey, cried at the Chief, and got in another fight with Callie. Sigh. Callie was mad at George for enlisting, Arizona thought he was brave (her brother died in Iraq), they fought, held hands, Callie apologized. Aww. Also: Callie wears black nail polish. So do Riese and I!
I don't really know how I feel about all of this. I used to love Grey's and then Izzie cut the LVAD wire and then Burke wouldn't tell anyone about his hand, and George married Callie and then Meredith almost died and she and Derek broke up like a thousand times, and then Izzie was in love with George and broke up his marriage but then she was having sex with dead Denny and Hahn disappeared into the parking lot and George was like not on the show ever and Alex got with Jane Doe and then with Izzie and now she might be dead. I want to care, I really do. But… I just can't. Nothing that could possibly happen w/r/t Izzie could make me care at this point.
When you list them all out like that, the list takes on an L Word-level of epic crazy. But I'm still watching for several reasons:
1) I've already invested this much time, it seems a waste to stop now.
2) Cristina, Callie and Bailey have always been and still are my faves.
3) sometimes Addison gets to come back (I love her but just cannot get into Private Practice).
4) Calizona, duh!
See you next fall, Grey's. And to learn showrunner Shonda Rhimes' thoughts on this season, read her interview with EW here.
The Strange Continuity Award
One of my favorite things about How I Met Your Mother is the attention to detail and continuity. They're constantly referencing events from earlier in the series, which's key on a show that plays so thoroughly with time and cause/effect relationships. This week featured two examples of this, one good and one bad:
1) Awesome Continuity: I almost spit out my soda when Ted's phone rang — his ringtone was "Let's Go to the Mall!," which references the brilliant Robin Sparkles (Robin's Canadian 90s popstar alter ego). For those unfamiliar, here's the music video (the 80s didn't hit Canada until the 90s):
2) Bizarro Continuity: Barney, convinced he could talk his way out of a speeding ticket, kept speeding and kept getting pulled over 'til he finally got arrested because the cops thought he was a madman. I thought Barney couldn't drive?! And when did he not just learn to drive, but get a car!?
Also this week, Tony (Stella's ex-boyfriend, for whom she left Ted at the altar) tried to make amends with Ted for stealing Stella back, then broke up with Stella, so Stella asked Ted to talk to Tony and get them back together, which he did because he's Ted and that's what he does. Additionally, there were plans for a murder house and LILY CAME BACK for like 3 seconds but still it was awesome. Season finale was last night, we have A LOT TO TALK ABOUT here next week.
The Hot Mess Award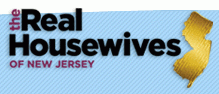 The Real Housewives of NJ premiered this week, and it was completely amazing. Where do I even begin with this? Let me start by saying that I was born in Manhattan (East Side, baby!) and spent years 2-18 living in Central Jersey, probably the furthest north you can be and still be considered "down the shore." So I know from Jersey. The ladies on this show live in Franklin Lakes, an affluent area in northeast New Jersey, and they are all amazing. They also all knew each other before filming began, they're all friends (for the most part). Two of the women are even sisters! So interconnected, they are. They're all ridiculous and Jersey and I love them. I am excited for them to start fighting and yelling and crying like they do on the other Housewives franchises because that's when things get good (New York, I'm looking at you, but more on that in a minute).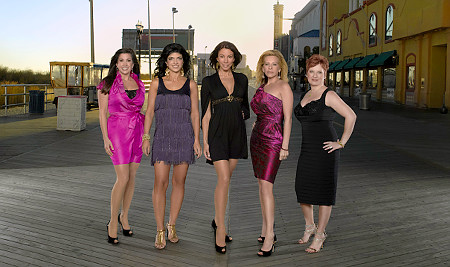 Sidebar! I used to work for the production company that created this gem of a series, and Dina and Tommy's wedding was featured on there, so I'm already a bit familiar with Dina, et al. She's currently my favorite, she's sort of the Bethenny of this cast and that makes me happy. The biggest WTF moment for me came when Danielle tried to go on a blind date w/ a guy whose screenname was "Gucci Model" and with whom she apparently had really great phone sex. Some of the other girls went to the same bar with BINOCULARS (how very Harriet the Spy of them) to watch as she was stood up. I am a bit alarmed, however, because her kids are featured on the show with her so they will obviously be watching it, and I think that watching your mother extoll the virtues of phone sex on national television might buy you a few years on the couch. But that's just me. End sidebar!
Speaking of the Real Housewives of NYC, they had their two-part reunion this week, and it was just as amazing and drama-filled as you could have hoped for. I cannot even begin to explain what happened… the highlights being Bethenny vs. Kelly round 12, and the girls voted off Kelly (naturally) and called out the DisCountess.
The Funniest Thing I Saw All Week
I haven't done this category in a while because I would've just given it to 30 Rock every time, but this week, Will Ferrell returned to host the season finale of Saturday Night Live. Yay! A whole bunch of guest appearances (Norm McDonald, Tom Hanks, Maya Rudolph, and slew of others in the musical finale). Naturally, they brought back Celebrity Jeopardy, which was amazing, see for yourself:
On the whole, though, the episode was kinda… bad. I really hope they get funny again next season, things have been sorta bad since the election. They tried to bring back one of my favorite sketches this week, the Lawrence Welk show, for the first time since they premiered it on the Anne Hathaway episode. Kristen Wiig's baby-doll-hands thing is hilarious (but more on her in just a second), but it was really a lot less funny the second time around. See the first one here and the new one here.

The Hot Girl of the Week Award
I would be remiss if I didn't give this award to Kristen Wiig at some point. Possessing the rare combination of hotness and hilarity, she's totally amazing and one of the only consistently good parts of Saturday Night Live these days. Kristen has been on SNL for 4 seasons now and has created many amazing recurring characters (Target lady, one half of the two A-holes, Penelope, Gilly, Aunt Linda, and that lady who gets really excited about things) and spot-on impressions (Kathy Lee Gifford, Suze Orman, Bjork, Elizabeth Hasselbeck, Nancy Pelosi, and Jamie Lee Curtis). She has also been in several movies, of which she steals every scene she's in (Adventureland, Knocked Up, etc.). I think she's easily one of the funniest women to ever be on Saturday Night Live (right up there with Gilda and Tina) and one of the funniest women around today. I was going to post some of my favorite sketches but I realized that I love them all so here's the search results page for "Kristen Wiig" on Hulu, because I like to be thorough. But here's a sketch where she plays a lesbian because, why not:
Catch her in the upcoming movie, "Whip It!" out in October. It's Drew Barrymore's directorial debut about roller derby and has an amazing cast.
The ZZZZZZ Award
Y'all know I love Ugly Betty but this episode was really random and sorta snoozey. Most of the episode made no sense. Amanda was funny, Claire was awesome, Molly died. Two engagements were proposed and called off in the span of like, 10 minutes. Am I the only one who still says "plane_arium," like on that old South Park episode? No? Just me? All right.
Sitcom Roundup – Season Finale edition!

30 Rock: Holy guest stars, Batman! Sheryl Crow, Mary J Blige, Adam Leviiiiiaaaaaane from Maroon 5 (I only hear his name pronounced the way Maya Rudolph used to say it on "Wake Up Wakefield" on SNL), Elvis Costello, Cyndi Lauper, Clay Aiken (Kenneth's cousin!)… um… who else… Sara Bareilles, Moby, Michael McDonald, Wyclef Jean, 2/3 of the Beastie Boys, Talib Kweli and a bunch of others. Liz finally gets hers by giving insane dealbreaker relationship advide and getting a book deal (Liz giving crackpot advice totally killed me), Jack holds a benefit to get his new father a kidney, and Kenneth convinces Tracy to go speak at his old high school's graduation where he gives a typical Tracy speech and cries in public.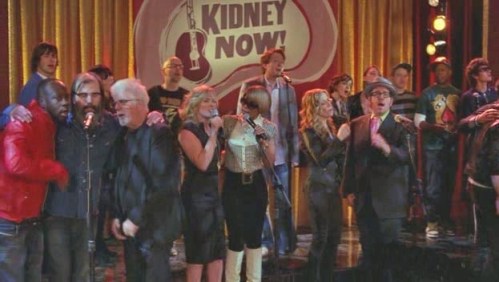 The Office: The annual Dunder-Mifflin company picnic (if it's annual why have we never seen one before? Oh right, it's TV) reunites Michael and Holly (yay). Instead of telling her how he feels, Michael and Holly put on a Slumdog Millionaire-inspired skit where they inadvertently reveal that the Buffalo branch is going to close. Whoops! The Scranton branch beats everyone at volleyball because of their secret weapon: Pam! Until she gets injured and Corporate makes Jim take her for x-rays, where they learn that she's preggers. PREGGERS!
Parks and Recreation: Andy gets his casts off and plays in a rock show. Leslie gets set up by her mom on a blind date with an old dude. Ann is awesome. Tom has a super-hot doctor wife. How did that happen? Guess we have to wait until next season to find out whether or not they turn the pit into a park. Zzzzzzzz…
Tron out! And, just a little disclaimer: please no posing any spoilers in the comments for episodes that haven't been written about yet. For instance, please don't post Gossip Girl finale spoilers in the comments on this post, save those for next week!!
[ad#postads]