Girls sneak out the window after Mom & Dad fall asleep! Girls wonder why kissing boys is always such a letdown! Girls kiss other girls and it feels like jelly or angels! Girls steal furtive glances towards their best friend's cleavage in the locker room! Girls neglect AP Chemistry! Young Adult Girls Girls Girls! Yup, it's time for the second installment of Riese & Green Laneia Read Books! We're gearing up for an all-out Annie on my Mind fiesta soon, so if you or someone you know has had a transformative experience reading AOMM, email Laneia at green@autostraddle.com.!
Thanks for all of your recommendations from last time! I believe they include" Babyjiwp_postsby Abha Dawesar, Pat Califia's "Macho Sluts,wp_posts"Free Your Mindwp_postsby Ellen Bass and Kate Kaufman and "Sita," although you cannot remember the author exactly. And "Far from Xanadu" … are we missing anything? We'll keep going as long as you want us to, because we are special like that. So let us know what ou want.
This is like the funnest project EVER.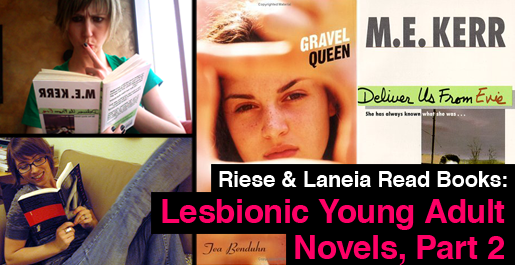 ---
Country Girl, City Girl, by Lisa Jahn-Clough (2009)
So yeah, this happens: Phoebe's a little bit country, Mellie's a little bit rock n' roll. They're spending a summer together on Phoebe's farm in Maine. Phoebe's never had a best friend. Are you supposed to want to kiss your best friend…?
The Players: Phoebe-on-Melita
The Pick-Up: "Have you ever kissed a boy?"
She Kissed a Girl and: "I could still feel Melita's touch. Her hands on my back. Her lips on mine. How she tasted like strawberries and smelled of honey."
The A-HA! Moment: "Weren't we a little old to be 'practicing' like this? … And deep down… I knew it wasn't practicing."
Aren't I a Little Too Old to be Reading This Book?: Probably
On a Scale of 1-10: "If I'm being totally honest, I have to say that I felt a little awkward once I realized that the main character, Phoebe, is only 13-ish years old. Of course, these books are for young adults, so I'm not complaining. If I were youngermuch, I'd have enjoyed this story for real. Loved the fact that it took place on a farm in a small town and Phoebe's dad was a sweetie. Very reminiscent of My Girl, but without Thomas Jay dying. Recommended for the real YA's!" (Laneia)
---

Gravel Queen, by Tea Benduhn (2003)
So Yeah, This Happens: In the summer between her junior and senior years of high school, the established equilibrium between Aurin and her BFFs, Kenney & Fred (who's been gay as long as he can remember), is upset when they meet Neila. Aurin feels something extra-special for Neila and Aurin wonders if she is a gay. There are plenty of opportunities to find out as the troupe negotiates its new dynamics and spends a lot of time in a lake in skivvies.
The Players: Aurin-on-Neila
The Pick-up: "Tell me a secret."
She Kissed a Girl and: "… finally all of those things that have been so busy inside of me are quieting down. Unbelievably, I'm not shaking as I thought I might, but instead everything is melting inside with all the ice cream dripping down the side of my cone, spilling over my hand, spreading sticky goo until I let go and throw the cone over the edge of the picnic table, out into the trees."
On a Scale of 1 to 10: "It was quick and kind like ice cream and libraries. I liked that there was more focus on the friendships than her family fallout, since most coming-out books seem obsessed with parental concerns. The gay BFF was a nice touch! It made me feel like high school must be really different now, and kinda optimistic too. I think you could read it in like one day and probs like it, possibly forget about it later and have to solicit Intern Elizabeth to read it for you again. Go Team!" (Riese)
---
Crush, by Carrie Mac (2006)
So Yeah, This Happens: Hope's spending the summer in New York – far away from her home on a hippie commune – with her distant sister, Joy. Chance encounters with a dog named Clocker, a mom named Maira, and a hottie named Nat change her summer, and her perspective on life.
The Players: Hope-on-Nat
Panic at the Disco: "Would kissing a girl be different from kissing boys? If all I did was kiss her, would that make me queer? Are you queer just for thinking it? Or does doing it make you queer? And what if I don't want to be queer? Do I get a say in this at all?"
The A-HA! Moment: "She's sitting in the shade, but I can tell it's her, and after just that one glance I also know something else. I am no queer wannabe. This is no phase. This is for real. Real, like breathing. Real, like lightning sheets in summer storms. Real, like my pounding heart and racing thoughts. Real. Uh-oh.
The Pick Up: "Now what?"
She Kissed a Girl and: "I feel like my life just leapt off its course and is careening toward a brand-new me. It's all more than a little overwhelming."
Break My Heart Why Don't You: "Good to hear… But please, call me Marv."
On a Scale of 1-10: "If Disney or Nora Ephron wrote a super short YA LBQ novel, this would be it — sweet, essentially without conflict, and PG-13 at best. But don't think for a second that it isn't worth reading. I breezed through it during lunch one day and still think about the characters. Also, I really love hippie communes, so maybe I'm biased? Cuteness abounds! Read it!" (Laneia)
---
Hi it's me Riese and I'm going to geek out on you a bit. Fun fact! Marijane Meaker is an immensely popular lesbian American writer who has published books under a variety of pen names, excelling at multiple genres and banging Patricia Highsmith in the process.
As Vin Packer, she penned crime novels including 1952's Spring Fire, which is credited with launching the genre of lesbian pulp fiction. She wrote nonfiction as Ann Aldrich and, beginning in 1972, started writing novels for young adults as M.E. Kerr. The New York Times Book Review described Kerr, who wrote over 20 young adult novels and won multiple awards, as "one of the grand masters of young adult fiction." She's also written four books for children as Mary James.
My agent recommended Shockproof Sydney Skate to me about three years ago. I fell in love with it at first read and devoured it (I've also lent it to Carlytron & Haviland — they all read the book within about 48 hours as well). The dialogue was punchy, the characters were vivid, and as the daughter of a gay lady who had a lot of drama to delegate as I was growing up, I related to the protagonist Sydney, who decoded his mother's power-lesbian-girlfriend gossip at age eight but never told her that he knows she's gay. Sydney keeps careful records of the sex scenes of every book he's ever read to better seduce women (he's a BIG Leanord Cohen fan), including his crush object Alison Gray, a client of his Mom's. Then Alison falls for his Mom. Hijinks ensue.
I thought it would make a fantastic sitcom, and was disappointed to learn its film rights were purchased in the 80s and the film itself seems to be stalled in development hell. Serious tragedy. Billed as the "Catcher in the Rye" of the 70's (and don't we all love a good Catcher in the Rye analogy), I cross my fingers I'll one day see it onscreen. In the meantime I give it 10 out of 10 and you should go get it right now.
Meaker's output is very Joyce Carole Oates -esque — you'd hardly know that all these books were written by the same person. But they all do deal with themes of outsiderdom and alienation and making tough choices, so I tend to like whatever she writes and perhaps will read more of her YA — any suggestions? Were there other gay ones?
---
So yeah, this happened: Parr lives on a farm in a small religious town with his parents and his 18-year-old sister, Evie. Evie, her father's most reliable farmhand, shocks & awes her small Missouri community by dressing like a boy and then seducing Patsy Duff, the wealthy daughter of the town's top dog, Mr. Duff. Mayhem ensues.
The Players: Evie -on- Patsy
The A-Ha! My Daughter is Gay Moment: "All right, Mother. This is a Valentine's Day gift from Patty. It's an ID bracelet, and there's also some k.d. lang tapes in the box."
Parr's Coming Out Moment: "It was a relief to tell the truth: to admit that my sister's way wasn't going t be fixed by a turtleneck sweater or a skirt. She was deep-down different."
I Wish my Mom had told ME this about leaving home: "Be careful of the friends you make, Evie. Don't seek out the gays. Think about that lifestyle, Evie. That's a very narrow life."
Sooooo … I read that Meaker often chose male narrators for her young adult novels because she heard that boys and girls would both read books narrated by men, but boys wouldn't read books narrated by girls, and she wanted her books to appeal to as broad an audience as possible.
And though I did love Deliver us from Evie, I'm not sure I could make a convincing case for why this story wouldn't be better told by Evie herself, rather than from the vantage point of her younger brother Parr. The book was pretty revolutionary for its time and won a bajllion awards.
On a Scale of 1 to 10: This novel is clearly the work of a professional. It's tight, there are twists and turns, it moves at proper satisfying pace and comes to an appropriate end. That being said, I'd love to read this story form Evie's point of view! Perhaps it needed the distance enabled by Parr's perspective (he was a good narrator with an interesting take) to be as successful as it was. Also, oddly most teen YA novels seem to be about two girly-girls, I somehow found it refreshing to read about a tomboy and a pretty girl." (Riese)
---

So Yeah, This Happens: Dylan's brain and her hormones are not on the same page. She and her best friend, Jocelyn, have an electricity between them that Dylan has been fighting to ignore, but after agreeing to do a display for the school library, everything snowballs. She stands up for what she believes in, but when will Dylan stand up for herself?
The Players: Dylan-on-Joc
Oh Would You Two Just Do It and Get It Over With, I'm Starving: "At that moment, she shifted, and the unexpected movement on my hips set off a a wave of sweet singing heat that shot everywhere through me, suspending me in an edgy horrified bliss."
I Can't Fight This Feeling Anymore: "Lying on my bed with the imaginary Joc leaned over me, I came again and again, the sweetness like an ocean crashing over me, like a scream, a crime."
Oh No She Didn't: "Whooooa girls. You call that dancing? Why – because your clothes are still on? …There's no fagging around in this house."
Roflcopter: "A lesbiAN with two vaginas."
On a Scale of 1-10: "Probably one of my favorites! Dylan's emotional struggle is very relatable and the outside conflict ties in nicely with her internal conflict. Plus, it takes place in Canada, where they drop loonies into coin slots! Holla! My only complaint is that the end sort of drags on for a few chapters, but don't let that deter you." (Laneia)
---
Don't forget , if you've been transformed by Annie on my Mind or have any strong memories of it, or know any literary-minded people (e.g., writers & stuff) who do, or contact info for any lesbian/bi writers who you think we could talk to, that would be awesome, email Laneia at green@autostraddle.com.
[ad#postads]