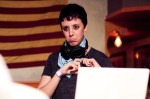 Why hello there, squirrel friends! Welcome to another exciting week of television. Things are happening!
First TWoP interviewed Ted himself, Jay Harrington from Better Off Ted. He's super cute and his on-screen love interests are Andrea Anders and Portia de Rossi, so life is good. In other cute boy news, Autostraddle fave Neil Patrick Harris will be hosting the Emmys. Does that mean he won't get to [finally] win for Best Supporting Actor in a Comedy? Because I was assuming that someone (*cough* Piven *cough*) wouldn't be winning again this year, and that it was NPH's award to lose. I guess we shall see!
You might have noticed that some ABC shows have started trickling onto Hulu, which is very exciting since ABC.com's full episode player is kinda janky. Also, the most exciting news of the week: I got HBO! Finally! And Starz! Tragically, the Starz OnDemand isn't working correctly so I haven't been able to watch Party Down yet. But after what is sure to be a series of painful customer service calls with Time Warner, I will; oh yes… I will.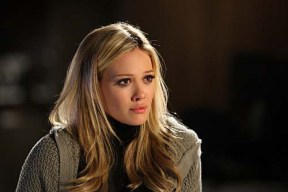 Casting news! Hillary Duff is joining the cast of Gossip Girl for a few episodes next season (wha?). She'll be playing a movie star who wants to live a normal college life, so she enrolls in NYU and becomes roommates with… Vanessa. Yikes. Tough luck, girl. Also, Drea de Matteo is going to become a series regular on Desperate Housewives, which should be interesting. This isn't exactly casting news, but Chandra Wilson (Dr. Bailey!) will go behind the camera to become the first cast member to direct an episode of Grey's Anatomy this season, which is pretty rad.
Hm, what else do I have for you? This is a lot, isn't it? It is. Oh! Confirmation that Claire is gonna get a lil' bi-curious with her new roommate this season on Heroes (do I smell a sweeps ratings stunt? I think I do!). Um, is anyone else nervous that Bryan Fuller has left the show (again)? I am!
AfterEllen did some investigatory journalism and interviewed the lesbian DJ who went on a date with Brooke Hogan on a Very Special Episode of Brooke Knows Best. And for those who were wondering, she's single! And finally, in the best news of FOREVER, Daria will be coming to DVD next year. WOOO!
And now…

The Carlytron TV Awards for the Week Ending on 7/05/09
Tinkerbell's Number One Feeling Award
I give out this award in Tinkerbell's name to Kelly Clarkson! She performed on So You Think You Can Dance's results show last week, and she was great:
I may or may not be interviewing her for work next week, and I may or may not be extremely excited about that. Though I guess I need to write actual questions (theoretically), instead of just trying to ask her out for 15 minutes, as was my original plan. Anyway. I love her. Her performance seemed much more put together than the Veronicas' performance the previous week:
The tattooed one is a gay or something right? Half-gay? I don't know. I like their music but I think they should eat a cheeseburger. Oh, right… this show's about dancing! Um, anyway, who are your favorites? My fave boys are Brandon, Ade and Kupono; fave girls are probably, like, all of them. I'm bummed Karla got eliminated but it's so tough with the girls, because they're all so strong this season. My favorite routine from last week was Kupono and Kayla dancing to some Twilight song or whatever. Obvs this was choreographed by Sonya:
The Best Show You Should Really Start Watching If You're Not Already Award
Uhh, Nurse Jackie, obvs! Last week's episode was all about kids. Dr. O'Hara saved a little boy's life, then had to awkwardly deal with his twin brother's outpouring of affection and gratitude. I love Eve Best and I love Dr. O'Hara, but she is so ridiculous, right? Like there is no way she could exist in real life. Though she is an interesting foil to Jackie, who feels so completely real. Speaking of, Jackie and Kevin have to go to Grace's school for a special parent teacher conference where they are told that she has an anxiety disorder. Jackie flips out but really? Duh. Of course Grace has generalized anxiety; she also has OCD. I feel for that kid.
I won't spoil last night's episode in case it's still DVRed but it was awesome as always (it involves a heartwarming story of a 10-year-old girl who is her mother's caretaker and Akalitus accidentally shocking herself with a tazer), and next week's ep features Coop's lesbian moms, played by Blythe Danner and Swoosie Kurtz. Yay! Nurse Jackie is without a doubt one of the best tv shows I've ever seen, seriously, and if you want to read some amazing recaps you should go see what Jacob has to say over on TWoP (he also recaps Gossip Girl, Weeds, and a slew of others and is by far my favorite tv recapper ever, aside from Rich at fourfour).
The Weeds Award For Weeds
Things got really super weird last week, then got really super amazing this week. First, last week. Ignacio is the new goon assigned to Nancy and he is definitely my favorite. Celia won't leave Nancy alone so Nancy literally tries to set her on fire. Shane tries to sell more weed to his teacher but he rips him off and Shane's left with nothing. In my last post I said, "The DEA dude is totally gonna kill them!" but I was totally wrong! Till finally bites the dust (it was only a matter of time) and Esteban starts acting more like an actual boyfriend (aren't boyfriends supposed to take you for walks on the beach after they've killed a dude? That's what I thought). The weirdest part of all was Andy pretending to be dead Judah so he could get like, 200 grand from an old bank account but — ruh roh — turns out that the lady at the bank was in love with Judah (!!), knows what Andy's up to, and is now going to make him date her in order to get the money. And he's still in love with Nancy!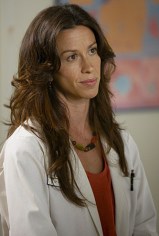 Now, last night. I won't give too much away, but I'm excited because it was the first of a 7-episode arc featuring Alanis Morissette, yay! She should act more, srsly. Some totally amazing stuff happens with Shane,  Andy breaks my heart and I am SO happy that Celia is back in Nancy's life.
The Hot Girl of the Week Award
So I'm going to start doing this new thing where I outsource this award. I don't know if you've noticed this yet but I only watch like 5-7 shows at a time, and eventually I'll run out of hot girls. So! For the rest of the summer I will feature hot girls chosen by other members of Team Autostraddle and the Intern Army. This week's suggestion was given to me by Robin, so here she is to explain:
Christina Applegate is a big celebrity crush of mine ever since I first saw her in Married with Children as that slutty tramp, Kelly Bundy, and that fashionable rebel Sue Ellen Crandell in the classic Don't Tell Mom the Babysitters Dead.
She was hilarious in Anchorman and won an Emmy for playing Rachel's sister on Friends. I own The Sweetest Thing because I am a little in love with her and I'd like to be BFF's with Cameron Diaz. "What's up you bitches and hoes and loooosahs…"  That movie made me want to start drinking dry martinis just so I could look coy like Christina. "What's up with you?" Carly and I watched this fabulous movie last night and agreed that Miss Applegate just HAS to be this week's Hot Girl of the Week!
The talented actress starred in the recently canceled Samantha Who, where she tries to make amends from a bitchy past as she recovers from amnesia. Her good girl charm combined with her unconscious impulse to fall back into her old ways make her even more endearing and hilarious. When the show was in danger of being canceled in May of this year Christina got on her twitter and tried to save it.
She a fighter, that one.  She got through breast cancer and a double mastectomy and her spirit and sweetness makes me turn to goo whenever I see her in an interview. I especially love this one where Christina kisses everyone's favorite lesbian, Ellen, on the lips in April! So gay!
Thanks Robin! Christina Applegate is super hot in The Sweetest Thing, but the best part of that movie is, "Hello, is Jane there? Have a lovely day!" Um, you kinda have to see it to get the full effect.
The Scene-Stealer Award
For all that Kathy Griffin does to try and get on the A list, for all of her attempts at causing a scene and getting noticed, the person who steals every scene on My Life on the D List is actually her mother, Maggie. Kathy's mom is amazing. Whether she's drinking wine (always) or calling rappers to ask them to vote for Kathy (at the Emmys), she's always hilarious. Last week, Kathy tried to reach a younger audience, so she hung out with Paris Hilton and started a Facebook page. Kathy hired Maggie to be in charge of the Facebook page, but she had no idea what it was:
Later Kathy yells at her for posting a status about Two Buck Chuck being on sale at Trader Joe's. I dunno, I actually think that's pretty informative and mostly on-brand. Also! It was just announced that Ms. Griffin herself will serve as roast master for Comedy Central's roast of Joan Rivers on August 9th. Wow. Brb, gotta go set the DVR…
The Best Show For Dorks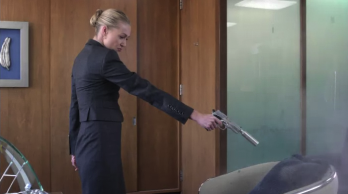 Naturally, this is for Better Off Ted (but only because I've been seriously slacking on Mythbusters the past several months). Robin told me the other day, "this is such a good show for dorks," and she's right. Last week Lem went on a date with a cute coworker and accidentally knocked her unconscious. That's probably happened to lots of nerds! Then a freak accident involving a half-computer, half-human "bio computer" causes Linda to have to share an office with Ted. This upsets Ted for many reasons (his general control freak nature, as well as his crush on Linda) but it's her horrible work ethic that really pushes him over the edge (her procrastination techniques include talking to her fish, singing, and flirting with Ted). Unable to work with Linda, Ted goes and works in Veronica's office, but much to his chagrin (and my delight) her stress relief is shooting a pillow with a loaded handgun. So Ted goes back to his office and has to deal with Linda ("I can't have you flinching every time I shoot a gun in here!" – Veronica). They decide to be professional! VERY professional! We will see how long this lasts (my prediction: not very long!).
'Tron out!