Last night on True Blood, True Blood attempted to tell approximately 46 stories at once, and pulled it off with mixed results.
Tara, our brand new maybe-lesbian, is looking/feeling better than ever 'cause that's what happens when you have sex with girls. At one point she tells Sam she's seeing somebody and Lafayette mentions her girlfriend and that's that as far as that's concerned.
Marnie the Witch Lordess accidentally stole Eric's entire memory so now he's got no idea that he's supposed to be a brooding/sarcastic bloodthirsty stone-cold vampire hulk champion. That's unfortunate for Pam (and I'm assuming we're all in agreement that Pam is the best character on the show, right?) but delightful for us 'cause now Eric is tender as a chicken strip. He's got these little wide Jason Stackhouse eyeballs and a crush on/wants to feed on Sookie, who he politely asks "Are you mine? Would you like to be mine?" (She does not.)
Eric spends the first half of the episode without his shirt on and the second half in Jason's sleeveless hoodie and basketball shorts, proving that one person other than Jason Stackhouse can pull off a sleeveless hoodie. You guys! ERIC IN A HOODIE! So adorable.
I'm sure that all the witches probably add a vital element to this program and to Lafayette's backstory and to Lafayette and Jesus's relationship, but some of them perhaps unfairly remind me of those girls from my middle school in the mid-90s who got super into "dream crystals" and pentacles and ritual candles because they liked The Craft. I need to get over this because I spent Marnie's entire last-scene monologue yelling SNOOZE at the television. I suspect also a Wiccan is gonna yell at me in the comments and I apologize in advance, I respect your spirituality and it probably makes a lot more sense than mine. This girl is the one who annoys me the most: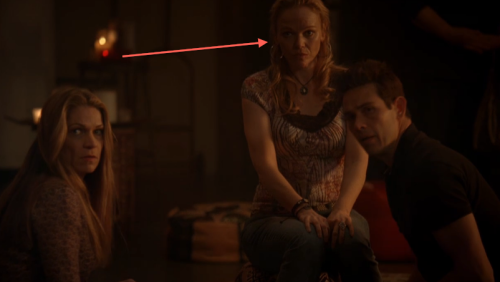 ANYHOW! The witches are freaked out 'cause Marnie doesn't know what happened to her and Eric will probably come kill and eat them all. Lafayette's like, "Do not fuck around with this, I will go beg his forgiveness right this minute or you'll all be turned to ashes." They ixnay that plan and talk about peaceful things like calling the police but Lafayette's determined to take matters into his own hands.
Also, Lafayette's outfits are getting more complicated/amazing. I'd really enjoy the Witchery more if it was just Jesus and Lafayette. CLEAR THE EXTRAS!
Bill finally has a job that fits his personality (king of the vampires) and there's a cute scene in which he actually SMILES 'cause Jessica's come to visit, seeking Advil and relationship advice. Should she tell Hoyt about sinking her fangs into another dude's neck in the bathroom at Fangtasia? Bill says honesty is the best policy but Jessica changes her mind when Hoyt flips out and glamours him back to ignorance, which I hear is bliss.
Crystal raided the Walgreens Hair Care aisle and has found a place for every single butterfly clip in her hair and the end result is "crazy lady at the bus stop who's not actually waiting for the bus."
Jason's still strapped to the bed, which makes my fibro flare up just thinking about it, and is maybe a part-panther on his way to becoming Ghost Daddy. Ghost Daddy, apparently, is the guy who gets strapped to a mattress while his girlfriend rapes him and other women wait in the wings for their turn to get pregnant. It was really fucking disturbing and I don't know what to make of it.
Meanwhile, Tommy's still living with Maxine Fortenberry ("The Angus and Natasha of True Blood" -my girlfriend), who might be sitting on some sort of valuable natural resource. Tommy wants to buy Maxine's house and then sell the gas but Sam is like, "that plan is the plan of an asshole, get the fuck out of here."
Tara threatens to shoot Pam with wooden bullets if she doesn't let Lafayette out of the Dungeon of His Discontent. Jesus explains that they made this mess and therefore are most likely to clean it up.
Pam: "I will give you 24 hours to return that witch to me. And if you don't I will personally eat, fuck and kill all three of you."
To be honest, I've never known how to feel about the gay rights/vampire rights parallel because vampires do actually eat/kill humans and also possess super-human powers. Granted, gay people corrupt public education, abuse children, destroy religion and wear unfortunate assless leather pants in flamboyant annual parades, but those things are still a far cry from "bloodsucking."
Anyhow this week in Vampire Rights Movement the buzz issue is that activists are filming vampires doing evil things and putting them on YouTube so everyone's gotta be well-behaved. Otherwise King Bill will have no choice but to take that giant stick out of his ass and impale you with it.
Also at the end Eric accidentally kills Sookie's fairy godmother.
So what are your thoughts on this episode? Do you think Pam and Tara will ever ride the hobby horse together? Let's talk in the comments!