The morning of the DC State Fair I walked out into my garden and picked whatever looked ripest. I didn't bother to make a recipe in advance so late-season raspberries, a few blackberries, and a couple of stalks of rhubarb would have to do. I added some sugar and flour, and plopped it in the same pie crust recipe that I'd been making since I was a teenager. I was unprepared and unbothered, so when my pie won I was astonished. I am a fierce competitor who will strategically box you out of winning Scrabble, so to my dyke squad, my surprise reaction to this win was perplexing behavior. Then I realized they had no idea that the treats I'd been making them at dinners and our book club meetings were completely gluten free—and that it had been over a year since I made a gluten-filled pie.
My wife was diagnosed with celiac disease and forced into a gluten-free diet, when we got the news I grieved like someone had died. When I say we—I actually mean me. I was a flour femme and she was already a vegetarian with a motorcycle, being gluten-intolerant was just one lesbian clichė too far. Who would I bake croissants for now!? In the midst of my grief, I remembered I had signed up to host my book club for brunch that month and was forced to snap out of self pity and get to facing my new baking reality. My book club would be a good place to start testing out the goodies that would become part of my new reality—but could I serve a Black lesbian book club gluten free treats without courting disaster?
There are two kinds of lesbian book clubs, those where people earnestly debate Jeanette Winterson's books, and mine, where we care more about the food than finishing that month's romance novel. Our meetings/hangouts were potlucks where the host's spectacular dish was the star and everyone else's dish was played a supporting role. There were so many competent cooks and bakers in the group, I could have just shown up and ate their fancy chocolate chip cookies and no one would have noticed if I didn't bring a dish. The problem is when you're the host, there's nowhere to hide. I often opted to make pastries, and this time I'd already promised to make a fantastic dessert and I was going to make it in the form of a pie.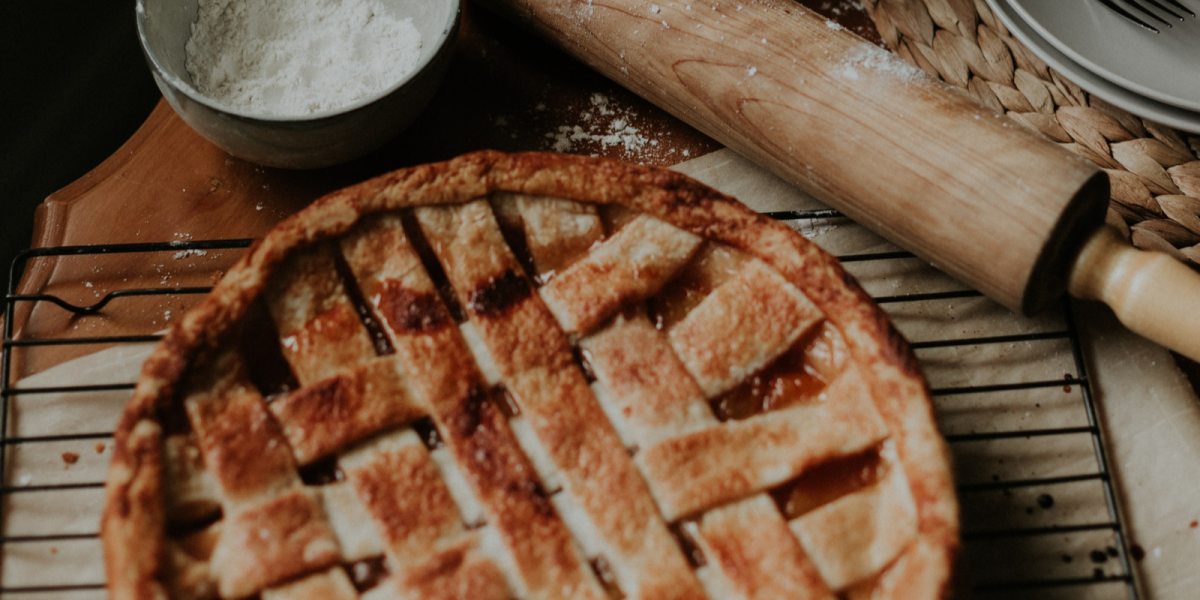 I started by scrolling through gluten-free baking blogs and IG posts with endless posts of golden, crisp looking pastries bursting with juicy fillings. Seduced by an influencer with perfect-looking pies, I scoured stores to find the obscure flour mix she insisted was essential. As soon as I got home and stirred the crust together, I knew something had gone terribly wrong. The dough was a gloppy nightmare that fell apart when I tried to roll it out. The blog insisted that you couldn't expect gluten-free dough to look like wheat dough, so I tucked raspberries into a pan around clumps of gooey crust and hoped for the best.
It was a burnt soggy mess that immediately went in the trash, along with the rest of my baking experiments from this useless blog. I was going to be baking for some of the best cooks I knew, If I served this tragedy to my book club babes, my cookout invite would be permanently revoked. I was despondent but I couldn't give up. Retail therapy in the form of several new gluten-free cookbooks cheered me up.
The book club date was nearing closer, so it was time to start treating this like a scientific experiment—The Baking Trials. My freezer was filled with flours like millet, sorghum, and amaranth. If nothing else, gluten-free baking was going to decolonize my pantry thanks to these new grains. Since I wasn't going to waste ingredients again, I baked seven mini pie tins, each with a different gluten-free pie crust sourced from my growing stack of cookbooks. The soggy mess from attempt #1 taught me to give the crust a head start by heating a cookie sheet in the oven, and putting the pie pan directly on the hot surface. I lined the finished crusts across the counter, each filled with fresh strawberries and sugar. They were pie-shaped and glorious, but as I stuck my forks into one after the other I declared them either too cardboardy, too gritty, or just bland. I was nervous until I tried America's Test Kitchen gluten-free crust recipe, which would ultimately became the final piece I needed to achieve baking success.
The morning of book club, I rolled out the delicate dough between plastic wrap and rested it in the fridge. In my backyard, the raspberries were ripe and the first peaches of the season were peeking out from the leaves. I was pulling the fragrant and perfect pie out of the oven just as my friends began to show up. I was filled with delight and nerves, wondering if anyone would notice they were going to be eating a gluten-free pie. I watched carefully when the time came for them to dip their forks into the flaky crust and pink filling—a hush fell over the room and the moans began. My wife quietly ate her slice while the rest of the crew and their exclamations of "best pie ever" crescendoed.
Their approval puffed me up like the topping on a lemon meringue pie, but I didn't have the heart to tell anyone that it was gluten-free. It was all too good to be true and after all the failures I'd had in the kitchen earlier, I deserved a win. In the seven years since THEE deception, I've finally began to announce my gluten free concoctions (and told the book club about the one that started it all), and now it's even more of a thrill to me when I bake the sweetest of treats and watch their skeptical faces shift into wonder with every bite.
---
Lesbian Deception Peach Raspberry Pie
Pie Crust: 
6-8 Tablespoon ice water

3 Tablespoon yogurt, or sour cream (low-fat is fine, nonfat is not)

1 Tablespoon rice vinegar 

1 Tablespoon sugar

1 teaspoon salt 

½ teaspoon xanthan gum (omit if using a flour blend that includes xanthan)

2 sticks unsalted butter, cubed and frozen for 15 minutes
Pie Filling: 
1 pint of raspberries 

4 ripe peaches, peeled and sliced

2 1/2 Tablespoons tapioca starch or cornstarch

¾ cups sugar

2 teaspoons lemon juice

½ tsp cinnamon 

Pinch salt

1 beaten egg white
Mix liquid ingredients together. In a food processor, combine flour blend, sugar, salt and xanthan gum. Add butter, and pulse 10 times. Add half of the liquid, pulse 3 times. Add the remaining liquid and pulse until it comes together in large clumps, adding more ice water if needed. Divide the dough into two disks and chill for an hour. 
Adjust the oven rack to lowest position, place a baking sheet on the rack, and heat oven to 425℉.  Pull out the dough to rest at room temperature for 5-10 minutes. Meanwhile, mix raspberries, peaches, tapioca, sugar, lemon juice, cinnamon, and salt together in a bowl. 
Roll out one of the dough disks into a 12-inch circle between two sheets of plastic wrap. Do not use parchment paper, or it may stick, and you may cry. Remove the top piece of plastic, and invert into a 9-inch metal pie pan. Remove the second sheet of plastic wrap. Chill in the fridge while you roll out the top of the pie. 
Roll out the second dough disk into a 12-inch circle between two sheets of plastic wrap, and remove the top piece of plastic. Pour the filling into the pie pan, and top with the second circle of dough. Remove the last sheet of plastic wrap, and crimp the edges together with your fingers, or a fork. Brush the pie with egg white (avoiding the edges), and slice three air vents in the middle of the top crush, about 2 inches long. 
Place pie on the preheated baking sheet and bake for 25 minutes. Reduce oven temp to 350℉ and bake until deep golden brown and bubbling, about 30-35 minutes. Cover the edges with foil if they start to brown too quickly. Let cool completely before serving. 
**Notes: You must use a metal pie plate, a glass pan may crack. This is basically America's Test Kitchen's pie crust recipe with a few tweaks: yogurt instead of sour cream, extra water to make the dough more pliable, and a shorter resting time.