When you "collect" things, it means you're entitled to more of them than is practical, treasure them irrationally, and display them wherever the f*ck they look best in the house. Once I realized this, I began "collecting" things so that I could, well, have things, which matters a lot to me because of that whole not having things thing that is my entire life. But I'm starting to realize I'm not a connoisseur of anything so much as just a total fucking weirdo.
And thus, a list.
---
10. Matchbooks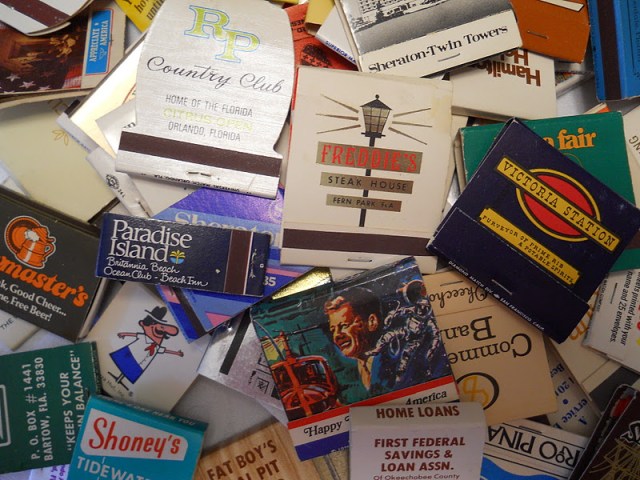 Restaurant matchbooks. Business matchbooks. Blank-cover matchbooks. Matchbooks I didn't even get myself, but instead have collected through other people in an attempt to live vicariously through them.
Just so we're all clear, I can't light a match to save my life.
---
9. Totally Unremarkable Pokemon Stuff From When I Was a Kid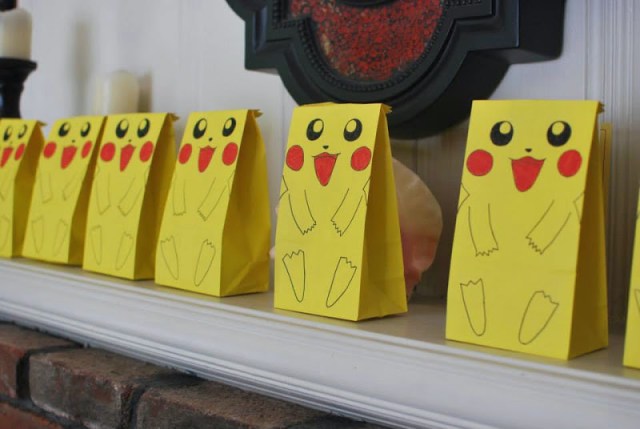 Inside of a vintage suitcase (see below) in a closet under the stairs in my house there is a metal tin I bought for a dollar as kid with photos of Eevee and their evolutionary forms on the front. Inside of it are a bunch of energy cards, a Pikachu toy from Burger King, and a plastic goodie bag with Ash on the front from a party I went to in 1999. Inside that plastic goodie bag is a piece of a tablecloth from that party.
When it comes to hoarding, I think Pokemon merchandise might be my root.
---
8. Broken Umbrellas
Why can't I just get rid of these? Why have I packed and moved three to five completely broken umbrellas with the rest of my crap across this city for seven years? Will there ever be a time I find myself surrounded by all these umbrellas when I actually need them to protect me from falling water outside? (This is a trick question, because none of the broken umbrellas are ever going to save or protect me. One stabs me when I carry it around because the cover has come disconnected from a loose metal stick, two are half caved-in, one is no longer secure and would probably blow apart within seconds of a storm.)
Also, a note to umbrella makers: DO BETTER.
---
7. Vintage California Travel Guides
I still believe these could come in handy, or at least be really entertaining once I can look at them and think "ha! I know better!" But I also believe I might have enough of them now.
---
6. Mugs, Just Any And All Mugs
A rough list of the mugs I can't say goodbye to:
This blue and brown mug I gave Josh for his birthday and he left behind in my dorm when the semester ended
Four matching mugs Geneva just got me for my birthday that say "LOOKING GOOD!" and have pink flamingos on them
Two mugs from Women's Initiative, the group I ran in college
A mug from the Christkindl in Denver I went to last winter, which came included with the purchase of mulled wine at an outdoor festival in a heated tent
A mug from Heidelberg, which is a lot more German than the aforementioned German-inspired mug
Four pink teacups that are part of a larger dining set I've rarely used because I love it too much to break it
A travel mug with diner mugs painted on it, it's really meta, y'all
A mug I obtained from A-Camp's Camp Mountain Chai totally by accident
Two limited edition Peanuts Christmas mugs from CVS
A white mug emblazoned with the words "WORLD'S BEST BOSS" that was given to me by someone I supervised which makes it less weird
A white mug from a thrift store with a basket of apples painted on the front
A red mug from a thrift store, just a totally nondescript red mug
One of those vintage soup mugs that has a soup recipe on it, this one in particular for cream of mushroom soup
---
5. Fortune Cookie Fortunes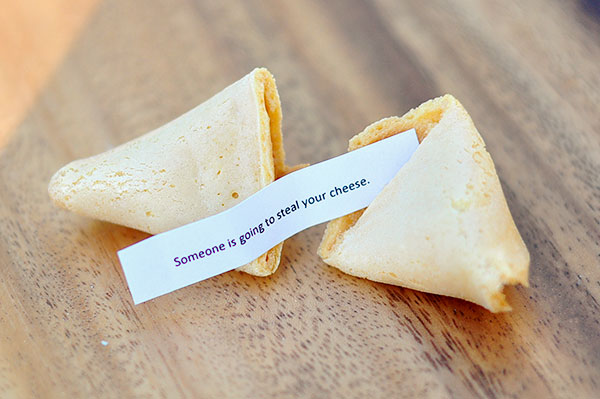 In a shot glass on the ledge in my room is a two-shooter filled with small strips of paper. At home in New Jersey, I keep them in a sugar dish. The important thing is, I'm never going to need to think of my own lottery numbers.
---
4. Ashtrays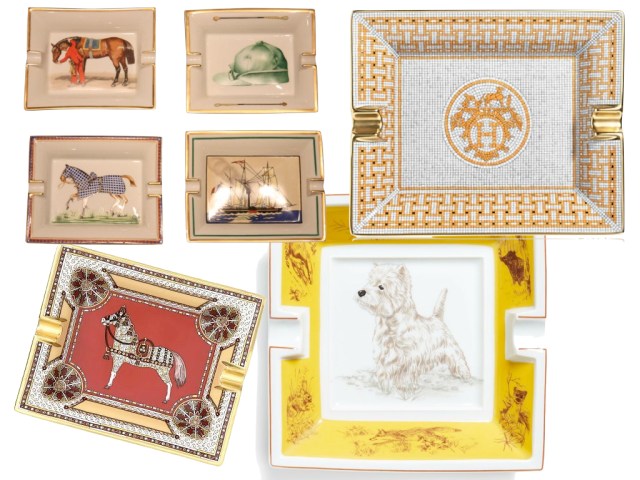 I rarely remember to use an ashtray when I'm smoking, but I always have one on the nearest table. I usually go to thrift stores and buy them because they're the cheapest thing I can pick up there that feels like the past. I have one pink ashtray that matches my pink china, one yellow metal ashtray I keep next to my bed, a vintage steel turtle ashtray, a vaguely casino-themed ashtray I think a child made for an unappreciative adult who then gave it away, a red clamshell, and more. When my landlord comes, I keep them all in one place in my closet. When I move, I wrap them in bubble wrap. My ashtrays mean everything to me.
I don't smoke inside.
---
3. Unpractical Vintage Luggage
Vintage suitcases may not have wheels, they may not be economic, they may be musty, but damn it, that Diane von Furstenberg carry-on was $3 and it's totally worth the not-being-able-to-feel-my-arm-after-a-long-terminal thing. Now, it's also no longer alone, since it's accompanied by the beastly floral suitcase on wheels I got at a flea market, a Jordache bag I can't even properly explain, and a brown leather bag that makes me feel like an outtake from a Wes Anderson movie.
---
2. Far-From-Fixable Glasses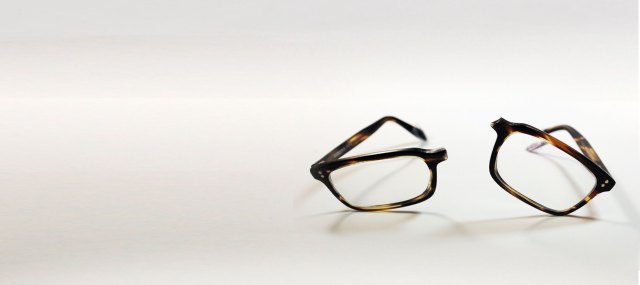 I keep over ten broken readers and sunglasses in a silk-lined floral box in my closet, and before that I kept over ten pairs of readers and shades in a silk-lined floral box on a shelf. I have emotional issues and letting go is hard for me. Beyond that, I am convinced that one day I will meet an heiress to the LensCrafters throne willing to take a stab at putting hours of repair work into $10 shades I really liked to wear last summer.
---
1. Dead Lighters
I used to call them "memory lighters," but the reality is that when I moved I cracked open a wooden box filled with BIC lighters, those cheap see-through lighters you always end up with after parties, and Ed Hardy limited-edition lighters I bought down the street when I was coming out and smoking a lot of cigarettes. I didn't always remember what memories they were associated with, although I was embarrassed I ever took some of them out of the house. For the sake of posterity, I'm putting it here in writing that I came out by passing people an Ed Hardy lighter with a naked chick on it in college, because I threw these out immediately upon arriving at my new place.