I would like to take a moment to remind you all about 1999's most underrated cinematic masterpiece. Despite being directed by Garry Marshall and starring Julia Roberts and Richard Gere, this film somehow manages to not be Pretty Woman and is in fact Runaway Bride. While an extraordinary number of people have encountered Pretty Woman, I travel through life routinely encountering people who have not experienced the joy, the experience, the supreme achievement that is Runaway Bride.
The loose plot is that Julia Roberts doesn't want to get married and men keep trying to marry her and Richard Gere puts a stop to all that by trying to marry her. But the plot is immaterial in the grand scheme of things because the film is best understood as a piece of surrealist performance art. It is a film I have seen no fewer than 7,000 times in my life and one which I am evangelical in my passion for. It has all the key elements you could need for success– small town charm, Joan Cusack, a Dixie Chicks soundtrack and astonishingly blatant product placement by FedEx.
But this list won't focus on any of that, or on the inexplicable motivation of almost all the characters. Instead it will recognise the film for what it really is – a celebration of late 90s rural styling choices which had an unmistakable impact on my fashion sensibilities. The costume designers seem to have been unanimous in their belief that all a film needs to succeed is a succession of increasingly lesbian-adjacent outfits and I am inclined to agree. This list ranks ten of the top fashion moments in order of their historical importance to my impressionable gay heart.
10. This Child on a Bike
A surprise entry at no. 10, this child has no more than eight seconds of screen time, but they make such strong use of those eight seconds that it felt imperative to include them. Is this a child in 1999 or a lesbian at any point in history? Literally no-one can tell. Those pegged jeans, that hair, a cross body, an oversized shirt. It took me approximately 46 viewings to notice this child because Julia Roberts' legs were nearby, but once I finally paid attention I saw this child for who they are – an inspiration pedalling into frame.
9. Cindy in the Salon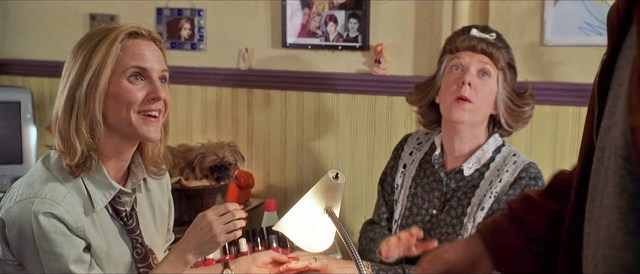 This outfit is included not only for its standalone merit, but because it announces the arrival of Cindy, the most intriguing of all characters in a truly baffling pantheon. She spends the entire film in a series of increasingly gay shirts and ties, identifies herself immediately as the 'unmarried cousin' and, in an aggressively heterosexual plot, does not end up with a man. I have many questions for the writers and many questions for Cindy, the first of which would have to be where she got this remarkable tie.
8. A Classic Flannel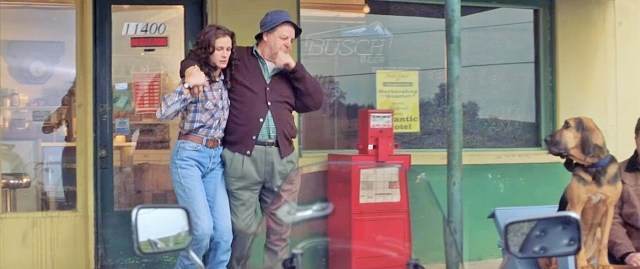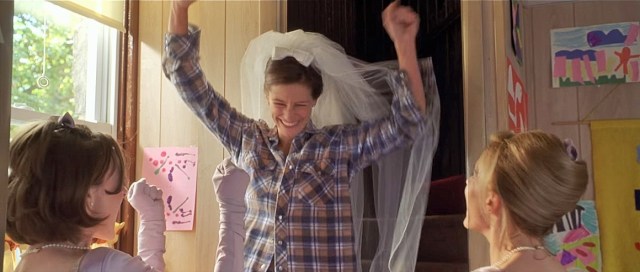 We're all familiar with the flannel shirt as a lesbian staple and in this film, Julia Roberts opened my eyes to the versatility of this timeless piece. Are you experiencing a mildly traumatic family crisis? Are you hoping that if you try to marry another man men will stop trying to marry you? Julia's flannel has you covered.
7. Dungaree Con 1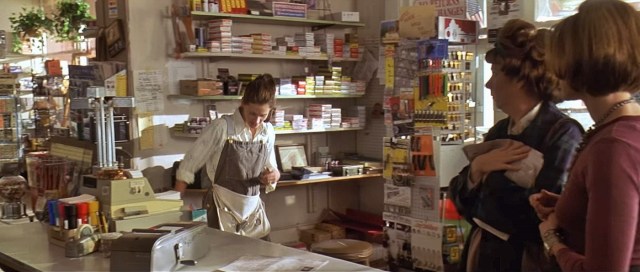 In at number seven we have Julia Roberts' entrance look and the foundation of 70% of her clothes throughout the film – these dungarees. Enhanced by the extremely gay surrounds of a hardware store, these dungarees are classic, versatile, homosexual. As the saying goes, toolbelt in the front, oversized floral shirt in the back.
Every time they appear in a scene they conjure a slightly different gay energy, so as to inspire us afresh.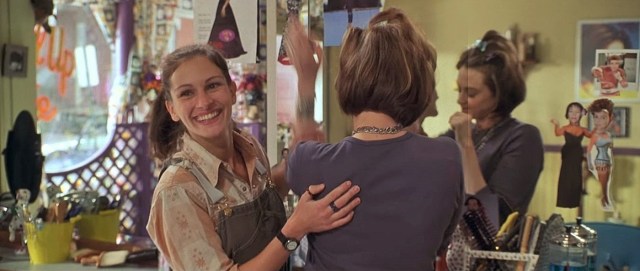 Here they are accompanied by a thumb ring and a winning smile.
And here they are in partnership with a grey jumper whilst a man is being told off. Truly what can't a girl do in a pair of dungarees? I bought a khaki corduroy dungaree dress literally two weeks ago and this right here is the reason why.
6. Elaine from Manhattan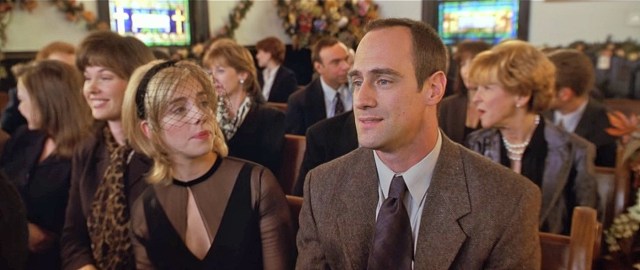 YOU GUYS, it's ELAINE from MANHATTAN.
Dressed like the mistress at a funeral, Elaine showed up to a wedding like this. She is here to wear a veil and talk sports. She isn't here to fuck around. She has been a source of timeless inspiration for me – she's going to wear sheer black, a plunge neck and she will not be taking questions about the veil at this time. ELAINE from MANHATTAN doesn't doubt that she belongs in this list. She's never doubted that she belonged anywhere.
5. Practical Cusack – A Movement in 37 Necklaces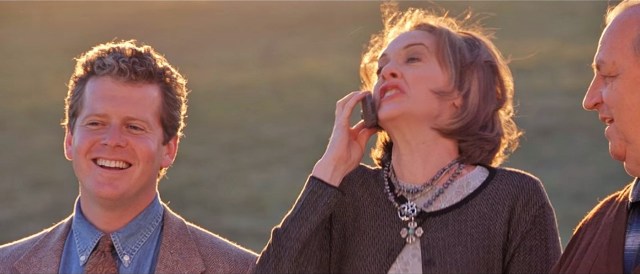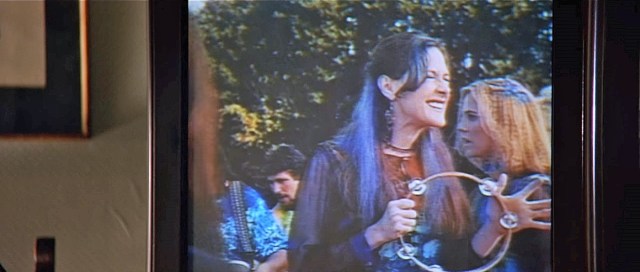 Throughout my teenaged life I never felt like I was wearing enough necklaces. I could not account for my consistent desire to always acquire more neckwear, despite not being quite brave enough to wear it. I didn't understand, that is, until I took the time to pay more attention to Joan Cusack's neck in this film. It's never not covered by 12 necklaces, and this seems to have burnt a deep desire into my impressionable young mind. Joan Cusack's overall look in this film could best be described as Seattle Witch, and those are the shining gay headlights I wish to follow. Big flannel shirts, layered necklaces, resolute short hair choices, not giving one single fuck about what other people think of her, she's got it all. A flashback shows her with long blue hair and a tambourine, and in her past I see my future. Deeply relevant to any astrology-loving queer in the year of our lord 2019, at number five, Joan presents a jangly template for us all.
4. Lorelai Gilmore at the Rodeo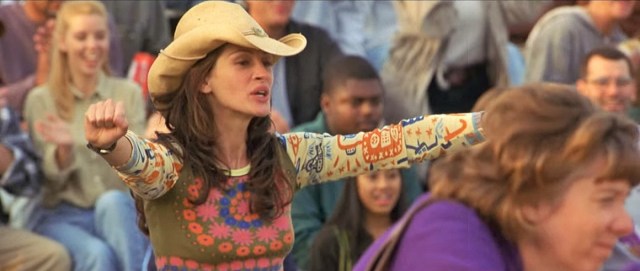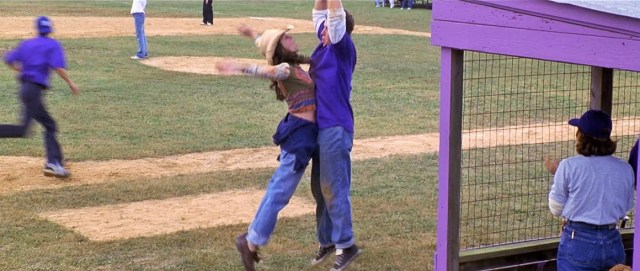 It's 1999. You're Julia Roberts. Your hair is indisputably glorious. You should absolutely put on a cowboy hat. What will you wear with it? No, incorrect. It's a very busy top from the Gilmore Girls Strong Print collection, pegged jeans and sensible shoes. You'll do a lot of enthusing about sport, you'll chest bump, you'll yell at a man, and you'll look absolutely fucking fabulous.
3. Cindy Wishes You All the Best at Your Hetero Wedding
In at three is a wonderful example of Cindy's rich diamond seam of costume choices. To a wedding rehearsal, she wears this amazing number. A dungaree dress and white collared shirt, sure. Great choices Cindy, flying below the radar, subtle. Oh no, I'm sorry, she's wearing an entire tie again.
2. Cindy's Bright Gay Future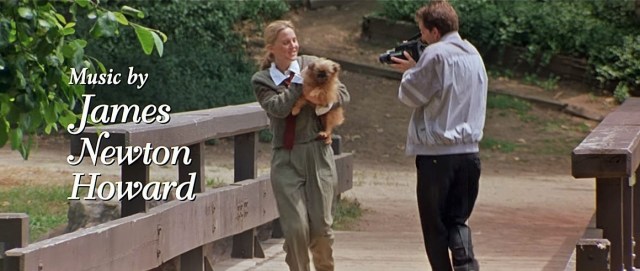 The music may be by James Newton Howard, but the looks are by Cindy. Look at her. Radiating gay energy in her sensible dad outfit with her tiny dog. Everyone else in this closing montage gets a charming hetero partner to jump all over and play tambourine with, but not Cindy. Cindy gets a dog, to be filmed by Lee from the Hotel and a low ponytail. Gazing off into gay futures with her tie flapping in the breeze, Cindy inspires me not only with this strong oversized collar, but with her strong oversized queer energy.
Special Mention: The Wooden Spoon
Before we crown the undisputed champion, I'd like to take a brief diversion to the definitive worst outfit in the movie. The wooden spoon absolutely belongs to this ensemble, which only becomes more unbelievable in subsequent viewings. Have you ever wanted to see a bra through a shirt? Of course, you're only human. But have you considered making that bra both sad and prominent? In a still image it may not seem as terrible as it is, but I encourage anyone with a passing interest in schadenfreude to investigate the scene in motion.
My best guess for this outfit (which also features some tragically dull shoes) is that the costume department went on an impromptu bonding trip to Palm Springs and when they got back, Darren from Catering had put together a look. I'm deeply curious as to who allowed this to be filmed. Who thought this was a slam dunk? Who thought yes, this is the treatment Julia Roberts' breasts deserve? For one of the very few outfits in which Julia is not wearing a flannel or dungarees, they gave her this? She deserved better. We all deserved better. No amount of Miles Davis and nearby cat is gonna save us on this one. Thumbs firmly down.
1. The Shirt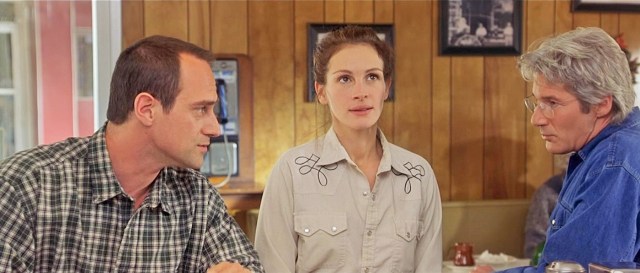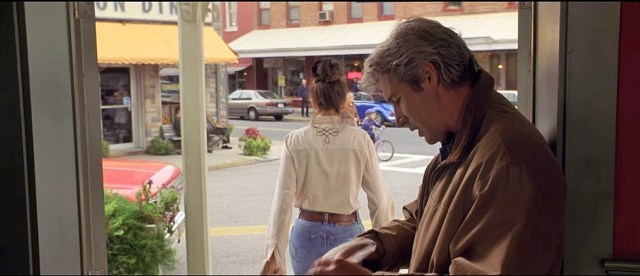 And here we are. It's been a long road but we've arrived. We've arrived at the inspiration for this entire piece, a shirt so significant as a force in my life that I refer to as The Shirt. It arrives to us amongst a veritable buffet of shirt choices – a classic flannel, a denim button-down – and yet it holds its own. Subtle, beautiful, western, it lit a fire in my gay heart instantly that continues to burn brightly. Look at it. Just look at that front pocket detailing. The shoulder embroidery. And you're thinking okay, but I bet the back doesn't hold up. OH BUT IT DOES. It is ready and waiting with an impeccable embroidered swizzle.
Julia's movements are more powerful in this shirt. I am more powerful when she is in this shirt. I have spent 15 years trying to find this shirt so that I can become the truest gayest version of myself. If anyone ever finds anywhere that it is available for purchase, send out a smoke signal on your nearest cliff. I'll see it.
In conclusion I hope I have achieved my goal, in that you not only feel inspired by the array of looks on show, but most importantly you have remembered Runaway Bride exists at all.