Remember last year when out of the clear blue sky I received a package filled with 13 lbs of mangoes?  I was filled with an equal mix of delight and panic; while mangoes are delicious, I wasn't sure I'd be able to figure out what to do with them all before they went bad.  Thankfully, I used my clever friends and the powers of the internet to  create a ton of delicious meals out of the mangoes, and the kingdom was saved!
Imagine my joy/terror when this year, an even larger package arrived!
The mangoes came direct from Florida, and were hand-packaged with love by Autostraddle's dear, dear friend and beloved A-Camper Alice Motes.  Alice's parents grow mangoes, avocados, orchids and probably very large mosquitos down in Florida, and because Alice is wonderful, she deigned to share her mango bounty with some of the staff.  Here is Alice doing a very typical Floridian thing:
These delightful fruits could be consumed as they were, sure, and I did my fair share of that, but my mission remained: I had to figure out how to utilize all of these mangoes before my (considerable) procrastination rendered them mushy, moldy and useless.
Let's get to work!
Mango Gazpacho
(via Vegangela)

This is the first thing I made, and I became overcome with excitement whilst peeling the very first fruit.  The mangoes were so juicy and ripe and delicious and I was about to make the most awesome gazpacho and I had absolute faith it would be incredibly delicious.  I could hardly resist taking a pre-emptive taste, so I greedily gnawed some of the juicy orange mango flesh right from the inside of the peel as I worked.  Almost immediately, my lips started to swell up and I became uncomfortably aware of a tingling sensation all over my gums.  "Oh FUCK ME, am I suddenly allergic to mangoes?!" I shouted at the heavens, cursing both cruel fate and an unfeeling universe that would conspire to deny me a refreshing bowl of chilled mango gazpacho.  Now would be a very inconvenient time to develop an intolerance for a fruit I had 15+ lbs of in my fridge.
A quick Google search informed me that I was probably not allergic to mangoes, but just the mango skin.  Turns out – fun fact! – mangoes contain urushiol, the thing that makes poison ivy and poison oak so itchy and uncomfortable.  Not everyone who eats mangoes or their skin will have a reaction – in fact I found a lot of testimonials on the internet declaring mango skin to be completely delicious – but my reaction was pretty upsetting, and I'd encourage you to proceed with caution.
Anyway, let's make some gazpacho.
You will need:
–  2 cups mangoes, diced (OMG be careful!)
–  2 cups orange juice
–  1 cucumber, diced
–  1 red bell pepper, diced
–  ½ red onion, diced
–  1 small garlic clove, diced
–  juice from one lime
–  2 tbsp olive oil
–  2 tbsp basil or cilantro
1.  This is so easy it feels like cheating.  Do you have a blender?  OK, cool.  Place your mangoes, orange juice and olive oil in the blender and puree the crap out of them.
2. Add all the other stuff and pulse until everything is processed but still a little chunky.
3. Add salt and pepper if you feel like it.
4. Refrigerate and enjoy cold.  That's seriously all you have to do, you guys.  Now you have a raw/vegan/gluten free/low calorie lunch situation that will fill your hot summer days with magic and sunshine.  Give yourself a high five.
Ginger Mango Tofu
(via the Post Punk Kitchen)
Before you start this recipe, be aware that you need prep time!  Like, you should start this the day before you plan to make it so marinating happens!
You will need:
For mango sauce:
– 3 cloves garlic
– 1 jalapeño, seeded and chopped
– 1/4 cup fresh ginger, roughly chopped
– 2 teaspoons peanut oil or veg oil
– 2 large mangoes, roughly chopped
– 1/4 cup pure maple syrup
– 1 cup white cooking wine (or vegetable broth)
– fresh black pepper to taste
– dash of salt
– 1/4 teaspoon allspice
– 2 tablespoon rice vinegar (use apple cider vinegar or red wine vinegar if you dont have rice)
– juice of two limes
– 1 cup orange juice
And the rest:
– 2 blocks extra firm tofu, drained and pressed
– 1 more mango, sliced in long thin slices
– 2 red peppers, seeded and cut in long thin slices
– rice or whatever
So!
1. I'd start out by cutting your tofu into the size and shape you'd like to serve them into (I cut 2 blocks of tofu into 20 even slabs, but might do triangles or something prettier next time) and pressing the water out.  While you do that, heat some oil in a pan over a medium flame.  When that's heated up, add your garlic, ginger and diced jalapeño and sautee for about 7 minutes (reduce the flame if anything looks burn-y).  Add your chopped mango and sautee for about 5 minutes.  This sauce already looks and smells like a great idea.
2. Add maple syrup and wine/broth (I used broth), cover and reduce the heat to simmer for 35 minutes (interrupt to stir occasionally).  Then uncover and simmer another 5 minutes.  You will notice the mango is beginning to dissolve, which is magic and also smells delicious.  Time to add orange juice, lime juice, vinegar, allspice, salt and black pepper, then put everything in a blender (again?! I know, right?!) and puree errything.
3.  In a large tupperware or something comparable, toss your tofu shape situations in the sauce.  Marinate for at least an hour, preferably overnight.
4. Good morning!  How did you sleep?  Are you making this tofu dish for breakfast?  That's cool, I inhaled this dish as cold leftovers one morning and it really hit the spot.  If you're making rice to go with this, you should probably get that going cos sometimes rice takes a while (I used black wild rice; Isa Chandra recommends jasmine).  Preheat your oven to 375 degrees Fahrenheit.
5. Lay the marinated tofu slices out on a (sprayed/greased) pan, and cover them with some more of the sauce.  Cook for 20 minutes.  While that's happening, cut up your peppers and the other mango.  When your tofu is ready, flip the pieces and brush them with more marinate, and add your pepper and mango slices.  Cook all of that for another 15-20 minutes.  If you feel like it could use more time, re-flip, re-marinate, etc, but it'll probably be good to go after the second rotation.
6.  You should have a pretty solid amount of sauce left; feel free to heat that in a saucepan.  Serve your tofu/mango/peppers over rice or another carb of your choice, perhaps with some steamed broccoli.  Pour the leftover mango sauce generously over everything and marvel at how pretty your dinner is.  Instagram that bad boy.
Now it's time for something which is ACTUALLY MAGIC:
Magic Mango Bread
(veganized from Allrecipes)
– 2 cups all-purpose flour
– 3tsp baking soda, 1tsp baking powder, and 1tsp fresh lemon juice
– 1/2 teaspoon salt
– 2 teaspoons ground cinnamon
– 1/2 cup butter, softened
– 1/2 cup vegetable oil
– 1 1/4 cups white sugar
– 4.5 tbsp Ener-g Egg Replacer
– 6 tbsp warm water
– 1 teaspoon vanilla extract
– 3 cups peeled, seeded and chopped mango
– 1/2 cup raisins
– 1/2 cup chopped walnuts
– 1/2 cup shredded coconut
1. Preheat your oven to 325 degrees Fahrenheit and grease two 9×5″ loaf pans.
2. In one large mixing bowl, mix your flour, baking soda, baking powder, salt and cinnamon.
3. In a second large mixing bowl, mix your margarine, oil, lemon juice and sugar, and stir until it reaches a fluffy-ish consistency.  In a smaller bowl, sift together the egg replacer and water and whisk until it reaches a lump-free, vaguely eggy consistency.  Add that to your wet ingredients gradually, stirring thoroughly as you go.  When the egg replacer is fully blended, add the vanilla extract.  Now add this mixture to the bowl with the flour and whatnot.
4. Add diced mango, raisins, walnuts and coconut, and mix thoroughly.  Let it sit for 20 minutes.  Science is happening.
5. Separate the batter into your two loaf pans and bake for 50-60 minutes or until a toothpick in the middle of the loaf comes out clean.  Enjoy, weirdos.
Last but not least, I humbly present to you a refreshing dessert situation, which I cannot endorse enough during the hot summer months.
Frozen Mango Pie
(from Vegan Yummyness)
Until I made this pie, I had never made a frozen thing with coconut cream before.  You guys, this is a revolutionary thing; I feel like you could put almost any fruit combination into this recipe and it would come out with an amazing flavor and texture.  Again, this was so easy it felt a little bit like cheating, and my pie came out tasting a bit more like pineapple than mango, but I'll probably make it approximately ten million more times.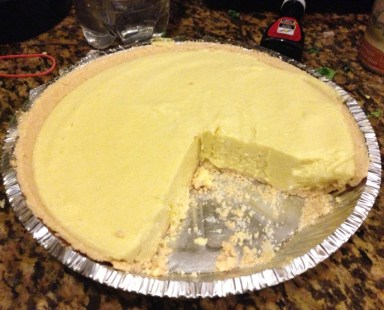 Ingredients:
– 1 graham cracker or shortbread pre-made pie crust
– 3/4 cup coconut cream (I used Trader Joe's brand)
– 1/4 cup diced pineapple
– 1 1/2 cup diced mango
– 1/4 cup almond milk
– 2 tbsp sugar or agave nectar
– 1 tbsp vanilla extract
1.  Hey, how's it going, wanna make a pie?  OK, here you go: put your coconut cream, pineapple, mango, almond milk, sweetener and vanilla extract into a blender and puree.
2.  Pour the delicious mixture into a pie crust.
3. Put the pie in the freezer for about four hours.  The coconut cream will become sort of a creamy custard, and you will look very impressive.  Defrost slightly for 10-15 minutes (to make it easier to slice) before serving.  Eat it all.
No, seriously, that's it.
What else would you make with a giant box of mangoes?