So I don't know how often this happens to you guys, but the other day I got about 13 lbs of mangos in the mail.  They were delivered on the wings of delicious fruit angels, carefully grown, harvested and shipped off by darling A Camp alum/forever-friend-of-Autostraddle Alice and her parents in Florida.  If the internet is any indication, several other Autostraddle affiliates received similar packages in the last few days, and everybody has been completely overwhelmed, both by Alice's generosity and also: WHAT THE FUCK DO WE DO WITH ALL THESE MANGOS BEFORE THEY GO BAD!??!?!?!  I like to call this "forced creativity."
Along with the mangos (and two bonus avocados!), Alice included a note which explained the four different varieties of mango contained therein: Carries from Florida, Lancetillas which originated in Honduras, Thai Nam Doc Mais and a strange yellow as-yet-unnamed hybrid.
The pressure I placed on myself was completely unnecessary; like most fruits, these mangos could easily have been frozen and enjoyed in smoothies or almost any other form later on.  Whatever.  I'm a busy woman and I like buying friends with vegan baked goods.  So, step one: take these organic, healthy fruits and turn them into a buttery dessert.
MANGO AND PEACH PIE
For the crust, I used Isa Chandra Moskowitz's buttery crust recipe from Vegan Pie in the Sky:
Ingredients:
2 1/2 cups all-purpose flour
1/2 tsp salt
3 Tbsp sugar
8 Tbsp cold nonhydrogenated margarine (I used Earth Balance)
8 Tbsp cold vegetable shortening (or unrefined coconut oil)
6 Tbsp vodka
1 Tbsp apple cider vinegar
This book told me that a lot of people use vodka in their crusts because they believe it makes the crusts fluffier than water.  I've never tried comparing the two, because the opportunity to bake with vodka is always better than not baking with vodka (but I mean, you could probably use water).  My crusts are always fluffy.
1.  In a large mixing bowl, sift in the flour, then add salt and sugar.  Add about half the margarine and half the shortening, something like half a tablespoon at a time, making sure to work it through with your fingers completely.  The mixture will be sort of pebbly.  Add the rest of the margarine and shortening, cutting it thoroughly into the flour.
2.  In a separate container, mix the vodka and apple cider vinegar.  Drizzle the mixture into the flour one tablespoon at a time, kneading and mixing as you go.  You might not need to add all the liquid; keep in mind that this will solidify pretty significantly in the fridge.  If you need more liquid, you can do up to 2 more Tbsp before your crust gets WEIRD.
3.  Split the dough in half and roll each half into a ball.  Put the ball in tin foil or plastic wrap or something and put 'em in the fridge for at least an hour or two.  This is a good time to start mixing the filling for your pie.
The filling:
4 ripe mangos, peeled and diced
2 ripe peaches, diced
2 1/2 Tbsps cornstarch
1 Tbsp brown sugar
1 tsp cardamom powder
1.  Preheat your oven to 400 degrees Fahrenheit.
2.  Mix the fruit into the bowl, making sure to catch as much of the mango juice as you possibly can.
3.  Add cornstarch, brown sugar and cardamom.  Mix thoroughly.
To build your crust:
1.  Put some flour on a clean surface and roll out one ball of dough.  If your dough is too dry, you can add a little bit of water, and if it's too liquidy you can def add more flour.  Try to get it as thin and round as you can, then place along the bottom of a normal-sized pie plate.
2.  Fill your pie with fruit mixture.
3.  Roll the other ball of dough out into flour and make it as thin and flat as you possibly can — then start cutting strips out of the dough.  Lay two long strips across the center in an X (don't attach them to the sides of the crust just yet)…
4.  Then keep adding smaller strips to each side in an alternating over-under pattern.
5.  Whatever dough you have leftover you can use to help seal the strips to the side of the crust, and fill in whatever areas of the outside crust need a little more body. You can use a fork to add a pattern to the outside of your crust if you're into that, I guess.
6.  Bake your pie at 400 degrees Fahrenheit for about 25-30 minutes. When you look at it in the oven, the crust on top will be nicely browned. Cool the pie thoroughly. I find that this pie is best the next day after it's been sitting in the fridge all night, so the fruit has time to gel.
7.  Serve cold.
After I brought this pie to work, won friends and secured my position within the company for at least a couple of weeks, I wondered what else I could do with ten thousand mangos?  The obvious answer was SPICY STIR FRY SAUCE.
SPICY MANGO STIR FRY
(Heads up, I totally made this up off the top of my head, so you can prob add whatever you think would be nice in a sauce.)
Sauce:
3 ripe mangos, pitted and sliced
1 tsp chili powder
juice from 1 lime
1 small slice ginger, chopped
1 habañero, chopped (optional)
1 Tbsp sesame oil
1/4 cup coconut water (it was in the fridge)
1/4 cup apple cider vinegar
Put all that in the blender. Taste test to see if it's spicy enough (mine wasn't, which is why I added a habañero, then it was obvs ridic spicy so I added the coconut water for sweetness and everything sort of balanced).
Stir fry:
2 Tbsp sesame oil (or coconut oil or whatever the hell you cook with)
4 cloves garlic, minced
3 green onions
4 white mushrooms, diced
2 carrots, diced
1 red bell pepper, diced
1 orange bell pepper, diced
1/2 block tofu, diced
2 mangos, diced
1.  Cut the heads off your green onions and cut them into stalks.
2.  In a pot, heat up your oil on medium and then add garlic.  When the garlic's starting to bubble a little, add a little bit of your sauce (like 2-3 Tbsp), then your carrots, green onions and mushrooms.  Make sure you keep everything moving as much as you can.  When the carrots are starting to soften, add your tofu, mango and bell peppers, along with a little more sauce.  Cook for like 5 minutes, stirring continuously and adding more sauce if things start looking a little dry.
3.  Serve over rice noodles or rice or a carb of your choice.
I used a blend of thai Nam Doc Mai mangos and weird yellow hybrid mangos for this and have only positive feelings about it — perfect blend of sweet and tart. Don't think I'm some kind of mango snob; I only know this through Wikipedia and trial and error. I'm pretty sure any sweet, ripe mango will do just fine. Also, you could pretty much stir fry anything with mango and it will taste like dreams and sweet tropical unicorns.
The next day, I was starting to freak out about what the hell to do with all the mangos left over, so (Editor) (Hot) Laura came over and showed me how to make these awesome Mango/Veggie Kebab Situations.
MANGO VEGGIE KEBABS
You will need:
1 mango, diced
1 sweet potato, diced
1 zucchini, diced
2 bell peppers of your colour of choice, diced
1 red onion, diced
1 box cherry tomatoes
1/2 block extra firm tofu
leftover mango sauce from yesterday or a marinade of your choice
1.  Do you have wooden skewers? Cool! You'll need to soak those guys in water for about 15 minutes before grilling so they don't set on fire, according to Laura. Laura taught me a lot about fire safety, like how to not squirt lighter fluid all over everything. I'm very lucky she happened to be in town.
2.  After you prepare your skewers, you can cut up your vegetables and arrange them on the skewers however you think they'd look nice. I'd love to tell you I thought about this in advance and marinated my tofu overnight, but this was totally last minute so instead I sauteed a bunch of diced up tofu slices in the sauce over a medium flame on the stove. It seemed to work out fine. Those guys go on the skewers too. We didn't think the sweet potato would cook enough if we just cut it up raw and put it on the grill, so we steamed it for a few minutes before adding it to the kebabs. You can use whatever veggies your heart desires.
3.  Is your grill lit? Make sure someone competent and responsible has that on lock. That person wasn't me today. Once your charcoal is smoldering or your fancy gas grill is doing whatever gas grills do when they're ready, lay those puppies on there and go do something else for a while. Check on your skewers periodically in case they look like they need to be turned over (ideally you basically don't want them to turn black).
4.  Then eat them!  This was so easy and delicious and definitely my favourite thing I made out of mangoes.
Finally, I needed to figure out something to do with the last remaining mango, a tremendous lancetilla which was larger than Laura's head: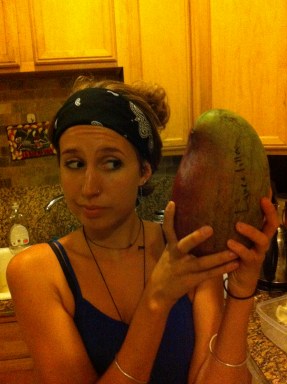 This particular mango deserved reverence, and to be used in something fairly epic.  I finally settled upon this awesome Mango Cake, veganized from Allen Susser's The Great Mango Book (as printed in the Miami Herald).
MANGO CAKE
For the cake, you will need:
Ingredients:
1/4 cup room temperature margarine (I used Earth Balance)
3/4 cup sugar
1 cup pureed mango
1 tsp Ener-G Egg Replacer
2 Tbsp warm water
1 teaspoon pure vanilla extract
2 Tbsps lime juice (about one small lime)
1 teaspoon grated fresh ginger
1 1/2 cups flour
1 1/2 teaspoon baking powder
1/2 teaspoon baking soda
1/2 teaspoon cinnamon
1 cup diced mango
1 cup chopped walnuts
1.  Preheat your oven to 350 degrees Fahrenheit.
2. In a small bowl, beat the butter and sugar with an electric mixer until light.  Add the mango puree, lime juice, vanilla and ginger.  In an even smaller bowl or cup or something, mix the egg replacer with warm water, stir thoroughly, and then add to your bowl of delicious things (if you can't find egg replacer, 1/4 cup pureed banana works as an egg substitute too).  Mix well.
3.  In a separate bowl, mix your flour, baking powder, baking soda and cinnamon.  Now mix both mixtures together and stir until all the lumps are gone.  Add your diced mango and chopped walnuts, then pour into a 9″ x 5″ x 3″ cake pan (which you already sprayed with no-stick cooking oil, because stuck cakes are no fun).  Also, I used a crappy round foil pan from the bodega because I'm not made of money.
4.  Bake for an hour or so, until a toothpick stuck through the middle comes back clean.
While the cake is baking you can make this curry icing, which doesn't have any mangos in it but is delicious.  You will need:
4 oz tofu cream cheese, softened
4 Tbsp margarine, softened
2 tsp Madras curry powder
2 cups confectioner's sugar
If curry isn't your thing, you can sub 1 tsp vanilla extract for the curry powder.
1.  Combine tofu cream cheese and margarine in a bowl and mix thoroughly until light.
2.  Add your curry powder and mix thoroughly.
3.  Add the confectioner's sugar, about half a cup at a time, and stir completely.
When your cake is done, wait until it's completely cool to ice it or else the icing will get all drippy and weird and not look very cool.
At this point I was pretty much out of mangos, but not mango ideas…  What would you do with a giant box of mangos?