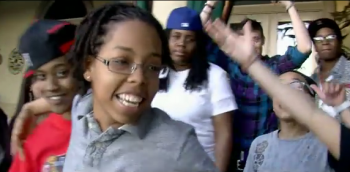 Hello Autostraddle, this is Tinkerbell. I found this video highly entertaining. Because of "language" (which I barely understand because I am a dog) I feel that this video may possibly be controversial, but HELLO AUTOSTRADDLE THIS IS UNLIKE ANYTHING YOU HAVE EVER SEEN BEFORE JUST TRY NOT TO LIKE IT.
It makes me want to dance and sing, and when I saw God-ess and She singing about o*** s** on The L Word, it made me feel weird and unhappy. What I'm saying is that entertaining me is difficult.
This video comes from Rainbow Noise Entertainment, "a lesbian owned record label specializing in LGBTQ music artist with an independent name and mainstream appeal; But it doesn't stop there… We are also committed to representing LGBTQ dancers, models, comedians, and entertainers with something to be proud of."
If you are interested in learning about the days of the week, that's a different video.
Thank you.