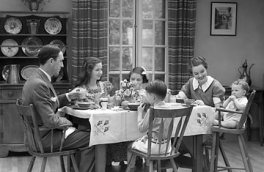 ALL THE HAPPY LADIES:According to TIME Magazine's State of the American Women, our struggles are practically over, because "it's expected that by the end of the year, for the first time in history the majority of workers in the U.S. will be women — largely because the downturn has hit men so hard." Despite that disclaimer, the article continues heralding women's increased workplace visibility as evidence of our triumphs over gender discrimination. [The not-so-awesome truth of this factoid is: 1) Wall Street, notoriously void of women, suffered the biggest losses during the recession, 2) Women are cheaper to employ and less likely to demand better wages than their male  counterparts, 3) Women are more likely to work in recession-proof underpaid industries like teaching and nursing.]  The entire issue is a mess of contradictions, from the depressing cover referencing this ridiculously dubious study to the encouraging article subheader within the magazine: "A quiet revolution has changed the status of American women; so what's new now?"
Despite an onslaught of not incredibly encouraging statistics, TIME concludes its cover story with: "It's no longer a man's world. Nor is it a woman's nation. It's a cooperative, with bylaws under constant negotiation and expectations that profits be equally shared."
In order to complete this fascinating compilation of facts, figures and Getty Stock Imagery referencing how far we've come, TIME and the Rockefeller Center conducted a Seriously Heteronormative Poll about women to answer big questions like; can women juggle husbands and careers? Let's take a gander.
Highlights:
– Being married is very important to 58% of men vs. 53% of women.
– 29% of men say that female bosses are harder to work for than male bosses, compared with 45% of women.
– Fifty-seven percent of men and 51% of women agree that it is better for a family if the father works outside the home and the mother takes care of the children.
– Two-thirds of both men and women describe their marriage or partnership as very happy. (Here's another one for 'ya — 95% of gay men and women describe their marriage as "illegal." I just made that one up, but who cares, according to the statistical sample of me & my friends, it's more like 100%.)
OH WAIT JUST KIDDING. Lesbians are mentioned!! Once! In Maria Shriver's essay, "The Unfinished Revolution," which broaches the revolutionary topic that perhaps not EVERYTHING is perfect for ladies quite yet, we're treated to this little snippet:
And lesbian couples and older women are among the poorest segments of our society.
Thanks, Maria! I can add you to the list of "those responsible for businesspeople not understanding what an untapped market lesbians are who consequently enable people like Ilene Chaiken to monopolize it!" Actually, the median household income for lesbian couples living together is $90,000. And the reason lesbians rank low on some surveys is simply 'cause they're two WOMEN, which brings us right back around to where we started from.
Regardless, when poverty is the only context in which we factor in to an entire issue dedicated to how women have revolutionized the world since the 70s? Suck it, TIME.
TWEETERS: If Lindsay Lohan gets one of these contracts I will just die: Hey showbiz folks: check your contract before you tweet.
PHOTOSHOP OF HORRORS: Sarah Haskins on The Rachel Maddow Show – Discusses Fat vs. Photoshop, and the recent case of the Ralph Lauren model fired for being 5'10 and 120 pounds. (@bitch)
The Daily Show went to the March and uncovered the Radical Gay Agenda!