Feature image by Kenneth K. Lam/Baltimore Sun  
---
For me, Pride is like New Years. It is a time to reflect on how far we've come and how much my life has changed. Since I haven't been out for very long (this year will mark my third out Pride), the day still evokes vivid memories. I spent my first one eating bad burritos, wandering around in the heat sweating glitter, and crying into mimosas over that first girl. It wasn't pretty. The second, I got to share with my then girlfriend who had never been and experienced it all anew through her excitement.
Recently, I've been hearing a lot of people complain about Pride. They're over it. Or they talk about how it doesn't represent them. Or how it has devolved into one messy party. Some want the event to be more family friendly while others think it's still stifled by too many conventions. Still, I can't help but feel that to even be able to say we are "over Pride" is a luxury — a luxury LGBTQ people do not have in other countries and communities.
So, in the spirit of self-reflection, here are some thoughts on how you can create a Pride season that is more meaningful to you even if you can't or don't want to attend any events. Or, if you're all about it and have already dyed your hair with rainbow streaks, there are some tips to remind you how to keep yourself well-taken care of during the celebration. As with everything, I encourage you to take what speaks to you and feel free to ignore the rest. Health, spirituality, and relationships are all highly individual so build a plan that works for you and fulfills your unique needs this year.
---

Mind
1. Meditate or journal on the following questions:
Where are you on your journey to becoming your most authentic self inside and out?
What have you done this past year that has moved you closer to that place?
What has held you back?
What would you like to change this year?
Who can you enlist to support you in those changes?
What are you proud of?
What can you make peace with?
What would you like to get out of Pride this year?
What would you like to give?
How has your understanding of yourself and the way you define yourself evolved?
Have you found more freedom or have you become more rigid?
2. Take a moment to inform yourself about a cause, public figure, or organization you've been meaning to checkout.
3. Attend a pre-Pride educational event that appeals to you but might be a little outside your comfort zone or organize your own.
---
Body
1. Hydrate, hydrate, hydrate.
2. Slather yourself in sunscreen. Pack your SPF lip balm, sunglasses, and a hat.
3. Make time for meals and pack snacks especially if you'll be drinking all day.
4. Rock an outfit that makes you feel great and forget what anyone else says. I once dated a girl who hated all things rainbow and made me feel bad about wearing them. Let your self-expression be about you and not what other people think is "in" or "out."
5. Make the decision to practice safe sex before you go out.
---
Heart
1. Be honest with yourself about where you are emotionally. There are a lot of feelings and tears whenever we get together as a community. If you're still grieving an ex, let that be okay. Don't let the pressure to "get back out there" or have a crazy time make you do things that are only going to complicate your pain. But, if you're ready and needing to get out there, remember bars and clubs can be…well, meat markets. Be honest about what you want. A fling? Long-term relationship? Someone else to join you and your partner? Anyone, because you just came out/ are never around so many queer people/ are so freaking lonely it hurts? No judgment. We've all been there. Just be honest and don't set yourself up for disappointment by putting too many expectations on one weekend.
2. Think of someone who was a great ally or friend to you when you were figuring yourself out. Write them a quick note of thanks.
3. Think of someone who made your life hell. For just a few deep breaths, see if you can send them forgiveness, knowing it is the final step to setting yourself free.
4. Ask for forgiveness if you have hurt anyone this year. If it is the right time, consider mending relationships you've been wanting to mend. Or write a letter to your younger self and tell that younger you that you completely forgive them for all the bad choices because you understand now that it was all part of a bigger process.
5. If you know someone who is struggling, send them a note of encouragement. Or take someone to Pride who has never been.
---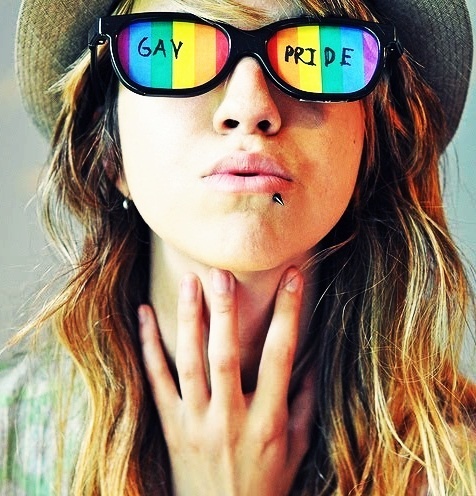 Soul
1. Volunteer. Nothing heals us more than regularly giving what we wish we had to others. If you're already heavily involved in an organization, loop in some friends by throwing a little pre-Pride party with a volunteering theme. Get creative. Raffle off stuff to raise money for your organization or simply provide info on how they too can be a mentor. If you live far away from any LGBTQ organizations' headquarters, get online to find out what you can do. Organizations like All Out need online petitions signed or grassroots organizers in various cities.
2. Take in some art. Host a night where you watch that documentary you've been meaning to make time for. Or make a commitment to show your art or go to that open mic night. Make your own meaning.
3. Make a connection with someone of another generation. No movement is ever perfect. We don't always want the same things or speak using the same terms. But if it weren't for the brave people who came before us, we would live in a very different world. Let your "happy Pride" be filled with the understanding that we are making space for each other.
4. Recognize your prejudice. Even within our community, we can be cruel, exclusionary, and prone to stereotypes. With gentleness and love, reflect on the areas where you might still be struggling with judgment. I know I still do.
5. Meditate on how radiant, unique, and beautiful you truly are. Know that you are not separate from the rest of this world. We are all intertwined, all connected. You are not alone.
Happy Pride!
---
If you have a question you would like us to grapple with, email me at danio@autostraddle.com.